Are you tired of spending money on ice for you cooler? It always melts and feels like your money just went out the window. What if there was a cooler that needed no ice to keep your drinks ice cold? We found just that in our Newair Electric Car Camping Cooler Review.
Features
Retractable handle and off-road wheels make it easy to use this 12v/24v car fridge anywhere.
Durable LG Compressor works silently to power your cooler in the backcountry.
Reversible doors with weather stripping let you access your provisions in a snap.
80-quart capacity holds everything you need for an extended road trip.
The 3 battery protection modes and eco mode keep the cooler from draining your car battery.
Weight = 49 pounds (unloaded)
No internal battery
Electric Cooler Testing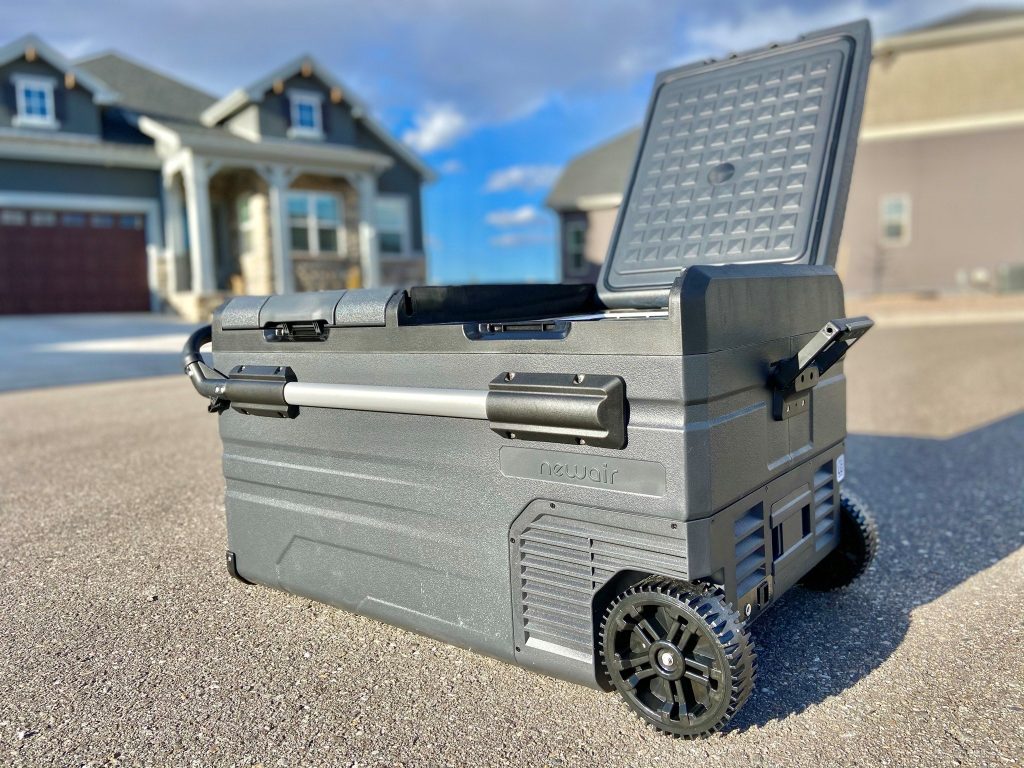 The Newair electric cooler has dual temperature zones that you can control from an external digital panel. This means one compartment can be a freezer and the other can be a fridge. I was a fan of that and the fact that you'd be able to dial in exactly how cold you wanted each side. With a regular ice cooler the temperature is going to be what its going to be. You have more flexibility with this electric cooler.
In addition to having the temperatures down to the perfect degree (goes down to -4 F) you also don't have to worry about ice melt and soaking any of your foods that are in the cooler. Speaking of getting it down to the perfect temperature it takes about 30 minutes from when you start the cooler for it to drop down to the programmed temperatures.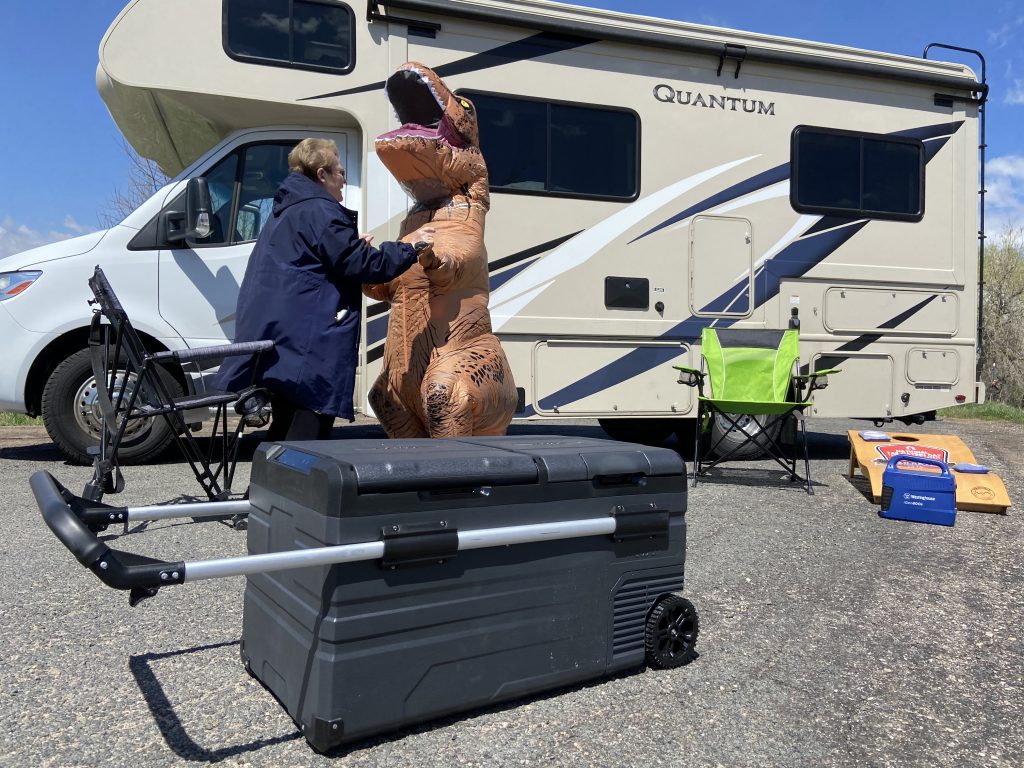 This 80 quart cooler is big and can hold a variety of food and drinks. With it being larger it does take up more space if you're traveling. In the back of our mid-sized SUV it took up the majority of the cargo area. Our NewAir electric cooler weighs 49 pounds with nothing in it, so it is bulkier than your standard cooler. It does have a retractable handle that allows you to easily roll it around the tailgating party or campsite.
This NewAir electric cooler does not have an internal battery. What this means to you is that you will have to have a power source on it at all times to keep the cool air flowing through. It comes with a standard 3 prong wall plug and a vehicle cigarette adapter. When we unplugged this from power supply the cold air inside did not stick around like it would with ice and it started to return to ambient temperature within an hour.
Conclusion
PROS: doesn't need ice (but can take ice and has drain plugs if needed), dual temperature zones
CONS: no internal battery, large/bulky
Overall, this NewAir electric cooler has its place especially for those with the right amount of space and ability to keep it powered up. I'm a fan of the dual temperature zones, so you can have your frozen foods and cold drinks at exactly the right temperature. This could be your must have camping gear for the summer season.
Learn more and get your own by visiting NEWAIR.
Find hundreds of cool products in our AMAZON STORE. Thanks for your support.
Thanks for reading our Blog on Newair Electric Car Camping Cooler Review. Let us know what questions you have and now enjoy our video review of this electric cooler. SUBSCRIBE to our Youtube channel while you're over there.
Love learning about all the cool, new products that we get to test out? Take a minute and scroll through our recent PRODUCT REVIEWS.
We NEVER get paid for our reviews. This way we can keep it real with you. We were sent one sample to test out with the understanding that we'd give our honest thoughts on.
Written By: Luke Lorick 5/14/21