Staying cozy in cold weather can be tough, but a good heater can make it easier. We've tested out some beer fridges and coolers from the NewAir team, but now we are going in a different direction with their ceramic heater. The NewAir Portable Ceramic Heater (model: NGH160GA00) is built for your garage/home, but we wanted to see if it can help when you are tailgating in the cold. Now let's get cozy and into the NewAir Portable Ceramic Heater Review.
Ceramic Heater Features
-Temperature Control
-2 Heat Modes
-Weighs 4.4 lbs
-Cool touch housing
-120V plug
-Heats 160 sq feet
-Adjustable head to direct the heat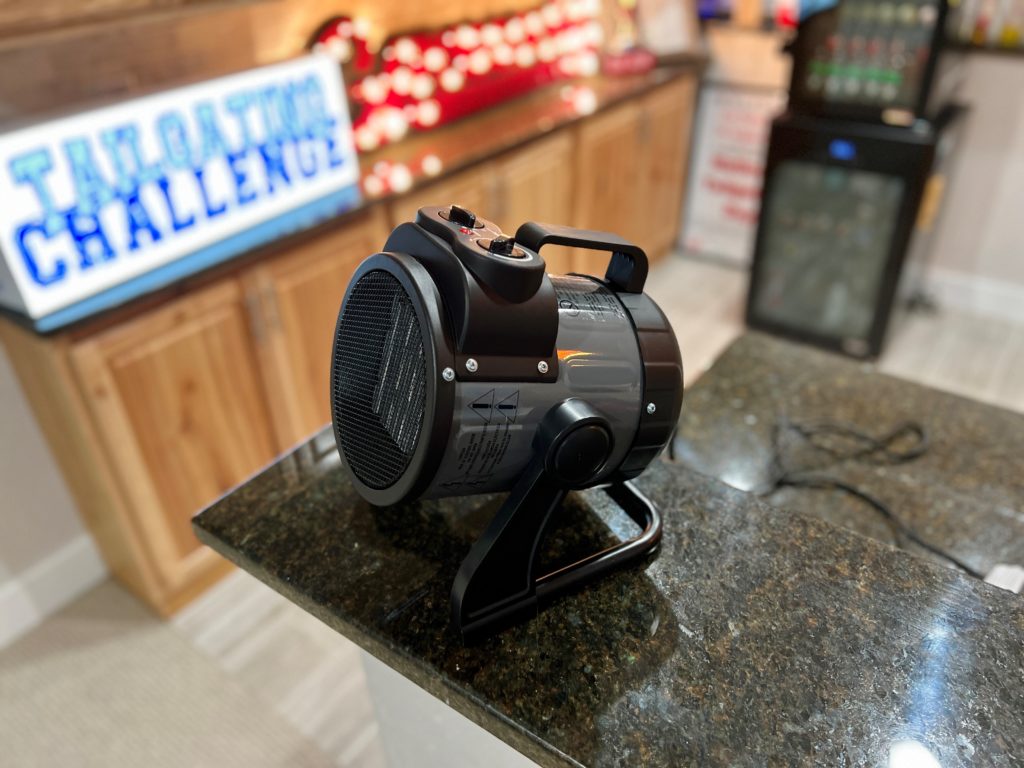 What Did We Think?
It gets cold in Colorado. Days prior to this video it was -28, so we can appreciate the need for heat. When I learned that our favorite beer fridge maker was making a heater I knew I had to cozy up to one of these. As we get into this portable heater review I want to focus on portability, heat output and ease of use.
First, we can talk about portability. If you plan to take something tailgating it needs to be easy to take on the go. This heater scores high on portability tipping the scales at 4.4 pounds with a built in carrying handle. Super simple to move around.
Next up how easy is it to use? Short answer is pretty dang simple. It uses a 120V plug that can be easily plugged into outlets in your home, or a power station/generator. It has 2 turn dials. One has heat modes, while the other is a thermostat. I was up and running with warm heat, quickly.
Finally, lets talk about the cozy factor. The primary reason for getting a portable heater, is well, the HEAT! This ceramic heater puts out big time heat despite its small stature. It heats up in seconds and pound for pound produces more heat than any portable heater we have tested, to date. The one thing to note is that with the big heat it comes with a little more noise than some of the other smaller heaters we have tested in the past.
Conclusion
PROS: portable, big heat, 120V plug, heats up fast
CONS: louder than anticipated
Overall, this portable heater packs big heat. This will warm up a small area quickly. If the cold weather is stopping you from tailgating then this heater can help.
Learn more and get your own by visiting NEWAIR.
Save with promo code: TAILGATING_10
Find this an many amazing products that we've tested in our AMAZON STORE. A little bit of every purchase goes back to help support our honest reviews of the products you love.
Thanks for reading our blog on the Newair Portable Ceramic Heater Review. Let us know what you think and any questions. Check out our short video below and while you're on YouTube make sure you hit that SUBSCRIBE button!
Love learning about all the new products that we get to test? Take a minute and check out our latest PRODUCT REVIEWS.
We never get paid for our reviews, this way we can always keep it real with our fans. We were sent a sample to check out with the understanding that we'd give our honest opinions.
Written By: Luke Lorick 12/27/22