There is not much better on a hot summer day than some ice cream! I haven't made ice cream since I was a kid, but found what could be the easiest way to make ice cream with the Nostalgia Electric Ice Cream Maker. Let's get this ice cream maker fired up and see how it does in our Tailgating Challenge.
Features
Makes up to 1-pint of delicious ice cream in about 30 minutes
Perfect for use with all Nostalgia Ice Cream Mixes! (French Vanilla – ICP825VAN8PK, Chocolate – ICP825CHOC8PK, Strawberry – ICP825STRAW8PK)
Electric churning paddle does all the work
Includes quick-freezing double-insulated gel canister – no messy ice and salt needed!
Non-stick gel canister makes cleanup easy
Handy ingredient chute for adding candy pieces to customize creations
Convenient ON/OFF switch
BPA free
Ice Cream Testing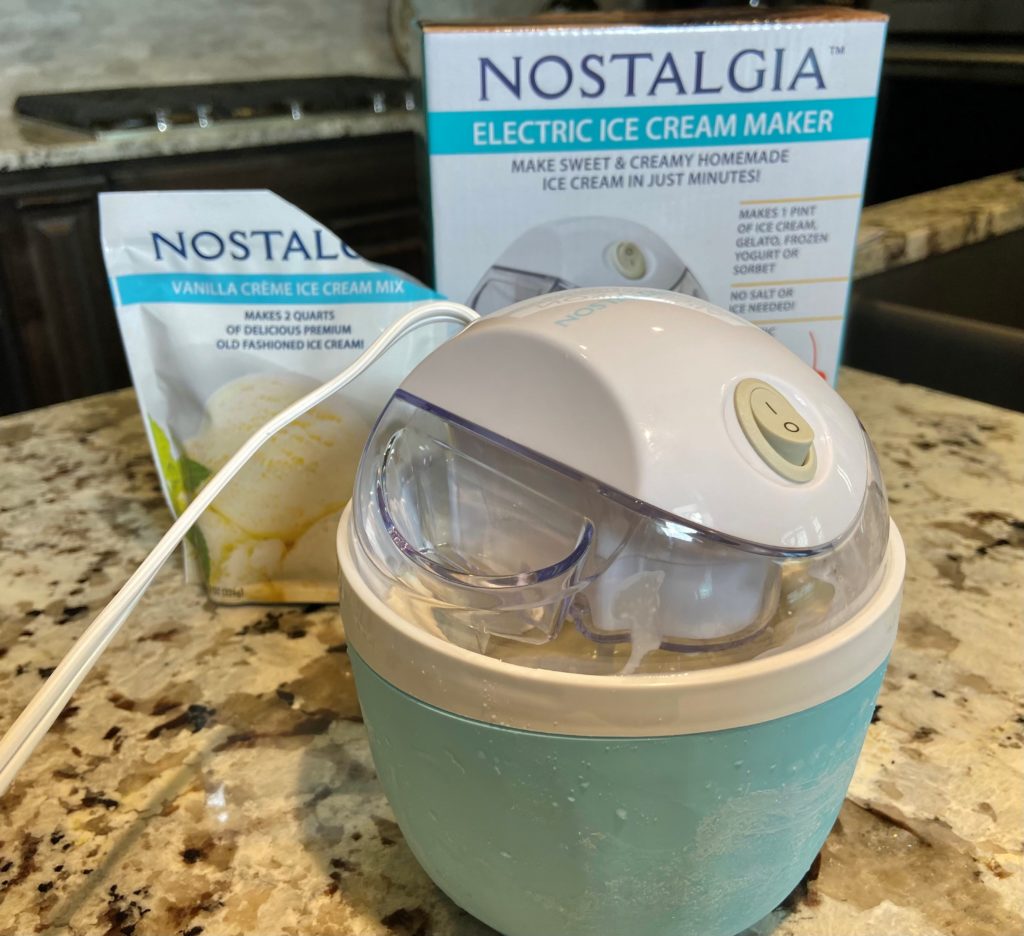 As noted, I haven't made ice cream since I was a kid and I remember it being a little bit of a work out trying to churn the ice cream. We have been fans of the Nostalgia brand for quite some time, so when we learned of their new ice cream maker that could have ice cream ready in 15 minutes we were all ears.
This electric ice cream maker makes ice cream by the pint and Nostalgia has different flavor packages that can help make this process even easier. You do NOT have to use their ice cream mix, but its simple and tastes great. Just putting it out there.
When you first get your electric ice cream maker you will need to put the base in the freezer. This has to freeze for 24 hours before you will be ready to make ice cream. Once it was properly frozen it was time to make some ice cream.
We poured 1/2 cup of milk, 1/2 cup of heavy cream and 2 ounces of the Nostalgia vanilla mix into the bowl to mix up. We added a splash of our homemade vanilla, for good measure. Then you place all of this into the frozen base that came out of the freezer. Make sure you leave approximately 1.5 inches of space to the top, as the ice cream needs room to expand.
We put our mixer on the top and hit the power button. The dasher inside fired up and started churning the ice cream. There is an ingredient/candy chute on the side that you can add ingredients to, while the ice cream mixes. We added walnuts to ours. Note that the chute hole is small, so you may need crush up your ingredient of choice.
After 15 minutes we saw the ice cream had expanded and looked like it was just about ready for the taste testing. At the 20 minute mark we powered the motor to off and got our first taste of the ice cream. It was pretty dang good, if I do say so myself. My wife, who is big time ice cream connoisseur, was also impressed at the taste and how easy it was to make.
Clean Up
Clean up time! Make sure you have all the ice cream off the dasher and then pull this piece straight out of the motor. Then you'll notice two clips that are attaching the motor to the plastic top cover. Squeeze these two tabs together and then pull the motor out. Do not put the motor underwater.
It is recommended that you hand wash the base and the plastic top. As noted in the instructions DO NOT place parts in the dishwasher.
Conclusion
PROS: easy to use, ice cream ready in 15 minutes, ability to add fun ingredients while churning
CONS: motor is louder than I thought it would be
Overall, this may be the easiest way to make ice cream, period. Just put your ingredients in and hit the switch. If you're ready to start making your own craft ice cream this Nostalgia Electric Ice Cream Maker could be for you.
Learn more and get your own by visiting NOSTALGIA.
Find hundreds of carefully curated products in our AMAZON STORE.
Thanks for reading our blog on the Nostalgia Electric Ice Cream Maker. Let us know what questions you have and then watch the short video below. While you're on YouTube make sure you hit that SUBSCRIBE button!
Love learning about all the cool, new products that we get to test out? Take a look at some of our recent PRODUCT REVIEWS.
We NEVER get paid to give our thoughts on products. This way we can always keep it real with you. We were sent one sample to test out with the understanding we'd give our honest thoughts.
Written By: Luke Lorick 7/12/21