Sure there are plenty of pool floats out there, but there is only one Pool Punisher float. What makes it special? Glad you asked. Well to start, it's a TANK! Yes, it's literally a tank and this tank can blast water over 50 feet! Now that we have your attention let's dive into the Pool Punisher Tank Float Review.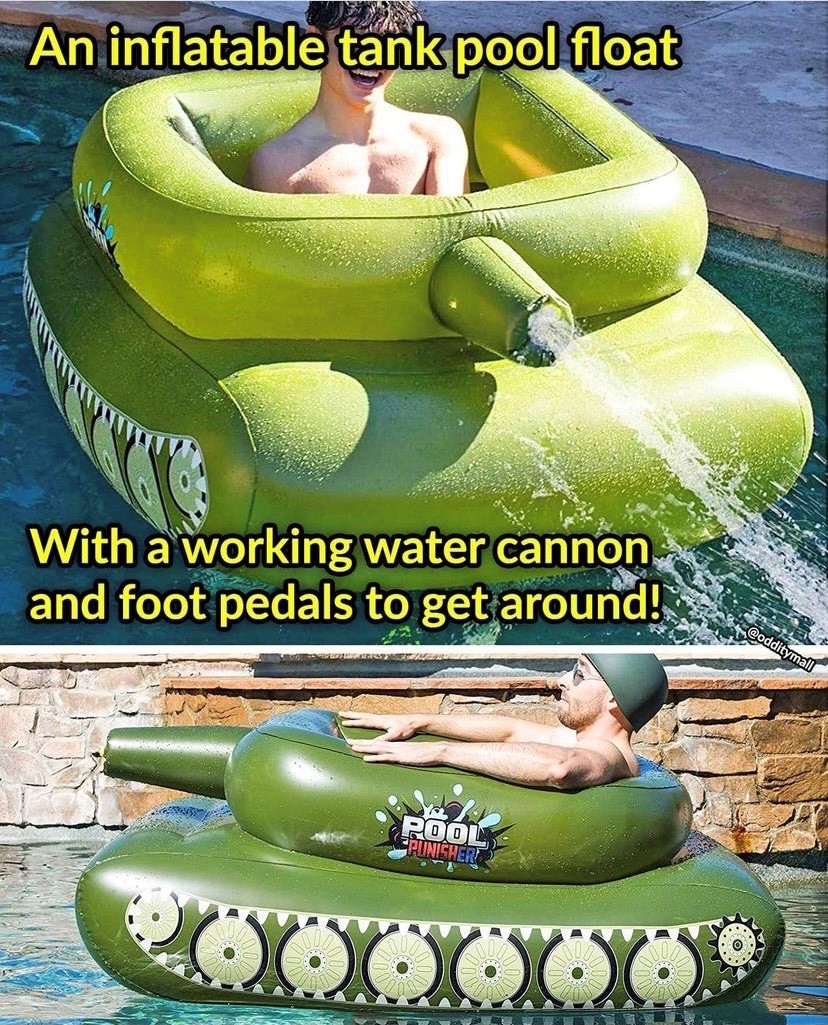 Pool Punisher Features
-Made in the USA
-Ultra durable vinyl
-Water cannon can blast over 50 feet
-Use in any body of water
-Recommended for ages 5+ and up to 180 lbs (We had testers up to 200 pounds in this with no problem)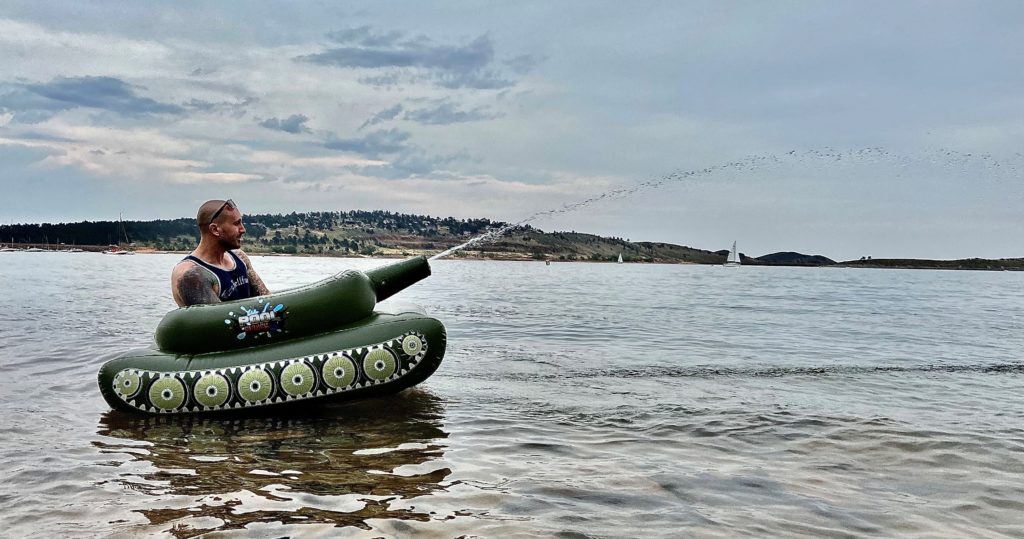 Tank Float Testing
We saw the Pool Punisher on OddityMall earlier this year and knew it was something that we had to put to our Tailgating Challenge. We shared a picture of the Pool Punisher that got almost 3 million views on Facebook! Because of this viral exposure the Pool Punisher tank float sold out and we had to wait a few months to get a couple of these in to go play!
Fast forward a few months and two Pool Punishers showed up. We found a fun spot here in Colorado, Carter Lake, to take the Pool Punisher and see how it would do in a lake!
Step one, pump up the Pool Punishers. This was the hardest part. I brought an electric pump that I learned isn't that great and then a foot pump that works well, but was a good work out to get both of these pumped up. There are 3 different areas to blow up on each tank float. When I was trying to push the air stopper back in it was a little more challenging that I anticipated, but finally got it locked in and ready to roll.
Next, you insert the water blaster through the hole in the tanks cannon. There is an intake line that drops down below the float to pull water in and you hand pump the gun to blast the water. They noted it can go up to 50 feet. We didn't get ours to go that far (we didn't have an actual tape measure), but it appeared to go over 20+ feet. Guess we better get back in the gym!
Getting into the Pool Punisher you'll see 2 leg holes and then 1 hole for the intake of the water blaster gun to drop down. When you get in you won't put your full leg into the hole, only up to your knee and then you'll sit back in the tank. This float is actually super comfortable. More comfortable than many chairs in my house!
Pool Punisher In Action
Once we were in the Pool Punisher we had to first figure out how to move around. You kick your feet around to move the tank float around and get yourself in position to battle your opponents. You won't move the float too fast, but we quickly got the hang of it and started scooting around the lake.
In front of you there is the water blaster. First tip, if you are in body of water with sand at the bottom, make sure your water cannon intake is not on the sand. It will get sand into the intake and not allow you to blast water. They designed this so you can easily get the sand out and get back to blasting, but there is your tip if your gun isn't firing.
Getting friends together and having a lake tank battle was pretty epic. We had tons of laughs and fun while using the Pool Punisher and I feel comfortable saying that young kids up to big kids, like us, will get a kick out of this tank pool float.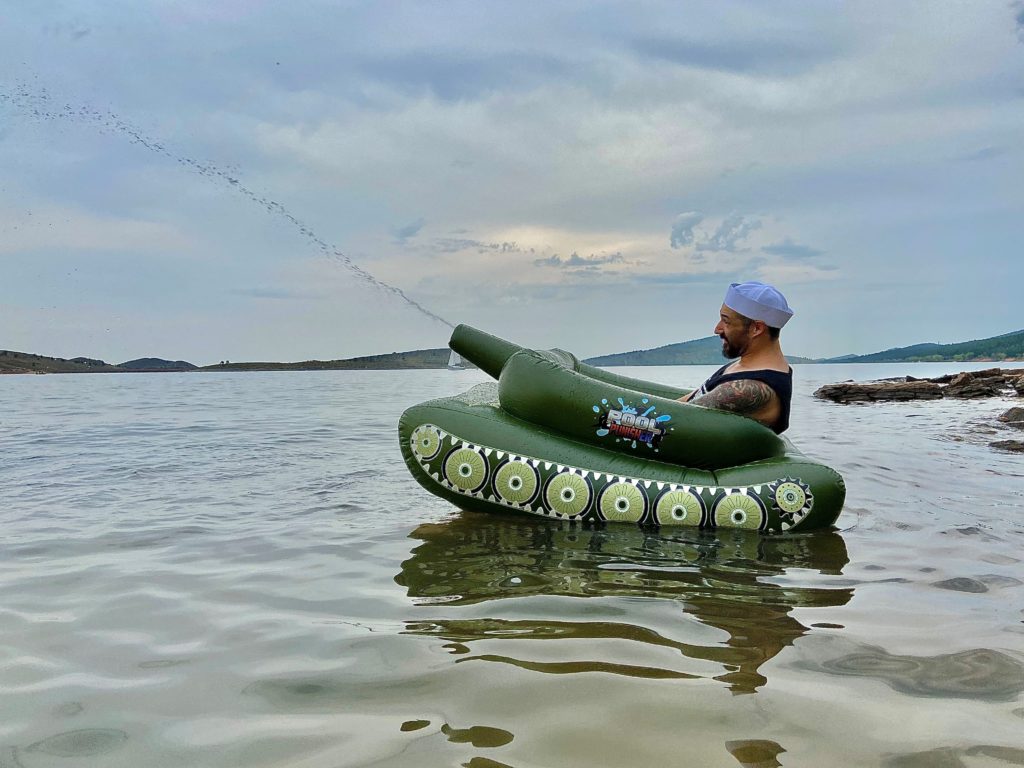 Conclusion
PROS: Comfortable, extremely fun, looks awesome
CONS: make sure you have a good pool float pump:)
Overall, we had high hopes for this tank float after all the hype and once we got it in the water it didn't let us down. I'm excited to let my nephews you use this in the future, as I know they will have a blast (PUN INTENDED).
Learn more by visiting POOL PUNISHER.
Find this and other fun items in our Tailgating Challenge Amazon Store.
Thanks for reading our blog on the Pool Punisher Tank Float Review. Let us know what questions you have and then watch our testing video below. While you're on YouTube make sure you hit that SUBSCRIBE button!
Love learning about all the cool, new products that we get to test out? Take a look at some of our recent PRODUCT REVIEWS.
Written By: Luke Lorick 8/16/21