The classic game of quarters has been around for years. Classics breed new innovation on how to make something more unique and add that extra level of challenge that many look for. There is a new game that involves quarters with different ways to score and the ability to play defense! Got your attention? Great, lets dive into the QuartersBack Game Review and see how it does in the new Tailgating Challenge.
How to Play QuartersBack Game
Object Of The Game:
First one to 21 wins or put it in the "Money Hole" to end the game.
Basic Rules:
To start the game each team needs to have an equal number of players on each side. It can be 1 vs. 1 or 5 vs. 5, the numbers are up to you.
Each player on the team that throws first needs a quarter. Players take individual turns to throw a quarter. Multiple players are not allowed to throw at the same time.
If the quarter hits any part of the board, the defensive team must catch the coin before it hits the floor. If the quarter lands on the ground the person that tossed the quarter, gets it back to throw again after everyone on his/her team has thrown. If the quarter lands on the table it is "dead".
If a player makes a quarter into the one of the three larger holes, he/she may guess whether it's showing heads or tails after everyone has thrown. If guessed correctly the player will get the quarter back to throw again. If another member tosses the quarter into the same hole as a teammate, they will get quarters back automatically.
Scoring:
• Bottom two holes worth 1 point.
• Top hole worth 2 points.
• "Money Hole" Automatic Win! GAME OVER. NO REBUTTAL.
• First team to get exactly 21 without going over wins. If you go over then your team goes back to the score they had before that turn and all quarters switch to the other team.
• Once a team reaches exactly 21 then each player on the opposite team gets a one shot to either tie the game at 21 or win automatically by putting it in the "Money Hole". During a rebuttal, if you make it in a hole then you get the quarter back instantly to shot again. If the team can tie it at 21 then each team goes back to 15.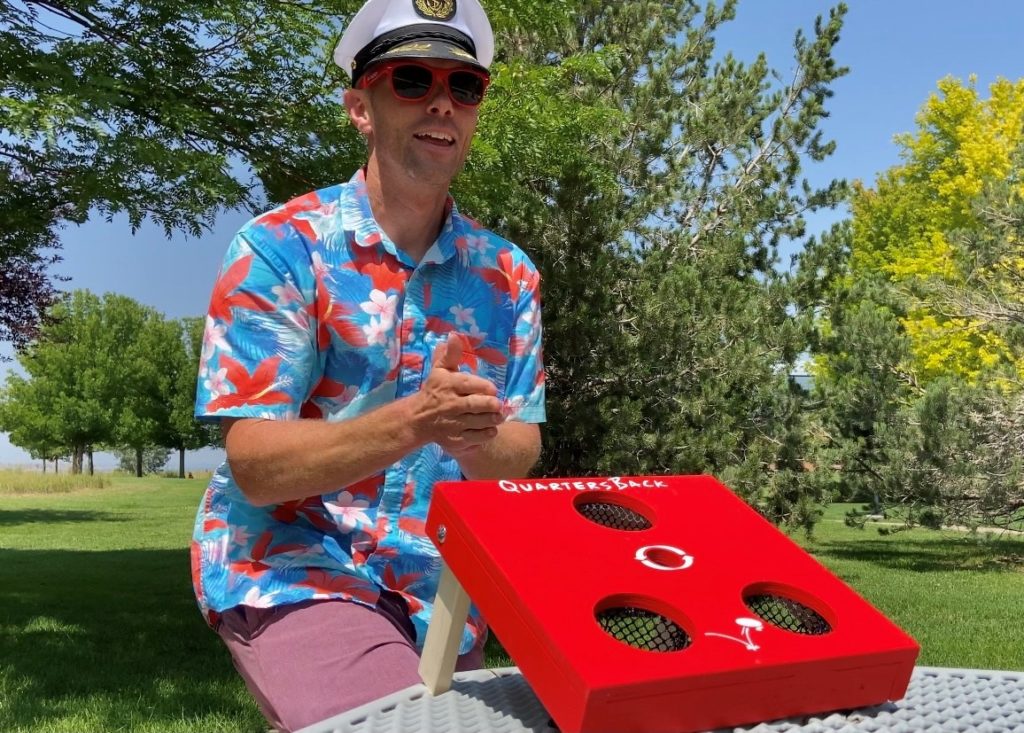 What Did We Think?
We set up the Quartersback games on various table and stood back to let the quarters fly. In this game you can throw over or underhanded. You can also bounce the quarter on the table to get it in the hole.
I learned standing back and throwing a quarter was not as easy as it seems! The size and weight are nothing like the bags and discs we use to throw in many yard games.
It took a minute to work to get dialed in to make more of these shots. Many times it was hard to see if we made the shot. You knew you might have made it if you didn't hear any noise. On missed shots you can hear the quarter rebounding. If you sink the shot it quietly goes into the net. If you make it in then you have a 50/50 chance of getting your shot back, as if you call if the quarter landed on heads or tails correctly, it's worth another toss.
Now defense is where its at. I love the defensive part and trying to catch the quarter off the rebound. That requires some skill and keeps you on your toes. I had more satisfaction catching the quarter off the bounce than sinking a shot, but that's just me.
The money hole is crazy hard to sink and also the reason why if you make it the game is over. Can we make this hole a touch bigger please haha!
Conclusion
PROS: portable, playing defense is fun, multiple ways to score
CONS: the money hole is HARD to hit, have to provide your own quarters (we are in a change shortage)
Opportunities to make the game better: Light up rings around the hole, ability to customize the boards and making quarter style game pieces with optimal weight for tossing.
Overall, this was a different way to play a table top game with quarters. If you enjoy the game of quarters it's time to step it up to the next level with QuartersBack Game.
Learn more and get your own set by visiting QuartersBack.
Did you know there was a one stop tailgating shop? It's our AMAZON STORE! Thanks for supporting us.
Thanks for reading our blog on the QuartersBack Game Review. Let us know what you think and what questions you have. Then watch our short video playing this game below. While you're on YouTube make sure you SUBSCRIBE!
Love learning about all the cool, new products that we get to test out? Take a look at some of our recent PRODUCT REVIEWS.
We NEVER get paid for our reviews. This way we can always keep it real with our fans! We were sent one sample to test out with the understanding that we'd give our honest thoughts.
Written By: Luke Lorick 8/26/21