Cornhole on steroids? That is what they say about the yard game RampShot. We love a good game of cornhole, so we got a RampShot game to put to our Tailgating Challenge. We founded National Yard Games Day and we test as many games as possible to be subject matter experts in this area. Now lets get into the RampShot game review.
RampShot was voted on by our fans as being the TOP yard game in our Tailgating Madness bracket challenge in 2019.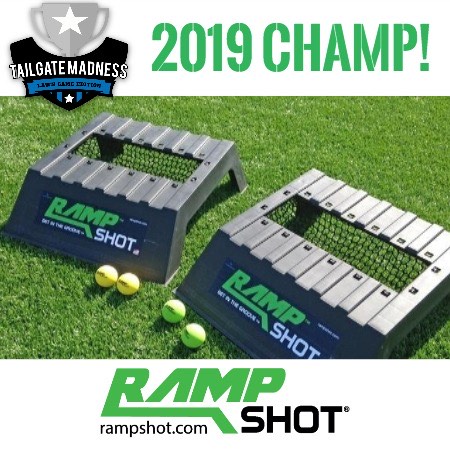 How to Play RampShot
*From www.rampshot.com*
Teammates stand on opposite sides of the playing area and work together to score points by tossing and/or catching the balls. 3 points for a shot directly in the net.
1 point if your teammate catches the ball on a fly after bouncing off the top of the ramp.
If the shooter's toss comes up short and hits the front of the ramp, the ball will bounce back in the shooter's direction.
The opposing team member can now come in and catch the ball to gain an extra shot for their team.
The first team to 15 wins! Three out of four players are involved in every play keeping everyone on their toes and ready to make the big play.
Playing RampShot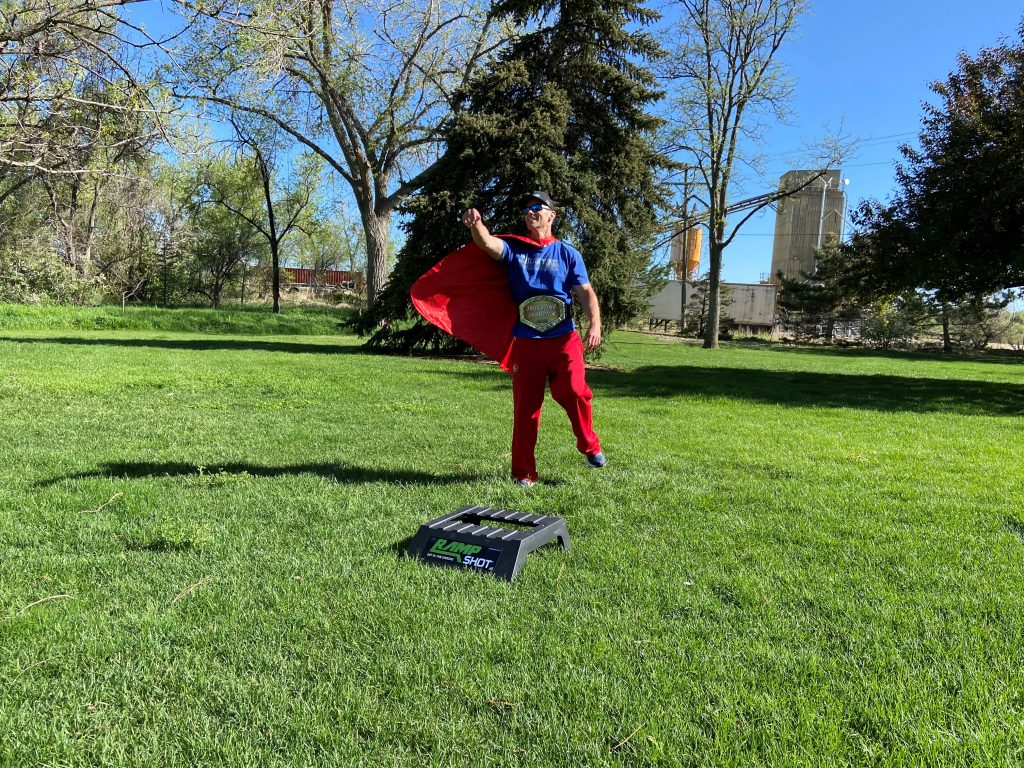 After we got our boards 15 feet apart it was time to get our game on. We set up the shooter, playmaker and defender to get the game going.
We found that it was harder to sink a shot for 3 points than it was in regular cornhole. More of the balls found a way to bounce to keep the defender and playmaker busy. As a reminder, if the playmaker catches the ball off the bounce from hitting the board it is worth 1 point. If the defender catches the ball, it means their team will get an extra shot the next round. The RampShot board is designed with grooves that can throw off the trajectory of how the ball bounces. This also leads to fun catches or attempts at catching the ball.
The RampShot game is played with 4 players, but only 3 play at one time. All players will rotate their position each round to keep everyone involved.
We learned quickly that the most active position is the defender, as they have to run every time down to the other side to attempt to catch any bounce off the RampShot board.
My favorite position to play was the playmaker as making crazy catches was more fun, to me, than sinking a 3 point shot.
Conclusion
PROS: keeps you active, engaging 3 out of 4 players at all times, various ways to score and defend, portable
CONS: would like to see the nets already installed when it comes to you, having a storage compartment somewhere on the game for the balls and net tool would be a win
Overall, RampShot was a fun game that had a much higher activity level than regular cornhole alone. I didn't feel like the game was even closely related to cornhole, but maybe that is what happens when cornhole takes steroids:) If you're looking for a new game that will keep you more active than most yard games, it's time to get your RampShot on.
Learn more and get your own by visiting RampShot.
Find hundreds of products that we think you'll enjoy in our AMAZON STORE.
Thanks for reading our blog on the RampShot Game Review. Let us know what questions you have and then watch the fun video below with our Tailgating Challenge crew putting RampShot to the test. While you're on YouTube go ahead and hit that SUBSCRIBE button.
Love learning about all the cool, new products that we get to test out? Take a minute and check out some of our recent PRODUCT REVIEWS.
We NEVER get paid for our reviews, so you can always trust what you read here is the truth! One game was sent to test out with the understanding that we'd give our honest thoughts.
Written By: Luke Lorick 5/25/21