Staying warm at a winter tailgate or outside adventure can be tough with basic jackets, but what if there was a jacket and also provided additional heat to warm you up? Enter the Ravean jacket.
The Ravean jacket is an actual heated jacket that provides hours of ambient heat with 3 different levels of heating. It even has a button to heat up the gloves that can attach to the jacket as well.
The jacket has a battery pack in the back of the jacket that will also allow you to charge your mobile phone, multiple times!
The jacket feels great and does a great job a regulating the temperature. When its not as cold the jacket won't have you sweating, but you feel warm and toasty (especially when you push the button for heat) when it gets colder.
Depending on what setting you use the heat and if you use the battery to charge your phone it can keep the jacket warm for almost 9 hours.
PROS: feels great on, heated gloves plug right into jacket, water resistant, 3 levels of heating, can charge your phone multiple times.
CONS: sitting down with jacket is not as comfortable due to the battery in the back.
Overall, This is a fun and stylish way to stay warm at your next tailgate or camping getaway.
Get your own HEATED jacket here: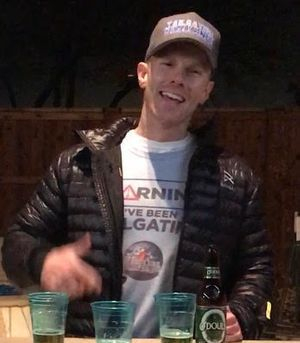 Have fun while looking stylish
The red light on the inside means its heating up.