A portable power station is great for your tailgating parties and insurance around the home, if your power goes out. We have tested a variety of power stations over the years and know that specific power stations are needed based on needs. In this Tailgating Challenge we will get into the Relion Outlaw Power Station Review, to see if this needs to be a part of your next tailgating or off the grid adventure.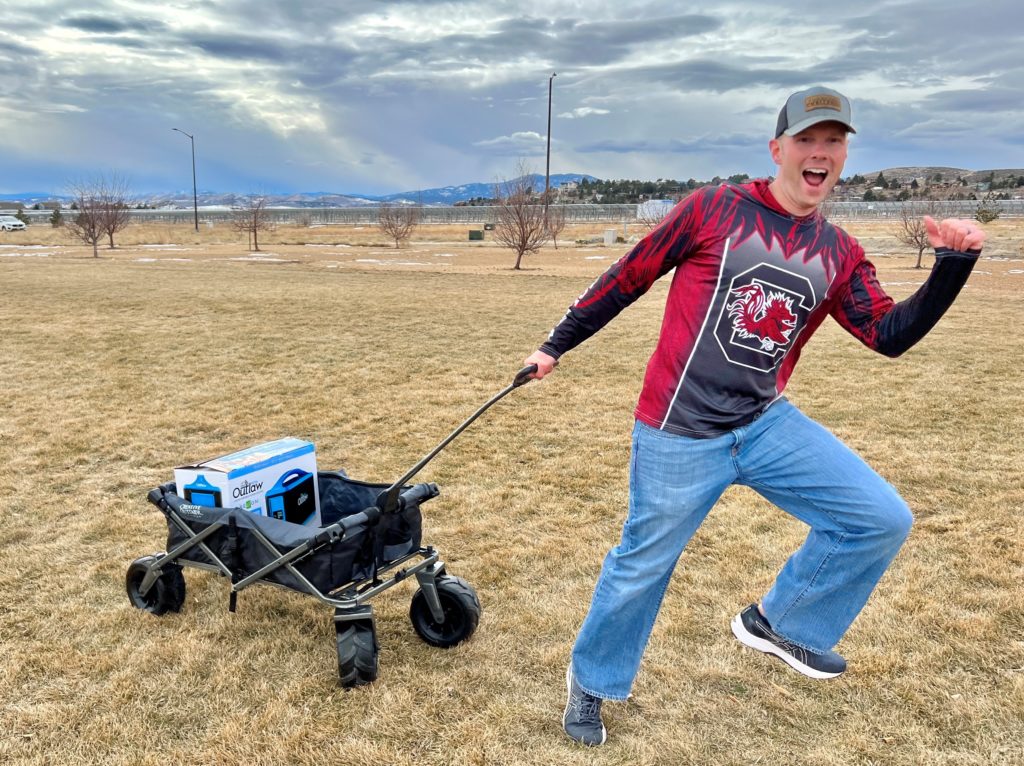 Outlaw 1072s Features
-Multiple Outlet Ports for Charging
-Charge with wall, car or solar panels
-LCD Screen
-Power: 1000W Continuous and 2000W peak
-Weight = 32 lbs
-No fumes or noise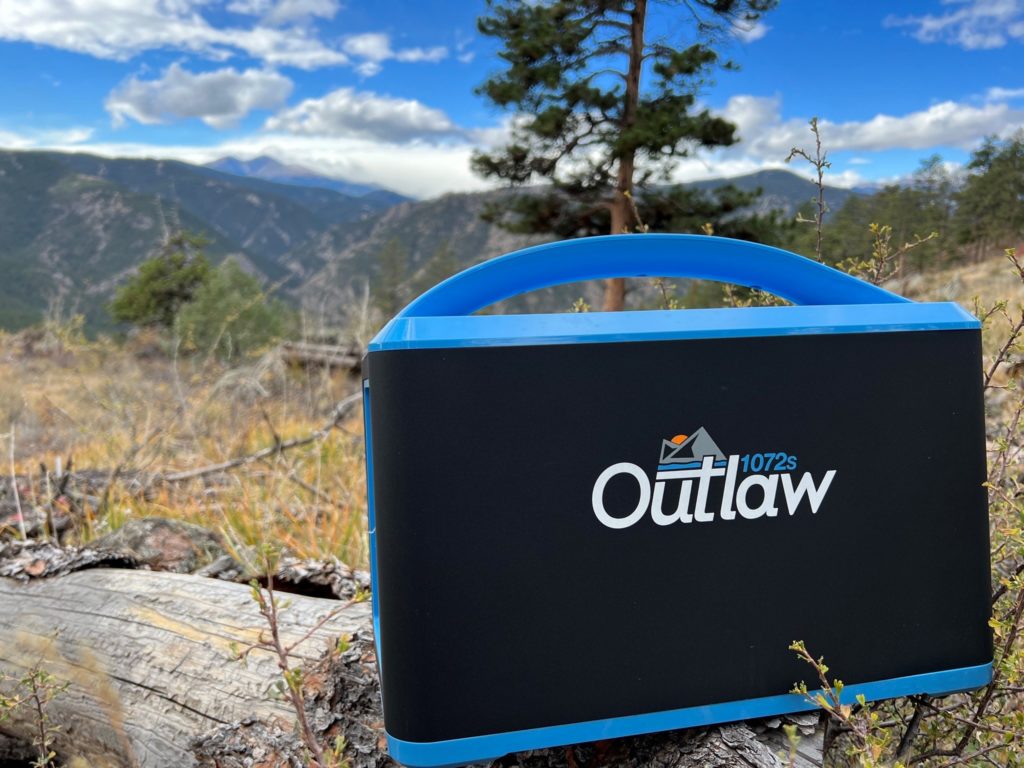 What Did We Think?
There are so many power stations out there it is hard to determine the best one for your needs. In this review we will hit on a variety of factors to help you with your decision making process. In this review we will discuss, portability, key features, and the power output of this outlaw portable power station.
Portability
This power station has an ergonomic handle, which is needed given the weight of 32 pounds. This is the heaviest power station we have tested to date, tipping the scales at 32 pounds. This is something that you can get around, but if you are going longer distances then having something like a wagon could help get this power station to it's final destination.
Key Features
There are ports on each side that look like small speakers, but are actually a way to diffuse heat to keep the unit from overheating. I love the LCD display, it is the best display I have seen yet on any power station. There are a variety of different outlet ports to ensure you can charge almost anything you have in your tailgating aresenal.
Let's Talk Power
This unit is rated at 1,000 watts of continuous power with 2000 watts of peak power. This power station is heavy in weight but is also heavy duty in power. Some of the tests I like to use with power stations are can they handle a blender, a TV, a hair dryer? This power station was able to handle them all. In our final test we were charging an electric cooler while using a blender! The only item this power station was unable to power was a 2,000 watt electric heater. Otherwise this was one of the most powerful power stations we have tested. For those wondering, when you are charging up this power station it charges about 10% per hour, so expect 8-10 hours to fully charge this power station if it goes to 0%.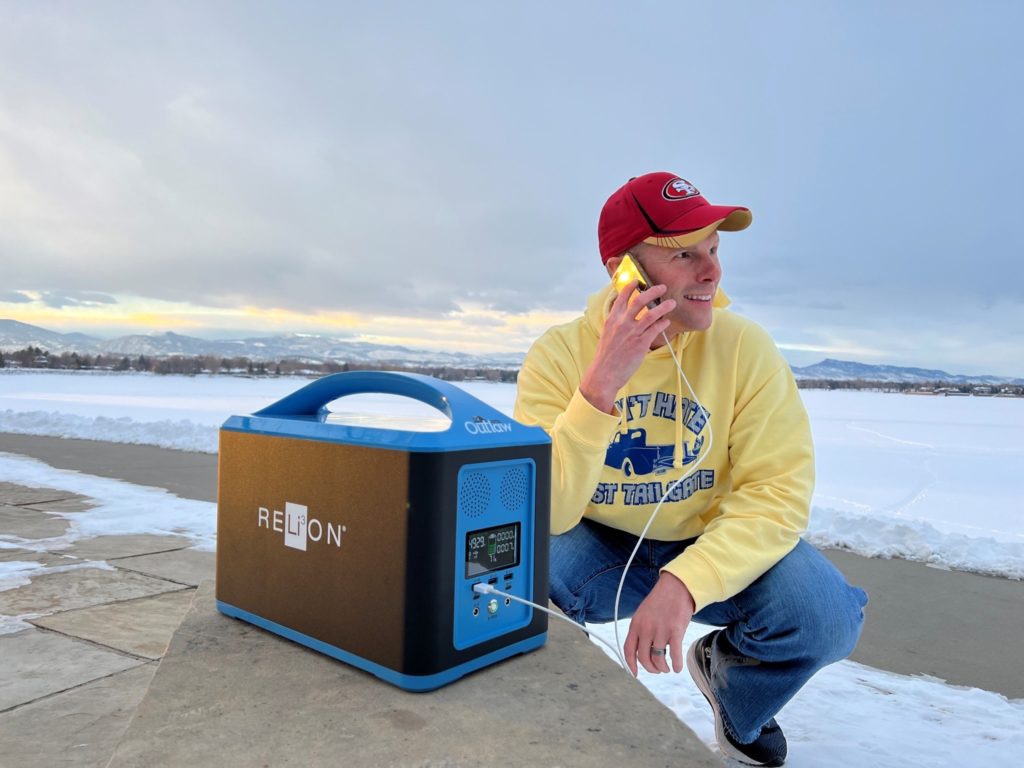 Conclusion
PROS: stylish, LCD screen, multiple outputs, ability to charge many high wattage products
CONS: heavier that other power stations tested, slight buzzing noise when in use.
Overall, if you're looking for a stylish power station with an impressive LCD screen this power station could be for you.
Learn more and get your own by visiting RELION.
Find many amazing products that we've tested in our AMAZON STORE. A little bit of every purchase goes back to help support our honest reviews of the products you love.
Thanks for reading our blog on the Relion Outlaw Power Station Review. Let us know what you think and any questions. Check out our short video below and while you're on YouTube make sure you hit that SUBSCRIBE button!
Love learning about all the new products that we get to test? Take a minute and check out our latest PRODUCT REVIEWS.
We never get paid for our reviews, this way we can always keep it real with our fans. We were sent a sample to check out with the understanding that we'd give our honest opinions.
Written By: Luke Lorick 1/23/23