I love to cook. Whether its homegating or tailgating I have been fortunate to get to try many different sauces over the years. One trend with many of the sauces that I test out is that they are far from 'natural' and normally have higher calorie content. In our Ricante Everything Sauce Review we will showcase a lineup of sauces that are 15 calories, or under per serving.
Ricante sauces are inspired by Costa Rican culture. I've visited Costa Rica multiple times and loved the area and the food. I have fond memories of traveling with my family and taking in the Costa Rican countryside and of course trying their local food. I jumped at the chance to try these new Costa Rican sauces to see how they would fare in our Tailgating Challenge.
Flavors of Ricante Sauce
-Tropical Mango Coco
-Tropical Guanabana ChimiChurri
-Tropical Tamarindo Caribbean Jerk
-Tropical Pineapple Habanero Infused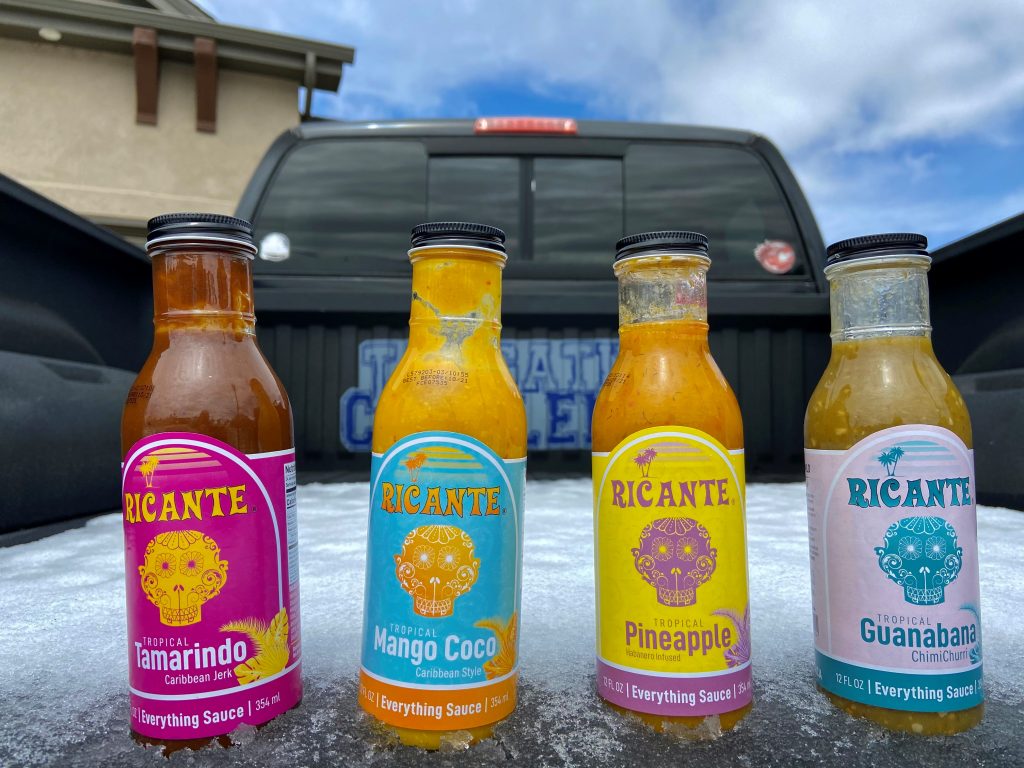 Product Tasting
I opted for the Everything Sauces as I'm not a spicy guy. They have a line up of hot sauces too that should fit the bill for any spice lovers out there.
In the testing I like to do a smell and two different taste tests. The first taste test is of the sauce alone to capture the true flavor and the second is using the sauce on a food item to see how it enhances the flavor of food. In these tests I used grilled chicken as the constant food item to keep all things the same, except the sauce. This way I can give my true thoughts on each. Disclaimer my tastes may be different than yours, so take with a grain of salt. Now lets get into the testing.
Mango Coco
The top ingredients, in order are, Mango, Coconut, Water and Orange. I'm a fan of products using natural and easy to pronounce ingredients.
When I opened the lid I could smell mango with hints of pepper. It has a yellow, mustard based color with specs of red, black and white ingredients within the sauce. The sauce was thicker in consistency.
This ended up being my favorite of the four. The more I ate it the more this one separated itself from the pack. Great tropical flavor some spice on the back end.
Guanabana ChimiChurri
Top ingredients, in order are, Water, Soursop, Parsley, Olive Oil, Apple Cider Vinegar.
There is strong smell of garlic when breathing this sauce in and garlic is one of the ingredients used that you can actually see chunks of floating in the sauce.
This came in third in my rankings, but came in first for others that did the testing with me. It has a very natural taste that is packed with garlic flavor.
Pineapple Habanero
Top ingredients, in order are, Pineapple, Mango, Water. Again excited that the top ingredients are fruits, very cool.
In smelling this sauce there is more of a vinegar smell with a hint of pineapple. This sauce has a thinner texture with noticeable chunks of dill swirling around the sauce.
During my initial testing this was my favorite, but was overtaken by the Mango. This still is one of my favorites and is the sweetest sauce of all of the Ricante Everything Sauces.
Tamarindo
The top ingredients, in order are, Tamarind, Water, Raisins, Tomatoes. They've done a great job with keeping these natural and healthy.
The first whiff I took in of the sauce made me immediately think of BBQ sauce. The color and smell could fool you into thinking this is your average BBQ sauce, but the 15 calories per serving quickly remind you this is something more natural and healthier.
This not only smells and looks like traditional BBQ sauce, but also has the flavor of BBQ sauce too. This had the most spice out of any of the sauces in this line up.
Conclusion
PROS: unique flavors, milder for those that aren't into huge spice, use of local Costa Rican ingredients, low calorie
CONS: you may not be able to find it in your local grocery store just yet
Overall, if you're looking for flavorful sauces that use natural ingredients and are low in calories, the Ricante Sauces could be for you.
Learn more and get your own by visiting RICANTE
We know you shop on Amazon so support us and find many of the products we test in our AMAZON STORE
Thanks for reading our blog on Ricante Everything Sauce Review. Let us know what questions you have and what flavor sounds the best. Now take a look at our video review of these Ricante sauces.
Love learning about all the cool, new products that we get to test out? Take a minute and check out our latest PRODUCT REVIEWS.
We NEVER get paid for our reviews. This way we can always be REAL with you. We were sent a sample to test with the understanding that we'd give our honest thoughts. Your individual taste may vary:)
Written By: Luke Lorick 4/17/21