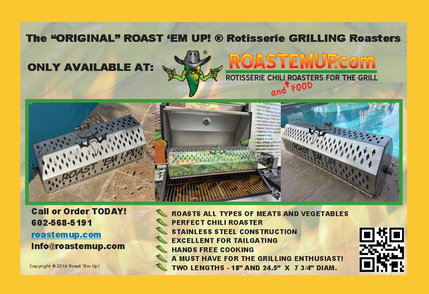 Raise your hand if you like Chili Peppers.  OK, so most everyone reading this likes them.  Now everyone who likes grilled vegetables raise your hand.  OK, several of you as well.  So you folks who love Rotisserie Chicken raise your hand.  That better be everyone out there. (By the way, how many of you actually raised your hands?)  I asked those questions because our review today is on the Roast 'Em Up Rotisserie Roaster.  This is the 1st time that I have used a rotisserie unit for my grill and was super excited to try it out.  Needless to say it did not disappoint.  I could tell the roaster was the real deal from the moment I opened the box.  The Roast 'Em Up isn't some cheap, spinning piece of metal that is going to break down after a few times over heat.  The Roast 'Em Up is made of heavy duty Stainless Steel.
The roaster comes in a couple of different choices.  You can get them in lengths of 18" & 24.5", also available are the seasoned or un-seasoned.  Along with the roaster you can  get the spikes to do a Rotisserie Chicken (which may be next on my list.)  I recommend getting one of the motors they have.  They work great, throw in a battery or plug em up and they will turn your food to perfection. Depending on the motor you have turning the roaster, will determine how much you can stuff in this bad boy.  For my 1st cook, I tried roasted potatoes.  I started with those because I have used other vegetable roasters and they ended up burning because they were too close to the heat.  With the Roast 'Em Up, this is the 1st time the potatoes turned out how I wanted them to.  Needless to say, when they were placed on the table at dinner time, there were no survivors.
With the different sizes available, and different options with the motors, there is bound to be something there that you are drooling over.  I know I am just writing this, as I can't wait to roast my next item.
Pros:  There are two sizes available to choose from.  This Roaster keeps food in motion to avoid sticking or burning.  It's made from Stainless Steel (what guy doesn't love that?).  Cool design, heavy duty steel that will hold all kinds of food and be able to hold up to the heat.
Cons:  This thing gets HOT!!!  As with any metal object over heat, be careful when removing the food.
Overall:  Awesome product, couple different sizes to choose from, and motors to choose.  They even have payment plans available with using PayPal.  How awesome is that.  Father's day will be here before you know it, get this for the Dad in your life, and tell him to "Roast 'Em Up"
Get yours here: