We know there is a sea of yard games out there and that it can be hard to pick ones you will spend your hard earned cash on. That is why we made it our mission to continue testing as many of these yard games as possible and give you our professional thoughts. We love yard games so much that we created National Yard Games Day (celebrated the first day of summer each year). In our quest to learn about new games we recently came across a new game to create this blog on Rollors game review.
Rollors allows you to roll your discs down to see who can get the closest to the target. The red/blue disc that is closest will get all the points. Let's learn more in our Rollors Game Review.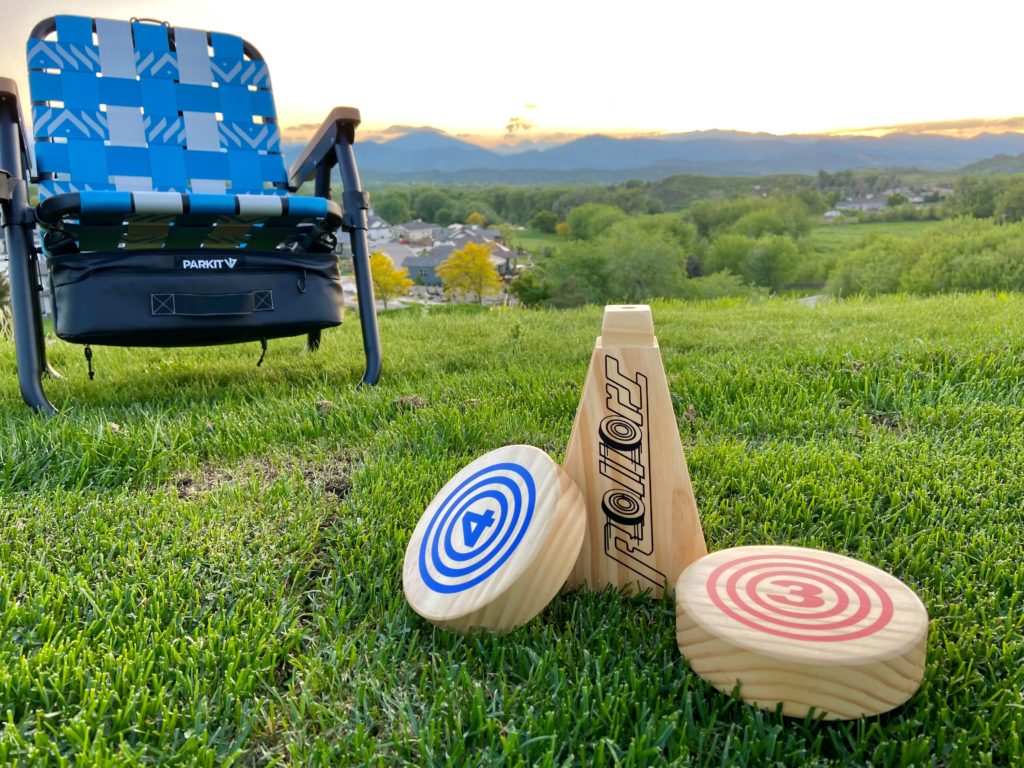 What's Included
3x Blue Disks
3x Red Disks
2x Goals
Measurement Cord
Carry/Storage Bag
Instructions
How To Play
-Set targets 15-20 feet apart
-Divide into teams with 2 on each side
-Teams roll their red/blue disc towards the target
-End of the round the disc that is the closest to the target gets the points that are showing
-Play to 21
Scoring of Rollors
-The disc closest to the target get the points (if all discs are 5 feet+ away NO points are awarded)
-Each disc is two sided with two numbers and the number that is facing up on the closest Rollor to the target would get that score
All ways of scoring when playing Rollors:
For Rollors that land on their side – score a point value equal to the number that is showing.
When Rollors stop on the edge – score a point value equal to the sum of both sides.
Rollors that come to rest against the goal – score a point value of double the number showing.
Game Play Rollors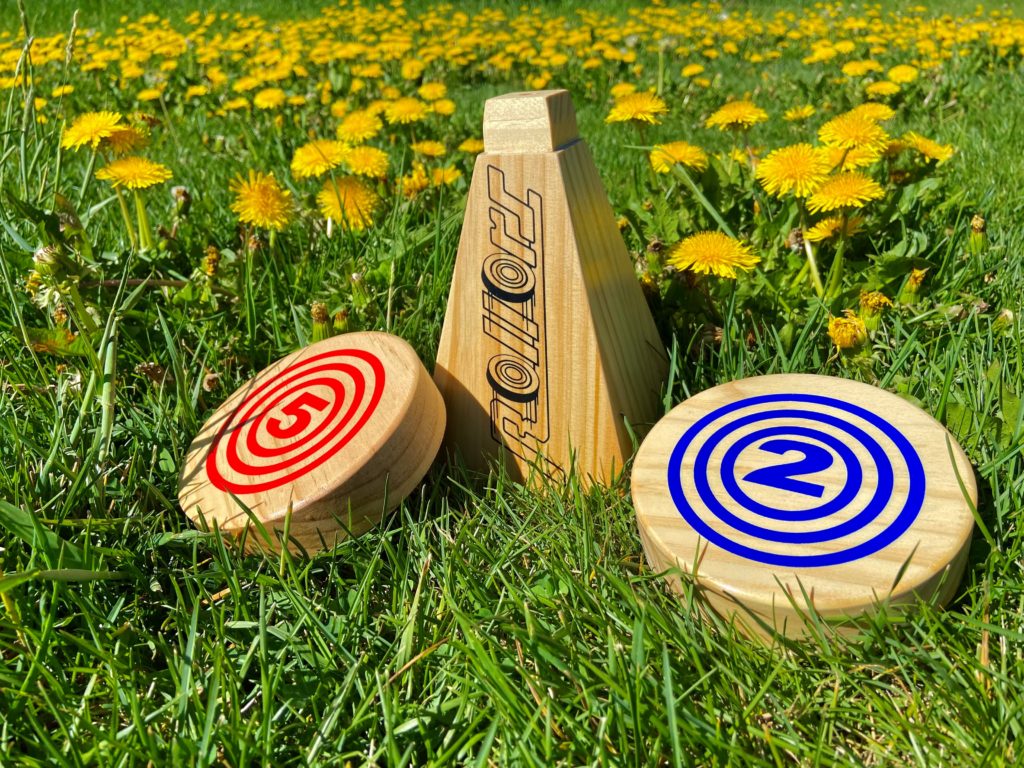 I've known the Rollors team for years, but it wasn't until recently that I actually put a Rollor in my hand to truly get my roll on. On the surface I was a little turned off at the fact that you can't play on hard surfaces ie: parking lots. Let's face it, a lot of tailgating parties happen in the parking lot.
Once I got over this I set the game up in my yard and let a few Rollors roll their way to the target. The first few rolls weren't great, but as I rolled more and I more I kind of got addicted to playing. You can ask my co-workers as I normally bring a game out once or twice to play, get their opinions, shoot video and its a wrap. Not with Rollors I brought it back for 2 weeks straight to play games at lunch.
Here is what I really like about this game. First, its so portable. The carrying case is small and light. This makes it easy to take with you anywhere. Next up, it's the challenge that is different from so many yard games. With most yard games you make a tossing motion, but in Rollors its more of a bowling motion.
When you start to get on a roll, sorry my pun, you will learn that you have to play the grass and any incline. This can also mean seeing which way your disc normally falls. This is important for making sure it falls going towards the target and if you know the way it normally falls you'll put your bigger point on that side to try and get max points on your roll.
Conclusion
PROS: very portable, the more you play the more you want to play, easy scoring system
CONS: can't play on hard surfaces as can damage the discs
Overall, this game surprised me. I thought it wasn't going to hold up to some of the games that we have tested, but Rollors did awesome in our Tailgating Challenge. This will be a game that gets some more play for me, even with MANY choices of games to play.
Learn more and get your own by visiting ROLLORS.
Find many of the products we've tested in our AMAZON STORE.
Thanks for reading our blog on the Rollors Game Review. Let us know what questions you have and then watch our video below showing how to play along with some good shots..I mean rolls. While you're on YouTube make sure you hit that SUBSCRIBE button.
Love learning about all the cool, new products that we get to test out? Take a minute and check out our latest PRODUCT REVIEWS.
We never get paid for our reviews, so we can always keep it real with our fans. We were sent one game to test out with the understanding that we'd give our honest thoughts.
Written By: Luke Lorick 6/8/21