We love a good cooler and have tested many of them over the years. The cooler market blew up a few years ago and now there are a sea of coolers that feel, well, the same. We strive for different here at Tailgating Challenge and so we had to test out the Rugged Road Outdoor Coolers in this latest blog. Under 10 pounds, holds 65 beers, almost indestructible and it floats! We'd say that is different. Now onto the Rugged Road Outdoor Coolers Review.
Rugged Road Outdoor Cooler FEATURES
Ultra lightweight—under 10 lbs
Holds 9.92 gallons or 55lbs. of ice
Dimensions: 18″ wide x 26″ long x 16″ tall
Virtually indestructible Rigorite™ construction
7+ days of ice retention—top 1% performance
Cavernous storage space holds 65 12-oz. cans
Floats upright so you can use it in water
Multi-purpose, reversible lid with cup holders and cutting board
"Double-Up" Handle System
"Get a Grip" Non-Slip Surface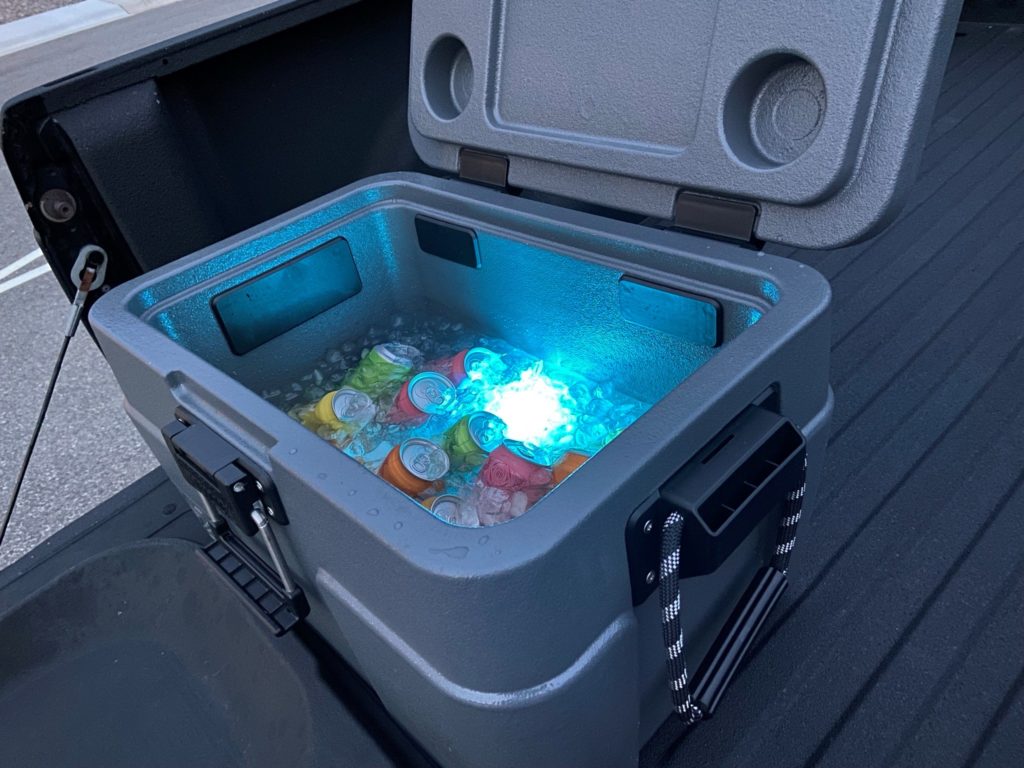 Cooler Testing
When we got our cooler in it was time to put some ice in it to see how it fared. We put 20 pounds of ice in for our test. This to me is the bag size I normally get if I'm tailgating. Note that if you add more ice the overall results will be different. We added some beers to the equation and then took this cooler out to the football stadium, neighborhood party and even tennis match in the heat of summer to see how it did.
This cooler kept ice for over 3 days in 95 degrees the week of the cooler testing. We used the cooler like a cooler should be used with leaving it outside, opening and closing the cooler to get beer to give this a real world test. Many times you get wild numbers of how many days ice will stay when the cooler is in a cooler environment and is not opened/closed repeatedly. There was still ice cold water for over 4 days that kept everything nice and cold.
This cooler was dropped, stood on, banged into objects and there wasn't a mark on it afterwards. When they say its rugged we can back that up 100%.
I love the fact that this cooler weighs less than 10 pounds. You won't find a similar sized rotomolded cooler that can compete in that space. Did we mention that the cooler can float upright too? Pool or Tubing party approved.
The one area of feedback comes with the seal on the cooler as water will come out of the cooler at both hinges in the back and front. They have the flip around cooler lid that is pretty sweet, but this may be contributing to this one flaw in the cooler.
Conclusion
PROS: super lightweight, rugged, and it floats
CONS: leaks water at the hinges
Overall, this cooler impressed me overall; from keeping ice in REAL WORLD conditions for over 3 days, being super light and rugged we'd recommend this cooler to our tailgating crew.
Learn more and get your own by visiting RUGGED ROAD OUTDOORS.
Find hundreds of hand picked products to step your tailgating up this season in our AMAZON STORE. Your one stop tailgating shop.
Thanks for reading our blog on the Rugged Road Outdoors Cooler Review. Let us know what questions you have and then watch our short video review below. While you're on YouTube make sure you SUBSCRIBE to our channel!
Love learning about all the cool, new products that we get to test out? Check out some of our latest PRODUCT REVIEWS.
We NEVER get paid for our reviews. This way we can always keep it real with our fans. We were sent one cooler to test with the understanding that we'd give our honest thoughts.
Written By: Luke Lorick 8/9/21