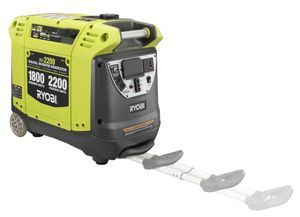 Tailgating season is the most euphoric time of the year and rightfully so.  You are able to release stress and be with your friends before the big game. Many  people tailgate, but very few tailgate with passion.
There are many average tailgates that I am sure you have attended over the years.  There are certain things that take a tailgate to the next level and most of those things need POWER.
Welcome the lightweight Ryobi Generator.  This new generator is designed to be portable and extremely quiet. Two big pluses in any tailgaters book.  The Ryobi puts out 2,200 watts of power and has an auto idle that allows it quietly operate in the background while you do what you do best: Tailgate!
The Ryobi Generator is safe for all phones, laptops and televisions.  The Ryobi Generator weighs a mere 52 pounds and has a pull out handle and roller blade like wheels to make transportation a breeze.
Running the tailgate of all tailgates and need even more power? Ryobi has you covered. You can run this generator in parallel with a twin Ryobi to get double the power and really get your tailgate cranked up!
All of us are not electronic gurus and that is ok. Again, Ryobi has you covered as their generator is 'dummy' proof. It comes with warning lights if you are overloading the generator, or the oil level is low.
This generator is great to keep around the house if you lose power, or on a camping trip to keep the kids happy.
Pros: lightweight, easy to move, quiet, very affordable, appealing design
Cons: They don't offer it with your favorite team logo
Make this the best tailgating season yet and go to home depot and pick up your very own Ryobi Generator today.
Check HERE to order this awesome generator.