Be honest! We have all slid a lime, or added salt to some of our beers before. This was the thought behind creating the Salteez Beer Salt Strips. These are flavor added strips that you peel, stick and lick before you drink your beer. Let's learn more and dive deeper into our Salteez beer salt strips review.
Flavors of Salteez
-Chili Lime
-Pickle Salt
-Salt and Lime
Salteez Testing
We had seen Salteez tending on social media and when I looked into them further I saw a pickle flavor! For those that don't know I'm a huge pickle flavor fan, so knew we had to try these. To keep the review full we got one of each flavor to test out.
Each of the Salteez has only 10 calories per strip. When I was reading the ingredients I thought the calorie content would have been much higher given some of the top ingredients such things as sugar, glucose, wheat flour, fructose syrup, etc.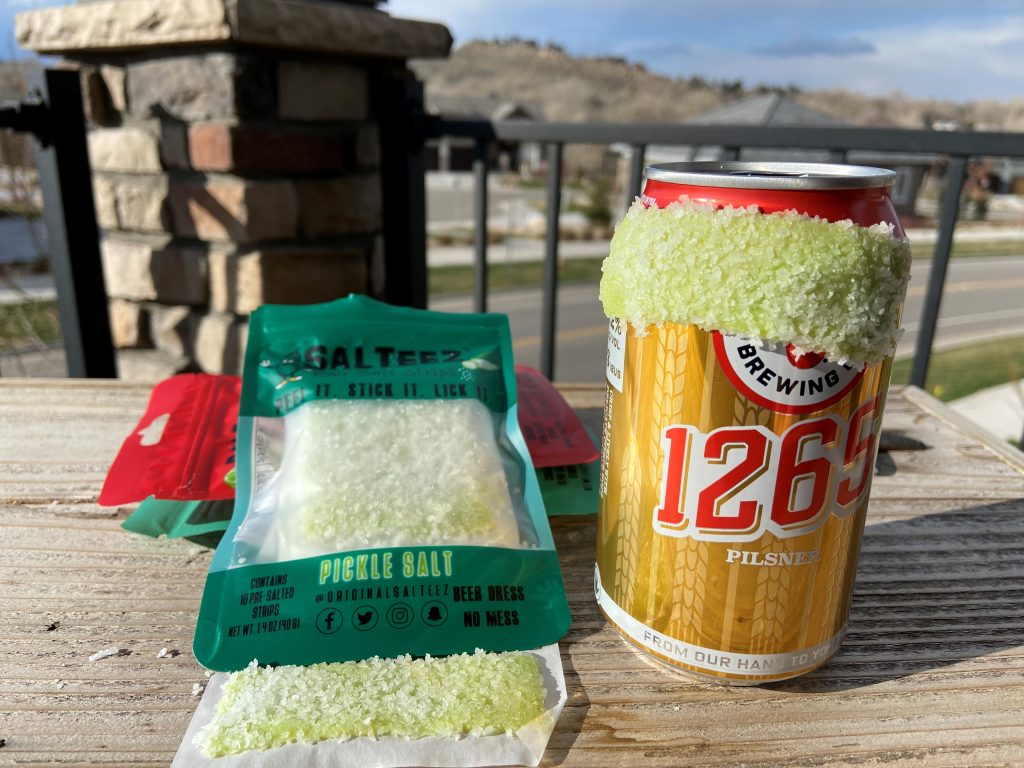 Step 1: Peel It
There are 10 strips per pack and there are two strips per sheet. Step one is as simple as peeling one of the strips off
Step 2: Stick It
Now you need to find where you are going to place your Salteez strip. You can place these on cans, bottles or cups. We tried the Salteez strips on all of the above. Each strip was easy to place and stayed in place for over 48 hours (not that you'd need it this long, but shows that they won't fall off while drinking). When placing the beer salt strip make sure you place it where you won't touch it when you're grabbing your drink. Also don't put it right at the edge of where your lips will go. This will cause you to spill some beer!
Step 3: Lick It
Now you will lick the Salteez beer salt strip and take a sip of your cold beer.
We taste tested all three and thought we knew up front which ones we'd like the best. After the taste testing I was surprised that while I liked the Pickle Salt one, the more I had the Chili Lime one the more I liked it.
My least favorite was the Salt and Lime. I didn't get any hints of lime only strong salt. If you love salt then this one is for you.
The Pickle Salt one also has a strong salt flavor that then transitions into hints of pickles moments after you lick the Salteez strip.
Finally, the Chili Lime was the one that impressed me the most. I thought it would be my least favorite, but turned out to be one of my favorites. It has a mild sweet and spicy flavor that goes well with a cold lager or pilsner.
Conclusion
PROS: easy to use, stays in place, adds flavor
CONS: not ideal for all beers, would like to have a little less salt flavor and more lime/pickle for the respective flavors
Overall, the Salteez beer salt strips have a niche that will be a big win for certain tastes and types of beer. I will be keeping these on deck for our tailgating and homegating parties to share with friends when they are needing to enhance the flavor of their beer.
Learn more and get your own by visiting SALTEEZ
Visit our Amazon store to see hundreds of the awesome products that we get to test out.
Thanks for reading our blog on the Salteez Beer Salt Strips Review. Let us know what questions you have and then watch our video review on Salteez below.
Love learning about the cool, new products that we get to test out? Take a minute and check out our recent PRODUCT REVIEWS.
We NEVER get paid for our thoughts on products. This way we can always keep it real and be HONEST with you. We were sent a sample of each flavor of Salteez to test out with the understanding that we'd give our honest thoughts.
Written By: Luke Lorick 4/24/21