Goose Down jackets have been popular for years, but few people understand that many geese are killed to make these down filled products. Yes, some of the down is obtain through the molting process that birds go through, but many others are harvested and put in terrible conditions to meet a horrific fate. It's time to stop this inhumane process and the Save The Duck organization is making this a reality with their new line of jackets that are 100% animal free! We got a few jackets in to complete our Save The Duck Review.
The Save the Duck organization started their mission to help save our feathered friends of all varieties by producing jackets and vests that would make people forget about down feathers. We all know that down feathers are soft and warm, but now Save The Duck has created a synthetic down: Plumtech that will make you say wow! We got one of their jackets and vests in to try out and from the first time we put them on we were amazed.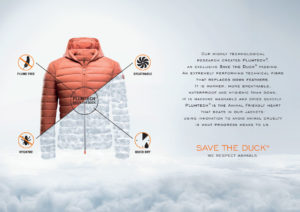 I am a big fan of vests and it can be hard for me to find a vest that I actually like. Many come in very drab colors that don't fit my style. When I saw the Twilight Blue color I fell in love and knew that was my next vest. The Giga Stand Collar Vest looked great and you could feel the additional insulation and thickness in the vest. Once I slid the vest on I was surprised because it felt simply marvelous. It has great breathability and really keeps my core warm. There are also three zipper pockets (one on the inside) that can help secure all of your items on your next adventure.
My wife got the Save the Duck Women's Luck Hooded Puffer Jacket in Alpine Green and it adds great style to her wardrobe. The dark green color on the outside and the bright yellow on the inside really makes it pop. She put it on and had the same reaction that I did, it feels great and keeps her warm. A little background on my wife she is ALWAYS cold! This is now her go to jacket to stay warm. She is also a HUGE animal rights activist and is the one who turned me on to the Save The Duck brand and their mission. There is a large Save the Duck badge on the left arm that I think they could make 'pop' more, as it is all black and you have to get the right light on it to see the brand. They could color coordinate these with the jackets that could make it more stylish and support their brand more. When you take this jacket off there is an awesome message in big letters across the back: 100% Animal Free! How awesome!
We knew we needed the perfect backdrop for this video and we had just the place in mind:                       Rogers Wildlife Rehabilitation in Hutchinson, TX. They help save birds of all varieties: ducks, turkeys, peacocks, geese, eagles, chickens, pelicans and more. We have taken sick birds we found in our neighborhood to this organization in the past that they saved! Their grounds are a bird lovers paradise that we enjoy touring to see all the amazing birds they have. We took our jackets to Rogers Wildlife Rehabilitation to show the actual birds that you will save by ditching those down feathers. You can see and hear hundreds of beautiful birds that we came in contact with while filming this video.
The Save the Duck brand is doing big things to support our feathered friends and they have one of the best feeling jackets/vest that we have ever put on. Even if you swear by goose down jackets, I bet they can change your mind. Oh and you'll be doing something awesome for our animal friends in the process.
Love our NON-Biased Reviews? Then check out our full PRODUCT REVIEW section to see hundreds of awesome items.
Save The Duck sent us the sample jackets with the intention of getting our honest review and thoughts of their product. No monetary consideration was exchanged.
Written by: Luke Lorick 1/26/20