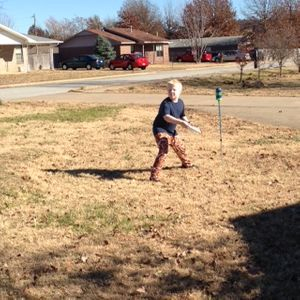 YAZOO!!! No I didn't mess up and misspell Yahoo, its YAZOO the cool new game from SeaTurtle Sports. If you are looking for a new Tailgating Game, then we have found it for you. This game is all about accuracy and some skill mixed in. You don't just have to play it at tailgates either. Family times out in the yard, trip to the beach, at the park having a picnic, are all great places to play this game. So what is YAZOO exactly? It's an outdoor game for 2 or more players where a disc is thrown back and forth between two poles with empty cans set on top. The players take turns trying to knock off the other teams can by hitting it with the disc. Sounds easy enough right? WRONG! This is where that accuracy I talked about earlier comes in. Throw in the fact the other team gets to play defense by trying to catch the disc and it's enough to make you go crazy. Ok not really, but hey, it sounded good. Just be careful and not jam a finger or anything.
Pros: Fun game easy to play, great for all ages. It is for ages 8 & up, but my 6 yr old loved playing. Quick set up; stick the poles in the ground, place the can on top of the pole, 1st one to 21pts wins. It's that quick. It comes in a convenient carry bag, so you can carry everything around, plus a place to put your keys and such when you are playing.
Cons: Not an easy game to play on a windy day.
Overall: Fun game for the whole family to enjoy. Excellent price and just a fun name. Who wants to play some Yazoo? Can you beat me?
Check them out: