If you tailgate you have to have a cooler, but lets be honest you don't necessarily need one that will keep ice for a week. That is pretty awesome, but I've never actually tailgated for a week straight (although that may be a new challenge) and needed the ability to hold ice more than 24 hours. It is awesome and makes people feel pretty good to brag about how long their cooler can hold ice, but come on man, just keep my beers cold for the afternoon and it'll be ok.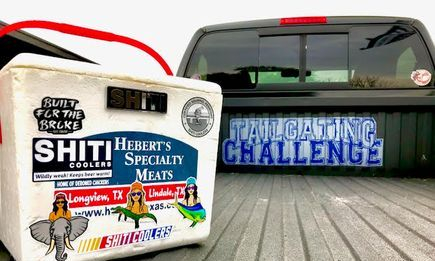 The team a SHITI coolers (yes this is a real company) is poking fun at the roto molded cooler revolution. My cooler can keep ice for 4 days, well mine can keep ice for 5 and so on. The SHITI coolers team believes that regardless of your financial status and the type of cooler you have that you can still have a blast tailgating with that old beat up cooler that you have in the garage.
They came up with a full line up of koozies, shirts, hats, flags and most importantly stickers/badges to put on that old cooler. You can now feel proud to bring the old styrofoam cooler that has a chunk missing and brown stains on it to the game. It still keeps the beer cold a few hours, right? I have been blessed to get many brand new coolers to test out and review, but I can fully appreciate everyone who tailgates. From those that have the most expensive Yeti on the market to those that have the cooler their grandfather passed down to them. At the end of the day its all about tailgating and having fun. Who gives a you know what if the cooler is the top of the line or not. It's about the people, not about the cooler.
So, I give a shout out to the team at SHITI coolers for bucking the trend of having the flashiest, fanciest and nicest cooler in the game. Bring what you have to the tailgate and have a blast doing it!
Some of the stickers they have include sayings such as "Wildy Weak, Keeps Beer Warm", "Built for the Broke", "Squirrel Proof" as they are poking fun at the leader in the cooler industry, but in a playful way. It's nothing against ANY of they top of the line cooler companies, but more of letting people know its ok if they can't afford or can't rationalize spending that kind of dough on a cooler.
I haven't met the people that came up with this, but shout out to you guys and gals for having some fun with the wild cooler craze.
Check them out today and get a little SHITI HERE
Wildy weak, keeps beer warm. Built for the broke.
Shiti Coolers
tailgating 2