We know you love hammocks, but you have to find 2 perfectly spaced trees in order to set up your hammock. If you've ever had to skip over the ultimate view since there was only one tree, we have you covered with our latest blog on the Single Point Hammock Stand Review. This hammock hack will ensure you'll always have the best view from your hammock by requiring just one tree to set up your hammock.
Features of Single Point Hammock Stand
Only one tree needed for set up
Weight capacity 400 lb
Carry bag included
Product weight: 24.5 lb
100% powder coated steel
Open size: 131.38 in. L x 48 in. W x 62.75 in. H
Tree anchor strap included
Hammock and straps sold separately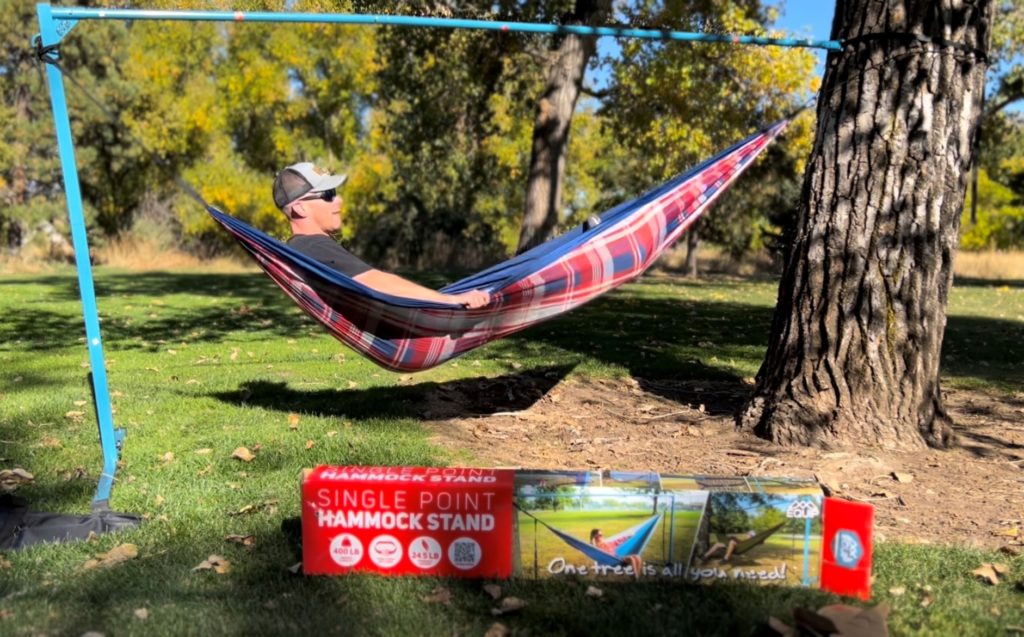 What Did We Think?
We were intrigued, as we have seen many amazing views during our hiking here in Colorado, but so many times the best views don't have two trees set up for your hammock. We got our single point hammock stand packed in the car and took it to our favorite hike to put this to our Tailgating Challenge.
After we hit the summit we came back down and grabbed the Single Point Hammock Stand. One issue is that this is too heavy to take too far. Weighing it at almost 25 pounds this will limit how far you can take it.
We found a spot a quarter of a mile from our car and found the amazing view that you see below. You can see in the pic and video that there was only one tree for this million dollar view. We pulled all the parts out and started the set up, for the first time.
In less than 10 minutes (see our video below to watch the set up) we had this set up and ready to kick back and enjoy the view. Set up was pretty simple and I did it by myself to show it can be done solo. Most of the parts snap lock into place and there are two ground stakes that go into base. These are not strong enough and both bent during our testing. A tree strap is also included that will allow you to wrap it around pretty large trees.
I weigh 185 pounds and this held me up with zero issues. It notes it can hold weight up to 400 pounds.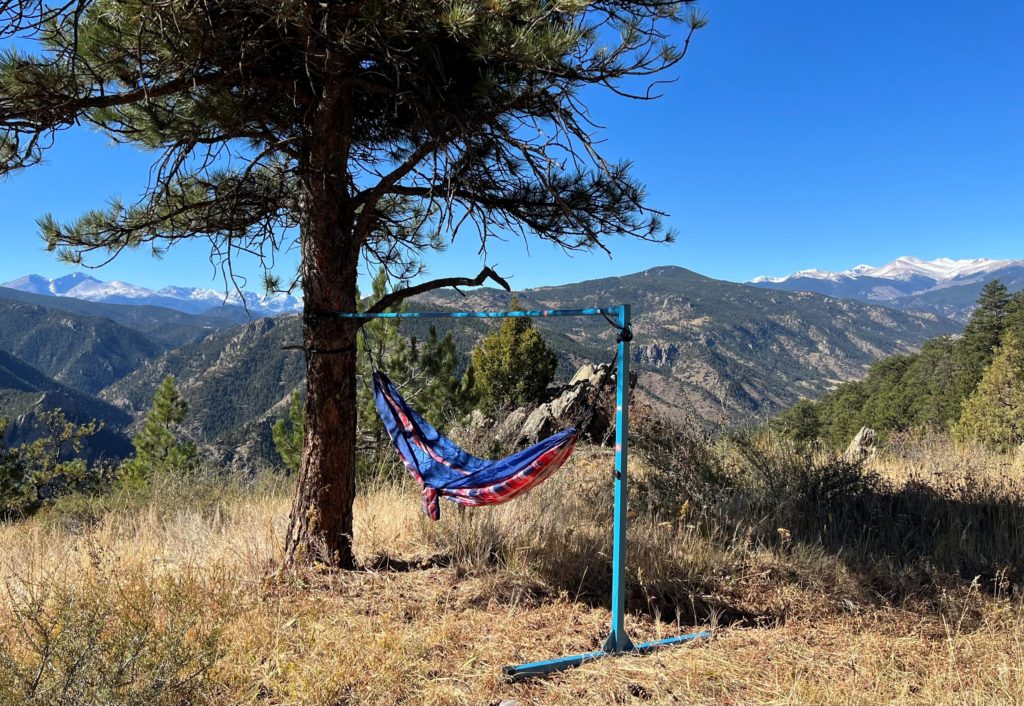 Conclusion
PROS: quality frame, love the color, single person set up, carrying case to hold all the pieces
CONS: too heavy to take on longer hikes, the ground stakes both bent during our testing
Overall, we got to see the some beautiful mountains from our hammock because of this Single Point Hammock stand. Needing just one tree will exponentially increase your chances of finding an epic view.
Learn more by visiting EQUIP OUTDOORS.
Find tons of fun camping and tailgating gear in our AMAZON STORE.
Thanks for reading our blog on the Single Point Hammock Stand Review. Let us know what you think and if you have any questions. Now watch our video review and then SUBSCRIBE to our YouTube Channel.
Love learning about the new products that we get to test? Take a minute and check out some of our latest PRODUCT REVIEWS.
We NEVER get paid for our reviews. This way we can always keep it real with our fans. You deserve it! We were sent one sample to test out with the understanding that we'd give our honest thoughts.
Written By: Luke Lorick 10/19/21