Washers is a classic yard game that has been around since 1931! We appreciate classics as they can spark future innovation. That is what happened with the new SinkHole Washers game that is ready to bring the game of washers into 2021! We love playing games so much we created National Yard Games Day and make it our mission to show our fans the most fun yard games on the planet! Now it's time for some washers to fly in our Sinkhole Washers Review.
Sinkhole Washers Features
-Colored Washers for Each Team
-Built in game measurement rope in different colors
-Ethically sourced California Redwood (we thought is was cedar with the feel and smell)
Sinkhole Washers Scoring
-1 point washer on the board
-2 points washer hanging off edge of board
-3 points washer in the big hole
-5 points washer in the small hole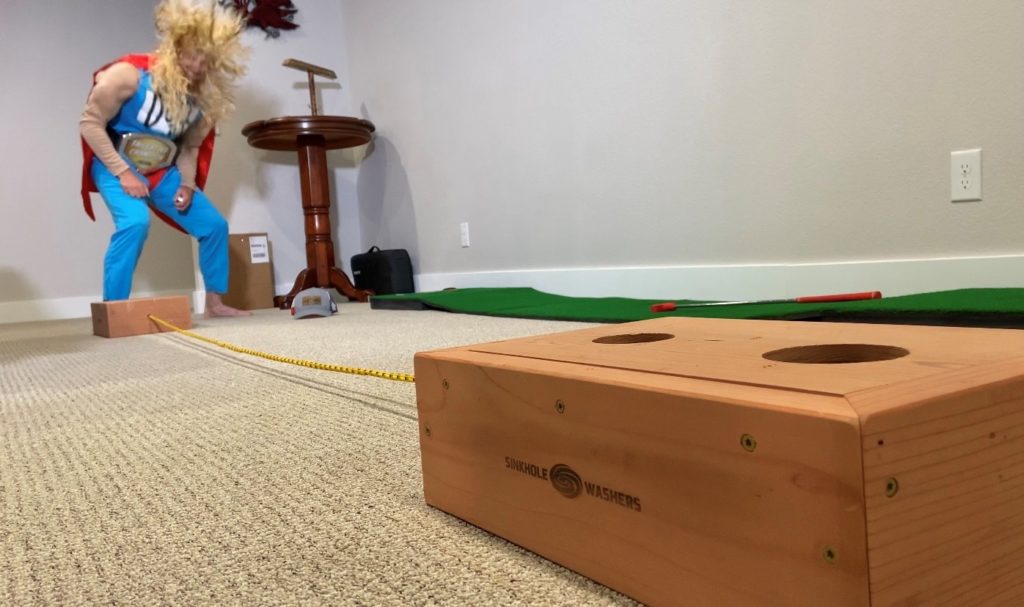 What Did We Think?
The Sinkhole Washers game looks and smells amazing! We thought the wood was cedar with the look and smell, but after the video we learned it was California Redwood. We also quickly noticed that there is a rope attached to both boards, so you will always place the board the perfect distance apart.
The rope colors can be matched to the washer colors. We got ours in gold and green for one of our favorite teams the Baylor Bears. Disclaimer these are not NCAA licensed and no team logos are used, just colors.
Now that we got the HR statement out of the way let's toss some washers. First thought was that the washers have some weight to them and its pretty dang hard to get them to 'stick' on the board. The washers were bouncing and rolling off and I started to try some back spin and other toss variations to get some points.
While I'm still not a master at this game I do know its pretty fun and addicting. Heck we even played in our basement, but be careful as these washer could damage things in your house. You've been warned.
You will notice that even after one game play there will be some dings all over the board, don't panic this is not a defect!
Conclusion
PROS: quality look, fun game play, different color washers and rope, built in rope to always know the proper distance
CONS: Needs a way to store the washers in the game when you're done playing. I'm thinking a pouch on the inside of the box.
Overall, this was a fun a game that provided more of a challenge that I originally anticipated. It was a FUN challenge and a game I will bring back for some tailgating and homegating parties.
Learn more by visiting SinkHole Washers.
Visit the one stop tailgating shop: our AMAZON STORE.
Thanks for reading this blog on the SinkHole Washers Game Review. Let us know what you think and if you have any questions. Then watch our short video review of this fun game below. While you're on YouTube make sure you SUBSCRIBE!
Love learning about all the cool products that we get to test out? Take a look at some of our recent PRODUCT REVIEWS.
We never get paid for our reviews. This way we can always keep it real for our fans! We were sent one game to test out with the understanding that we'd give our honest thoughts.
Written By: Luke Lorick 9/29/21