S'mores are a classic food when you're around a campfire, but you shouldn't always have to get a big fire pit going in order to have a s'mores treat. Now that dream is a reality thanks to S'mores by TerraFlame. This is a fire bowl that allows you easily make s'mores outdoors, or inside too! Ready to make s'mores anywhere? Then onto the S'mores by TerraFlame Review.
S'mores Fire Bowl Features
-clean burning flames that crackle like real fire
-smoke free
-non toxic
-3 hours of burn time per can
-stone is cool to touch even after long burns
-s'mores roasters, lid, bamboo tray and fire gel included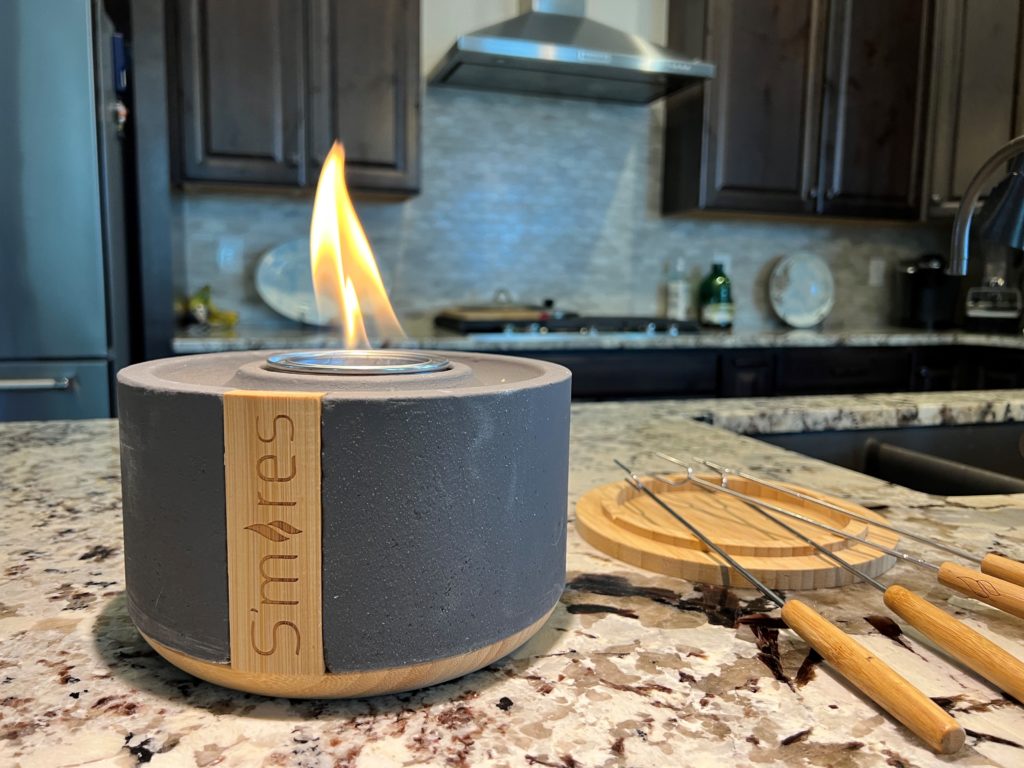 What Did We Think?
First, if you don't know us we love s'mores and we had checked out another TerraFlame S'mores fire bowl in the past (you can see that one HERE). While I'm not a big dessert fan, there has always been a nostalgic feeling when having a fire going and a s'more in hand.
This s'mores fire bowl has a great look to it and comes in grey or white stone. It also had everything we needed for an ultimate s'mores night, aside from the actual marshmallows, graham crackers, and chocolate. This unit looks clean, but how does it handle roasting those marshmallows?
Let's light up the fire gel to get this s'mores party going. You can light this with a normal match, lighter, or mini flamethrower like we did in the below video. It lights easily and starts to to crackle and even provides a halo of heat a few feet around the fire.
The fire gel can is not huge, but can still last for 3 hours. With it not being huge we found having two people use it to roast marshmallows was the prefect amount. The fire gets warm and will get those marshmallows roasted and toasted.
The classic S'mores we created were great and as a bonus they give you a craft S'mores recipe book for some truly unique recipes. When done with the fire just slide the fire gel lid over the top to put the fire out.
The stone was cool even when the fire was going, so you can move this around and not worry about anyone getting burned by touching the outside of the stone.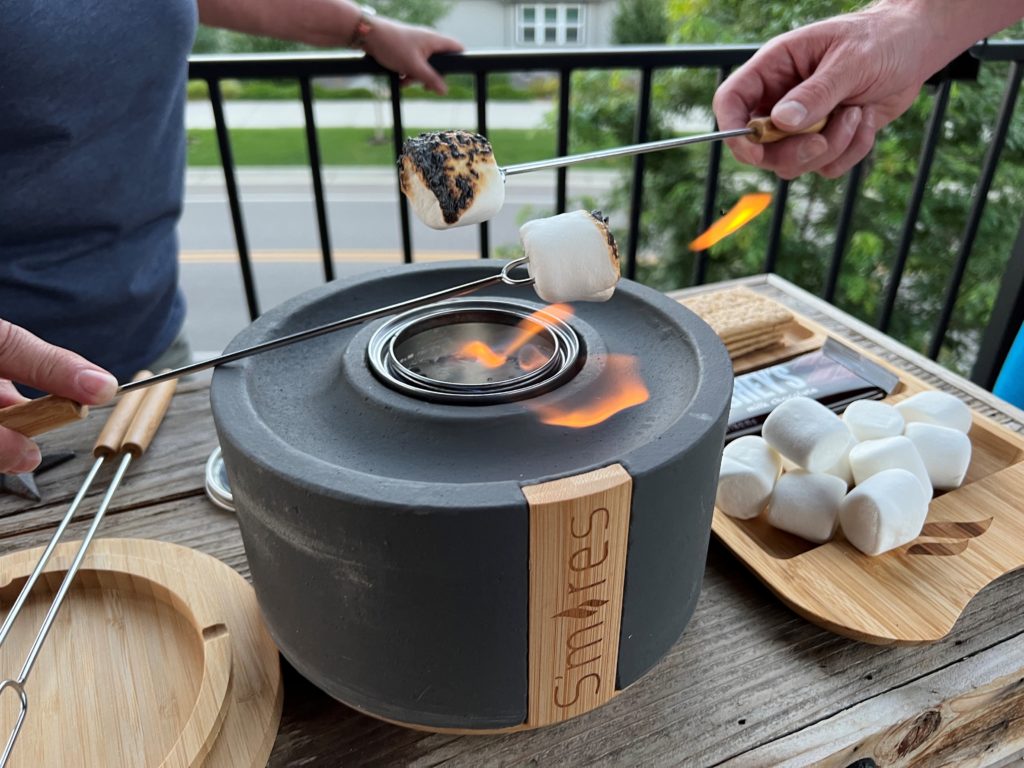 Conclusion
PROS: uses smokeless fire gel, indoor or outdoor use, stone stays cool to touch, provides warmth and ambience
CONS: Aside from being a white scuff on the stone that we were later able to wipe off there are no complaints
Overall, this is an excellent unit if you love making s'mores, but don't want to make a raging fire pit when you get that craving.
Learn more and get your own by visiting TERRAFLAME.
Find this and many more amazing products that we've tested in our AMAZON STORE. A little bit of every purchase goes back to help support our honest reviews of the products you love.
Thanks for reading our blog on the S'mores By TerraFlame Review. Let us know what you think and any questions. Check out our short video below and while you're on YouTube make sure you hit that SUBSCRIBE button!
Love learning about all the new products that we get to test? Take a minute and check out our latest PRODUCT REVIEWS.
We never get paid for our reviews, this way we can always keep it real with our fans. We were sent a sample to check out with the understanding that we'd give our honest opinions.
Written By: Luke Lorick 7/18/22