Love Tacos? Listen Up! Actually just keep reading about this taco lovers product: Taco Tuesday Lazy Susan Taco Bar Review. If you are serving tacos to your family then the Taco Tuesday Taco Bar could take taco night to the next level. Let's see how this Nostalgia Taco Tuesday Taco Bar fares in our Tailgating Challenge.
Features
REMOVABLE WARMING POT: Removable, 20-oz. warming hot pot keeps queso, meats, beans, rice at the perfect temperature. Pot can be removed, allowing for easy clean up
TOPPING TRAYS: Includes six removable topping trays, which are perfect for holding your favorite toppings such as lettuce, cheese, onions, cilantro, tomatoes, salsa, olives, jalapenos & more!
TACO HOLDERS: Comes with four taco holders that hold hard or soft shell tacos, keeping your taco stay upright to help you create your perfect taco
LAZY-SUSAN DESIGN: Easily share across the table and make sharing and decorating easy with the spinning lazy Susan design
OTHER FONDUE USES: Melting pot can also be used for nacho cheese, fondue parties, dipping strawberries, marshmallows, breads and more!
EASY CLEANING: Topping trays and melting pot remove for easy cleaning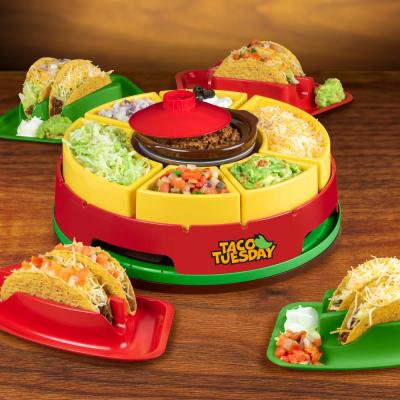 Taco Testing
When our Taco Tuesday Taco Bar came in I was stoked to use it. I went out to the grocery store, giddy with the fact that I had an awesome reason to take Taco Tuesday to the next level. I loaded up on ingredients to make sure we took the Taco Tuesday Lazy Susan Taco Bar on the proper spin.
In the video below you can see the unboxing and what will be included in your box. You will get the Lazy Susan, 6 condiment holders, one warming pot and 4 (2 red and 2 green) taco holders. The set up is simple, as you take the two lazy susan pieces and place one on top of the other. You will then place the condiment holders in place and the melting pot goes in the center. You will feed the melting pot electrical cord through the bottom hole and out the side (standard 3 prong electric plug).
After all of our ingredients were prepped it was time to start loading the Taco Tuesday Lazy Susan Taco Bar up for its moment under the lights. We added sautéed mushrooms/peppers, olives, cheese, guacamole, refried beans and salsa to the condiment trays. Each of the trays is removable for easy cleaning. We put them all in the dishwasher when our party was over.
Finally, we added our lean ground beef into the warm pot. This is the one area that some may have concerns about. The warming pot is a little small, but it will hold 1 pound of ground beef.
Once we had the Taco Tuesday Taco Bar loaded up I needed to see how the lazy susan worked. It worked perfectly to easily spin the condiment of choice over to the other side of the table.
The warming pot did a great job of keeping the meat hot during the evening. This pot does not have multiple heating levels. You get what you get with a one size heats all approach.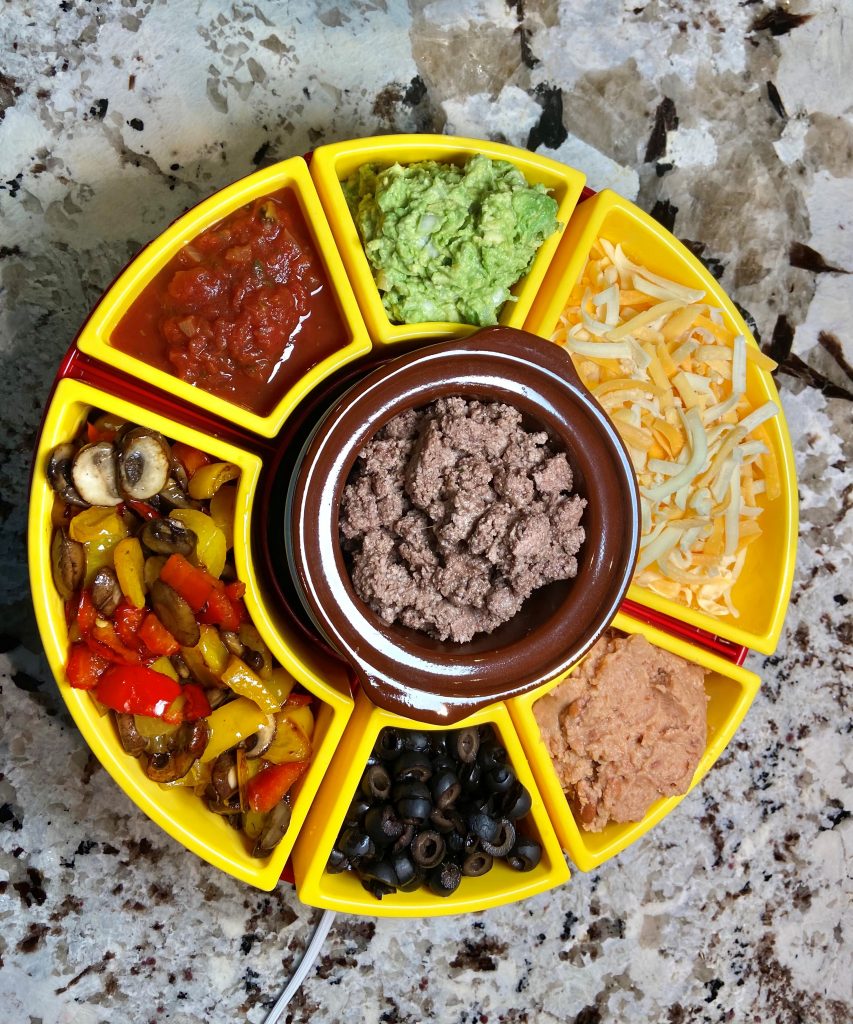 Conclusion
PROS: allows great presentation for your taco night, lazy susan design allows everyone around the table to easily get what they want
CONS: warming pot may be too small for some
Overall, this brought our Taco Tuesday night to the next level with excellent presentation and pushes you to create some of the best tacos ever.
Get your own Taco Tuesday Taco Bar on AMAZON
Thanks for reading our our blog on Taco Tuesday Lazy Susan Taco Bar Review! Let us know what questions you have and then watch our video review below.
Love learning about all the cool, new products that we get to test out? Take a minute and scroll through some of our recent PRODUCT REVIEWS.
We NEVER get paid for our reviews. This way we can always keep it real with you. We were sent one Taco Tuesday Taco Bar to test with the understanding that we'd give our honest thoughts.
Written By: Luke Lorick 4/29/21