It can be hard to find a chair that has the right balance of portability and comfort. In our quest to find epic tailgating chairs we came across the TCEK chair. This is what is we'd classify as an ultra portable chair as it weighs 3.5 pounds and folds down to the size of a 2 liter bottle. Now how is the comfort you may ask? Let's find out in our latest Tailgating Challenge as we learn more about the TCEK Camping Chair Review.
TCEK Chair Features
-3.5 pounds
-Set up in seconds
-360 rotation
-Holds up to 300 pounds
-Weatherproof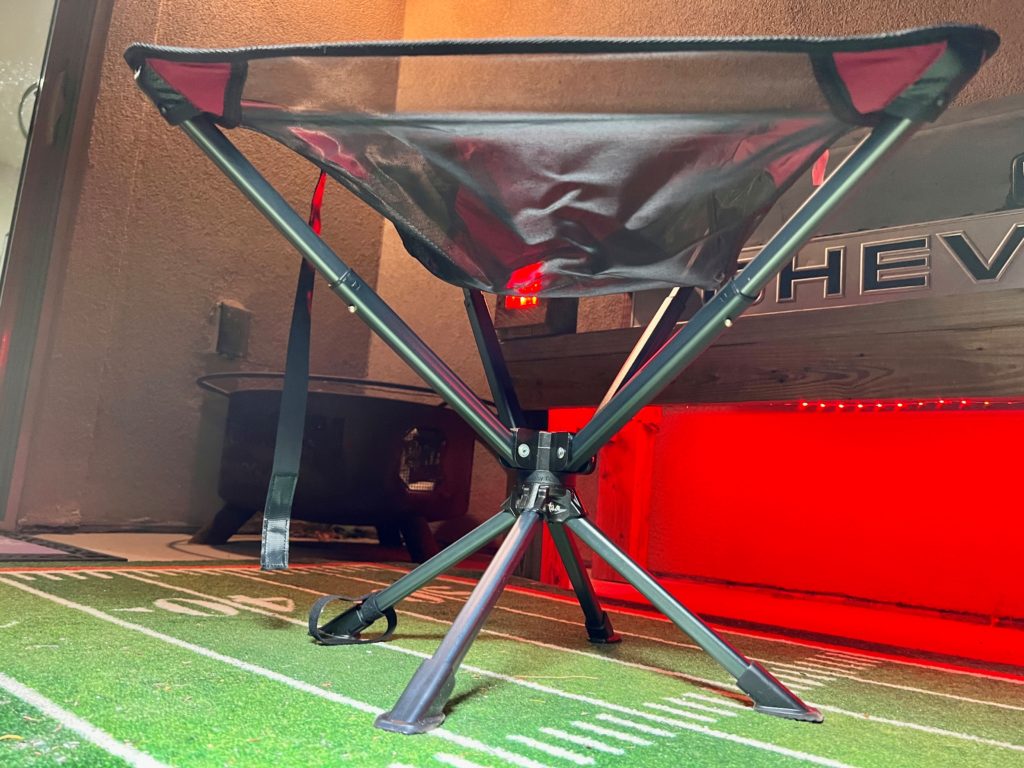 What Did We Think?
When we got these in they were super small, about the size of a soft drink two liter, when I opened the box up the chair was in the carrying case and there was small odor of the material when first opened. I'm glad to say that quickly went away.
The set is both easy and also the prime area of feedback. Let me explain. The chair is pretty intuitive on how to set up as you'll release the velcro around the legs. They will drop and then you start to pull out the supporting bars that will hold you up. These 4 bars will lock in and you can both see and hear when that happens. The feedback is that these aren't quite as smooth for sliding and locking as I think they can be and you can see in the video below the moment it took to get the last one locked in.
The chair has all terrain style legs and mesh back so you can sit in comfort anywhere you go. The main thing that makes this chair stand out is the 360 degree swivel feature. The chair can spin around and this adds a high level of comfort.
One thing that people worry about with these ultra portable chairs is not only the comfort (which exceeded my expectations), but also the support and trust in the chair. The chair is rate up to 300lbs and I weigh just under 200 pounds at 6 feet tall. This chair felt sturdy and many people said the same thing when they sat on the chair too.
When we were done the chair packed up easily and even went back in the original carrying case! That doesn't always happen with getting some items back into the carrying bag, with ease.
Conclusion
PROS: light, portable, 360 swivel, high level comfort
CONS: want the extending of legs to be a little smoother
Overall, this is an ultra portable chair that is actually comfortable! Did we mention we love the swivel?
Learn more and get your own by visiting TCEK.
Find this an many amazing products that we've tested in our AMAZON STORE. A little bit of every purchase goes back to help support our honest reviews of the products you love.
Thanks for reading our blog on the TCEK Camping Chair Review. Let us know what you think and any questions. Check out our short video below and while you're on YouTube make sure you hit that SUBSCRIBE button!
Love learning about all the new products that we get to test? Take a minute and check out our latest PRODUCT REVIEWS.
We never get paid for our reviews, this way we can always keep it real with our fans. We were sent a sample to check out with the understanding that we'd give our honest opinions.
Written By: Luke Lorick 12/17/22