We love a good fire pit night and if you throw some S'mores in the mix, it takes it to the next level. You may not have the space, or be allowed to have a big fire pit where you live, but no worries we found something that can bring the fire pit feel in a small package. The Terra Flame S'mores Fire Bowl is a clean burning hand held fire pit that you can burn inside or outside. Now let's see how this fire bowl does in our next Tailgating Challenge.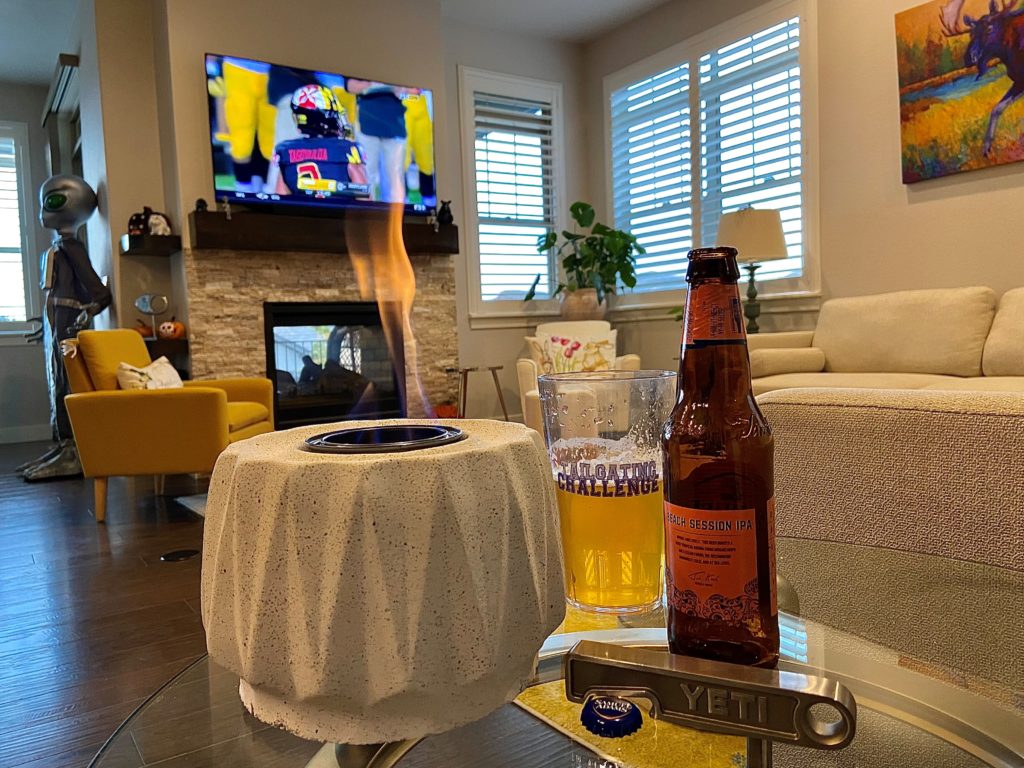 Terra Flame Features
DIMENSIONS: 7" DIAMETER, 5.5" HEIGHT, WEIGHT: 10.2LBS
CLEAN BURNING AND SMOKE FREE
GOLDEN FLAMES CRACKLE LIKE A CAMPFIRE
FIRE INDOORS OR OUTDOORS
INCLUDES ARTO S'MORES ROASTER, PROTECTIVE CORK BASE, 1 CAN OF GEL FUEL
UP TO 3 HOURS BURN TIME PER CAN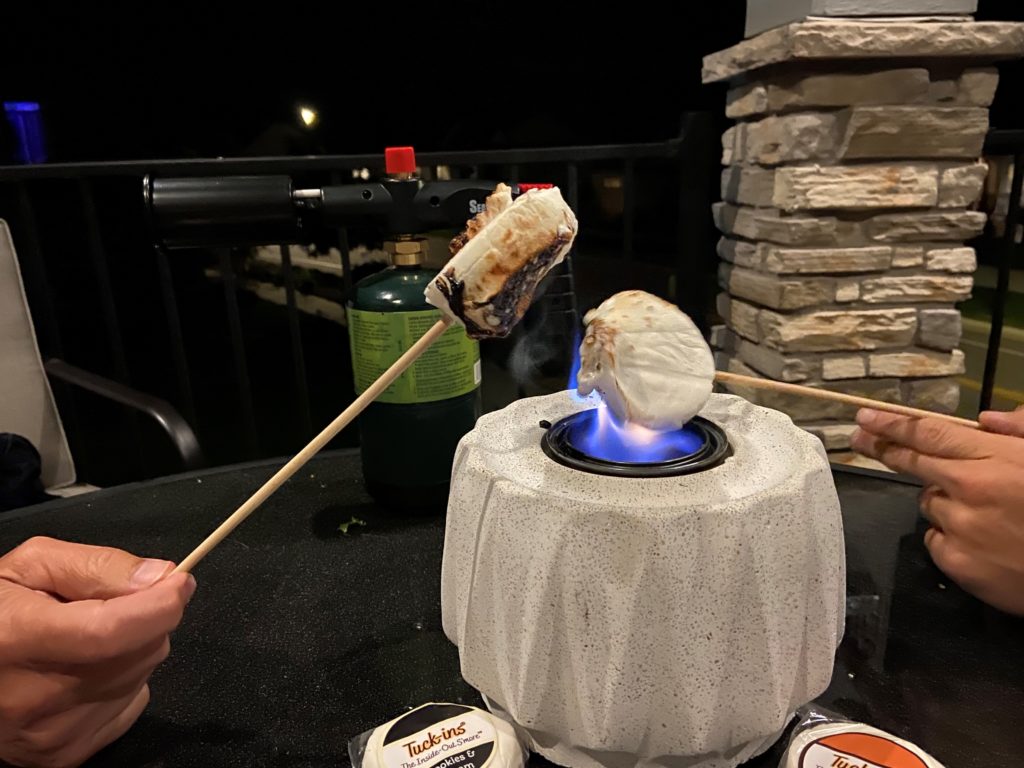 Terra Flame Testing
The Terra Flame intrigued us since it states that you can use it inside or outside. This uses a gel that comes in a can and burns for about 3 hours. The gel lights up easily and can be done with a basic lighter or a flamethrower (watch video).
This fire bowl has a clean aesthetic appearance that can add some class to your tailgating or homegating event. The can of gel slides into the center of stone enclosure. You can pop the top off the gel with a flathead screwdriver. This gel produces NO SMOKE!
We lit this up in the house and it added some nice ambience while we were watching the game. We took it out to the tailgate to have a clean burning flame on the back of the pick up truck. You know we had to light this up in the backyard to get some S'mores going too.
We got some TUCK INS, the inside out S'mores (see our REVIEW), and got them cooking over the Terra Flame. The flame will not be as hot as a raging bonfire, but it gets the job done. We noticed when there were a couple of marshmallows being roasted they almost had to jockey for position of the flame. This is perfect for 1 maybe 2 marshmallows at a time, but no more.
The fire bowl base is made of stone and it looks great, but does drop some small rock dust particles when you move it around.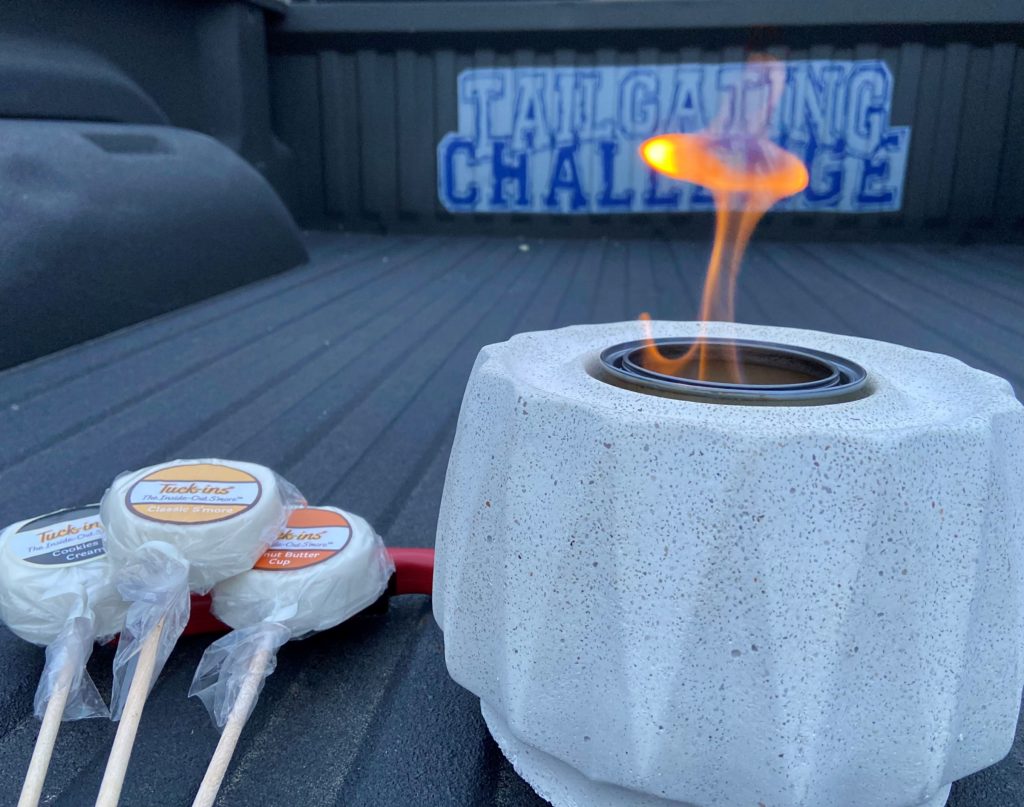 Conclusion
PROS: clean burning, inside and outside use, looks classy, has the real fire crackle sound
CONS: the bowl leaves some rock dust when you rub it
Overall, this is great looking fire bowl and allows clean burning flame wherever you want to go. If you don't have space or aren't allowed to have a big fire pit where you live, the Terra Flame could be the answer.
Learn more by visiting Terra Flame.
Find this and much more in our AMAZON STORE.
Thanks for reading our blog on the Terra Flame S'mores Fire Bowl. Let us know what questions you have and then watch our short video review below. While you're on YouTube make sure you hit that SUBSCRIBE button!
Love learning about all the new products that we get to test out? Take a look at some of our recent PRODUCT REVIEWS.
We NEVER get paid for our reviews. This way you can ensure that you're getting HONEST info! Not all reviews are created equal. We were sent one sample to test with the understanding that we'd give our honest thoughts.
Written By: Luke Lorick 10/2/21