Picture this, you're ready to start dinner, but forgot to take the food out of the freezer to defrost. We have all been there and in the past I've put it in the microwave on a low setting, or run it under hot water to try and defrost the food. We found a better way with the Thaw Table. Now let's see how the Thaw Table Review stands up to our Tailgating Challenge.
Using the microwave to defrost is a rookie mistake, as it can actually cook the food before you start your cooking process. This impacts the flavor of the food you prepare. Sitting around running warm water over the top of frozen food takes a long time and you don't get even results. The Thaw Table was design to eliminate these problems in a way that anyone can do. Just put the food on the Thaw Table and walk away.
Features of Thaw Table
✔️ 3 Different Sizes– For whatever your situation.
✔️ All Natural – No chemicals, batteries, or electricity required.
✔️ Dish Washer Safe! –  Reusable for years… Meal prep quickly and forget about any mess.
✔️ Melts Ice In SECONDS! – See our video to watch this in action
✔️ 100% Non-stick material – Easy thawing, easy cleanup.
Product Testing
On the packaging it notes "As Seen On TV" and to me, I think this means another gimmick style product that you see on late night infommercials for $19.99. I try not to let any bias creep in and let the actual testing influence my true thoughts of the product, so on to the product testing.
I thought that there had to be some power supply that would warm this Thaw Table up, but there is no electricity or battery needed for the Thaw Table.
I first grabbed a large ice cube (made in our Ice Made Clear) and placed one on the Thaw Table and the other on a wooden cutting board. It was pretty crazy that within seconds I could not only see, but hear the ice melting on the Thaw Table! Within minutes the Thaw Table ice cube was almost fully melted. The other one hadn't even started melting yet!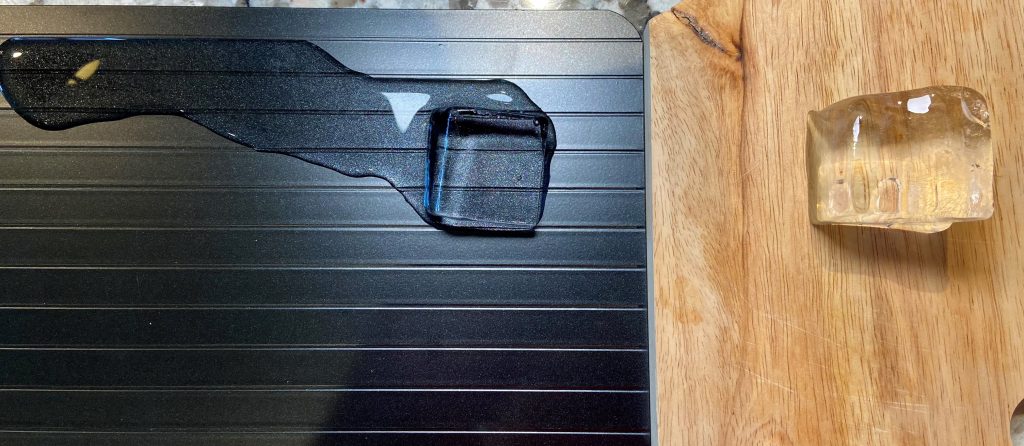 Next up, it was time for the seafood challenge. I placed frozen swordfish and scallops on both the wooden board and the Thaw Table and then waited. The process was not as fast as it was with the ice, but the Thaw Table again was defrosting the seafood much faster than putting it on the wooden board.
I eventually moved the food on the wooden board to the Thaw Table, so I could hurry up and cook lunch!
Pro Tips
-Flip the meat midway through the process. Just like grilling you need to flip your meat and it applies here too.
-Elevate your Thaw Table. Place a small object under the Thaw Table to elevate it for increased performance (see video)
Conclusion
PROS: easy to clean, portable, works as designed, simple to use
CONS: At this point I have no critical feedback of the product.
Overall, it's the high density aluminum material with ridges that makes the Thaw Table defrost like nothing I've seen before. If you ever defrost food, this should be in your kitchen.
If you want to learn more and get your own visit THAW TABLE
Check out hundreds of awesome products that we have reviewed in our AMAZON STORE! Thanks for the support.
Thanks for reading our blog on the Thaw Table Review. Let us know what questions you have and now check out the video review we did of the Thaw Table.
Love learning about all the cool, new products that we get to test out? Take a minute and check out our latest PRODUCT REVIEWS.
We never get paid for our reviews. This way we can always keep it real with you. We were supplied a sample to test out with the understanding that we'd give our honest thoughts.
Written By: Luke Lorick 4/19/21