Grilling at the tailgate is key component to a successful tailgate. The problem that I've seen far too many times are grillmasters tied to their grill and they miss out on many fun activities while they focus on making sure they have the perfect food coming off the grill. Now there is the worlds smallest wireless grilling thermometer that can ensure a great cook and allow you step away to have some fun. Fire up the grills and read on for the MeatStick Mini X Review.
MeatStick Mini X Features

> Ceramic Handle | withstands up to 572°F
> Stainless Steel Probe | withstands up to 185°F
> Temperature Range: 32-185°F
> Battery Life: 8 hours+
> Powered by 2 AA Batteries (not included)
> Magnetic Back for Easy Access
> Outdoors 260 feet range
> Indoors 100 feet range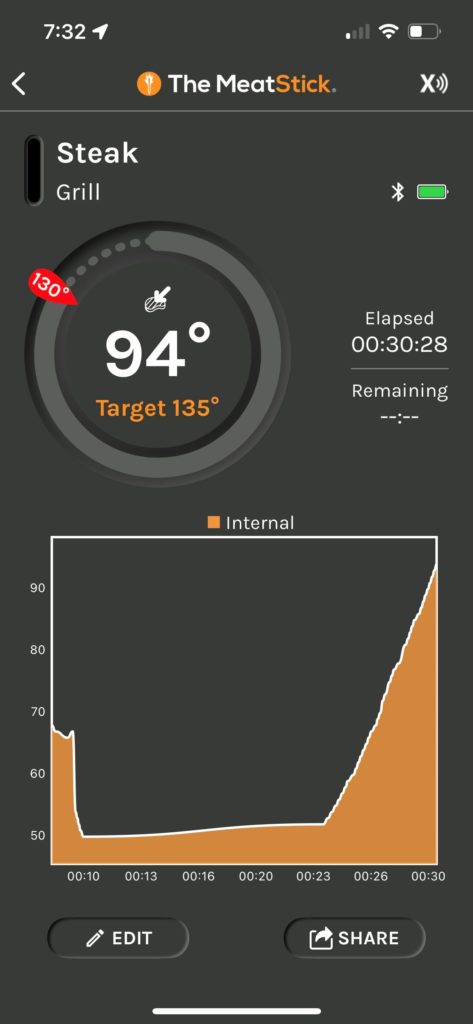 What Did We Think?
I was excited to try the MeatStick Mini X out as it was small enough to handle normal portions of food. With some thermometers you can't use them on a small piece of food as it won't fit! This was a thermometer for when you're having items like a chicken breast, small steak, or fish.
The MiniX has a blue extender case (that is also magnetic) that requires two double AA batteries to charge the wireless thermometer. It pairs easily with the app that you'll need to download to use the MeatStick.
We put the batteries in and let the thermometer charge up a few hours before we put it to use. We got a steak to test this out and the first step is to make sure you slide the Mini X in the thickest part of the meat. It slid in easily and we made sure it was centered and had not come out of the bottom of the meat. Remember the thermometer can only handle up to 185 degrees F, so it has to be in the meat or it will be damaged. The black handle can handle over 570 Degrees F so no worries there.
I tapped the button on the app to start the cook and then started wandering all over my house to see how far we were able to take the phone away from the grill. This had great range as I kept connected everywhere I went!
The app shows the internal temperature, how long it's been cooking and gives you an alert right before you'll need to take it off the grill. You'll get another alert when it's time to pull it off.
How Did the Food Taste?
After the final alarm on the app went off we took the steak off and brought it inside to rest. One area of opportunity for the app would be telling you how long how the type of meat you cooked should rest after the cook is over.
I cut into the steak and it had a nice pink color in it. The final temperature on the app showed that the internal temperature was over the intended temperature. This is one of my tips for new users. When you get the notice that the cook is almost done get ready to take things off. Don't wait until the final alarm, as a few minutes can be critical for the perfect cook.
The steak was delicious and it was simple to know when it was done. In the past I'd cut a little bit in the thickest part to see if it was done. Now I can get a wireless alert when my food is ready.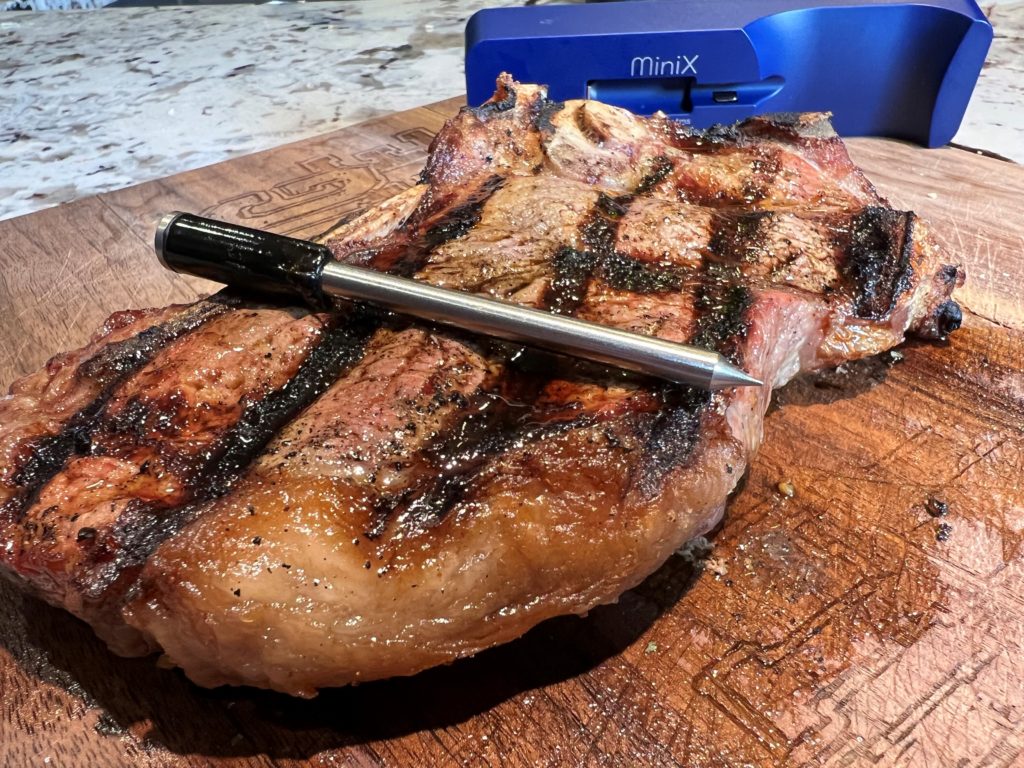 Conclusion
PROS: perfect size for smaller meats, easy to use, easy to clean, 8+ hours of run time, automatic shut off
CONS: app needs a 'resting' setting to show you exactly how long certain meats should rest, some of the app steps are really fast and they need to slow or pause for first time users.
Overall, this was pretty simple to use and I like the flexibility to use a wireless thermometer for smaller cuts of meat. The worlds smallest wireless thermometer is ready for your next tailgate, are you?
Learn more and get your own by visiting The MeatStick.
Support us and find all the fun gear we test in the one stop tailgating shop: AMAZON STORE.
Thanks for reading our blog on the MeatStick Mini X Review. Let us know what you think and then check out the short video review below. While you're on YouTube make sure you hit that SUBSCRIBE button.
Love learning about the cool products that we get to test out? Take a look at some of our recent PRODUCT REVIEWS.
We NEVER get paid for our reviews. This was we can always be REAL with our fans. We were sent a sample to test out with the understanding that we'd give our honest thoughts.
Written By: Luke Lorick 12/6/21