We love things that bring that WOW factor and are always on the look out for things that will make your jaw drop. We found the latest and greatest jaw dropper made by Metal Art of Wisconsin. The SpeakEasy Wall Vault looks like a beautiful piece of art that has a secret, it opens up to have have storage for your alcohol, or other items! Now let's get into the SpeakEasy Wall Vault Review.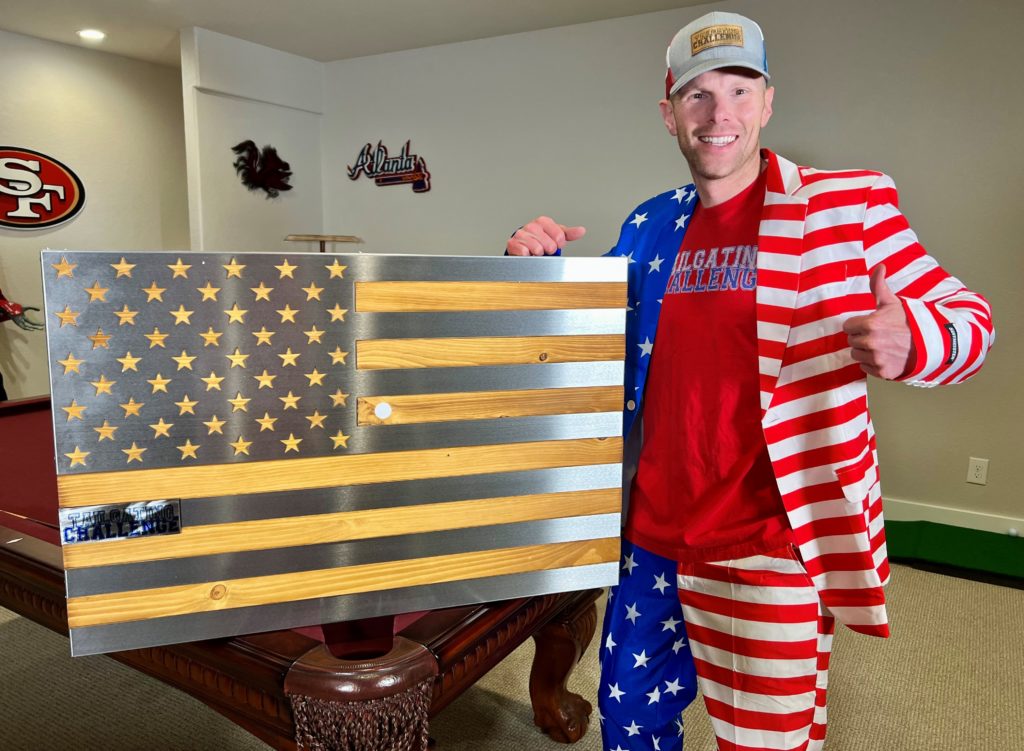 SpeakEasy Features
-Three sizes to choose
-Various locking systems
-Gas Shocks
-Foam option for custom fitting your interior contents
-Custom Text/Laser Etching
-Handmade in the USA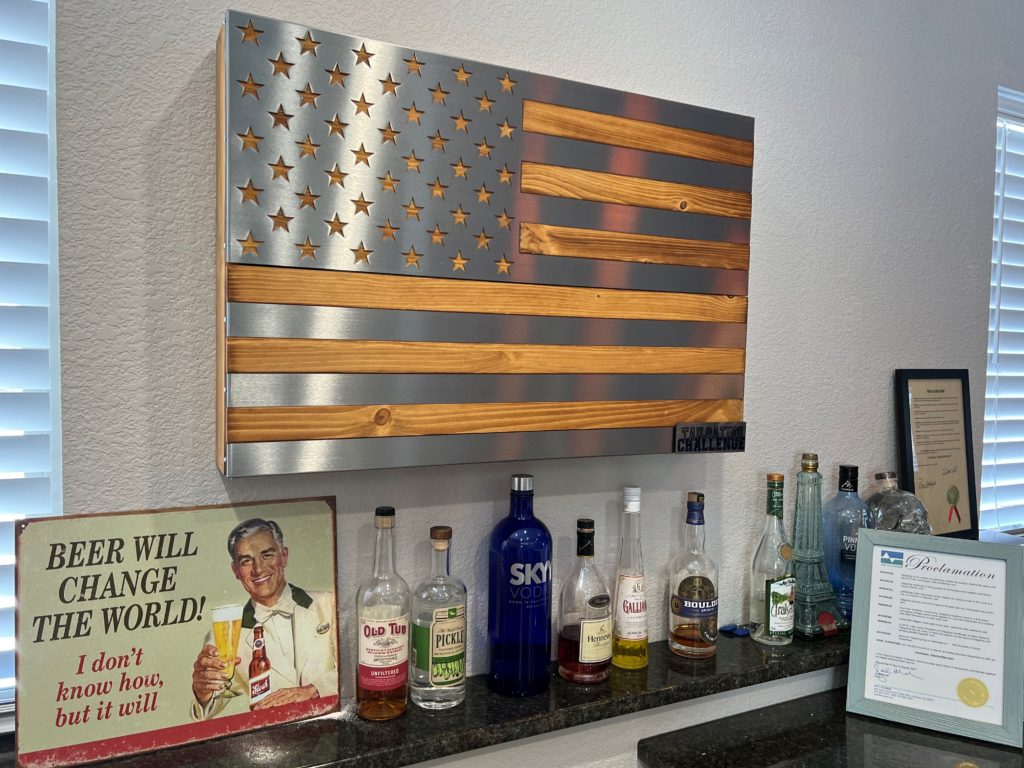 What Did We Think?
We were stoked to get this SpeakEasy in and on the wall. When we got it in, we learned that the mounting hardware does not come with it. This is not included, so you can get the hardware that is best for how you plan to install. We got hardware on Amazon for less than $20.
Given that this has a little weight to it before you add the interior items it is recommended that you use a 'stud' when mounting. We did this as a 2 person job and had this installed in about 20 minutes. Setting the locking mechanism only takes a minute for the RFID key fob that we elected to add on to our unit.
This SpeakEasy Wall Vault took a basic white wall and made it look, well amazing! The metal mixed with the wood really makes this thing POP. All this awesomeness before we even unleash the special powers of the SpeakEasy.
The SpeakEasy Wall Vault has multiple locking options that you can select to secure the contents such as, keys, RFID or biometric finger prints. We went with the RFID locks with the fob that set up easily and have worked perfectly, with every swipe we have given to open our SpeakEasy.
The gas shocks help easily open and secure the SpeakEasy doors, so you can show off what's inside. The bottom door is also used as a bar table when you open it up and held up well even when we loaded it up.
These come in 3 sizes and we went with the medium one. The one area of feedback on this is that not all of our spirits would fit in the SpeakEasy, as they may have been too tall or wide. With that, check the dimensions of the SpeakEasy you are interested in to ensure that you can fit in all of your goodies.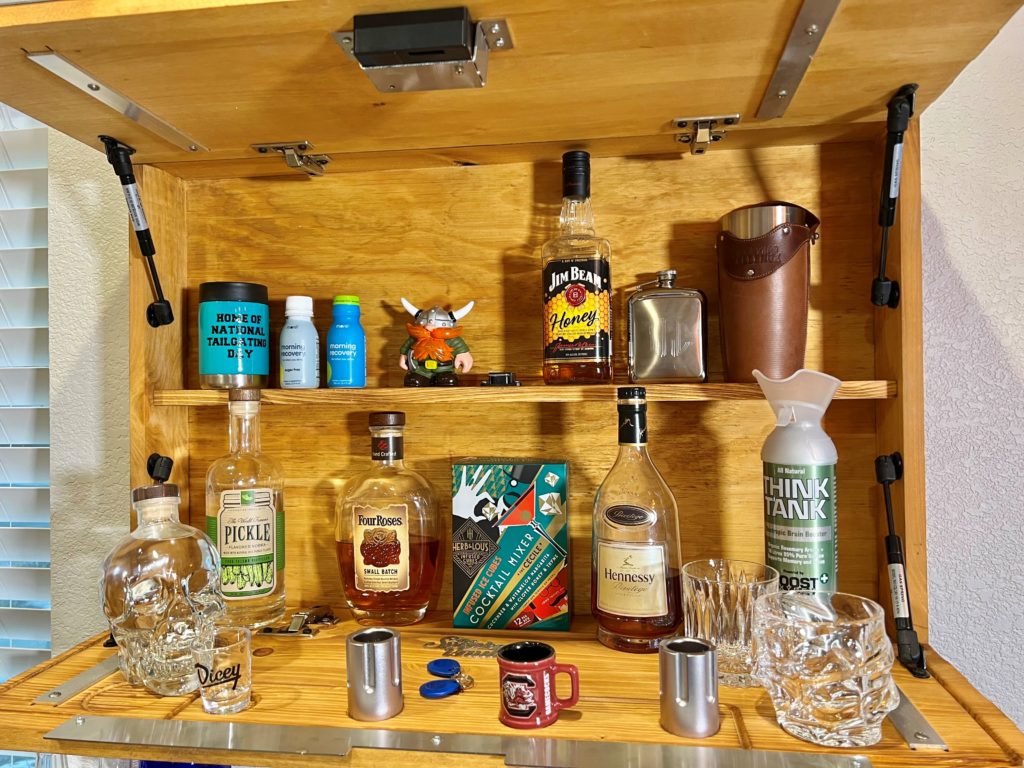 Conclusion
PROS: amazing looks, unique locking mechanisms, multiple sizes, wow factor
CONS: the small and medium size vaults won't accommodate some bottles of various sizes
Overall, the SpeakEasy wall vault looks amazing and makes people say wow when they see it open up. Check the sizing before you order yours to make sure it will accommodate the bottles that you want to stash in the SpeakEasy.
Learn more by visiting METAL ART OF WISCONSIN.
Find many amazing products that we've tested in our AMAZON STORE.
Thanks for reading our blog on the SpeakEasy Wall Vault Review. Let us know what you think and any questions. Check out our short video below and while you're on YouTube make sure you hit that SUBSCRIBE button!
Love learning about all the new products that we get to test? Take a minute and check out our latest PRODUCT REVIEWS.
We never get paid for our reviews, this way we can always keep it real with our fans. We were sent a sample to check out with the understanding that we'd give our honest opinions.
Written By: Luke Lorick 2/7/22