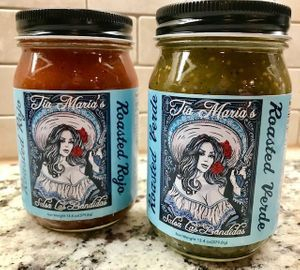 Salsa is one of my favorite condiments. I love a good fresh tasting salsa, but sometimes the dusty jars you buy on the grocery store shelf are filled with some things you can't pronounce and are far from fresh. This is Not the case with Tia Maria's Salsa!
I got to check out a couple of bottles recently which were the Roasted Rojo and the Roasted Verde. I got both of these in a mild flavor offering as I'm not that spicy of a guy. I got the bottles in and you first notice the one and only Tia Maria in a cartoon looking character on the front of the jar with a sombrero on and pistol in hand. If you could guess this company is coming from deep in the heart of Texas.
Whenever I'm checking out salsa I go right to the ingredients to see how 'fresh' and 'all natural' they really are. Let me read the list of ingredients in Tia Maria's salsa:
Tomatoes (only in the Roasted Rojo)
Tomatillos (only in the Roasted Verde) 
Peppers
Onion
Garlic
Salt
Boom that's the entire list, no crazy preservatives or words you can't pronounce. I knew that this should be a tasty salsa just by the outside of the bottle.
The moment of truth: taste test time!   I poured the salsa into a serving bowl and the salsa is not thick. I'll be honest at this point I was worried, as I prefer THICK salsa versus one that is more liquidy (is that a word?).
I dipped my chip in and covered it with some of Tia Maria's salsa. I placed the chip in my mouth and I just smiled. Even though I prefer a thicker salsa this salsa had some bold flavor. There is a mild smoky flavor and just a little kick (remember this is mild). I ate one chip then another, then another and so did the other taste tester.
I got prepared to shoot the video (see below) to give my thoughts about the salsa and I kept having to wait since my videographer kept going back to eat more of this salsa! That is an awesome testament to how good the flavor is with this salsa.
The other thing to point out on why this isn't a thick salsa is that you can use it as a sauce on meats, veggies and really anything that needs some great flavor.
Tia Maria's salsa is from an old family recipe that we are glad was passed down to Tia. Check out her Instagram account to learn more about her personally and her line of salsas/sauces.