I love spilling my beer, said no one EVER! Spilling your beer is a party foul that a koozie can now help with. We got our hands on the Toadfish Koozie that has a built in suction cup to ensure the drink will stay right where you put it. Sounds too good to be true, but read on to learn more in the ToadFish Non-Tipping Can Cooler Review.
Features
SMARTGRIP TECHNOLOGY – Patented SmartGrip technology makes it hard to tip but easy to lift.
DOUBLE WALL VACUUM INSULATION – Keeps your drinks cold until the last sip
STAINLESS STEEL – Made with high-grade stainless steel, making them puncture & rust-resistant.
RUBBER LOCKING GASKET – Removable rubber gasket to securely lock in your can.
Koozie Testing
I was pretty stoked to get these new Toadfish Can Coolers in the mail, as I had seen some pretty cool tests on how well these koozies operated. While I fully believe what I saw I still thought it best to put these koozies to our Tailgating Challenge to see for ourselves.
When these non-tipping can coolers arrived we had a 12 ounce (that can also hold a standard bottle), a slim can holder and my favorite the 16 ounce pint can holder. On the bottom of each of these is a teal suction cup that can help hold your koozie in place. There are a few colors to choose from: White, Teal, Graphite, and Pink.
Pulling them out of the package I did what anyone would do, started seeing what they would stick to. Any smooth surface is a go for these to attach to. Things like textured tile and wood are two examples of surfaces that these koozies will NOT attach to.
I loaded them with drinks and put them in places like my tailgate, in the shower, top of car (and then drove to see how well it really held up in the video below), tops of coolers and even cornhole boards. I'll say the suction cups on these koozies are pretty legit and held tight for almost every test we put them through. There is an audible pop noise when you pull the koozie off the attached surface that had some people saying WOW.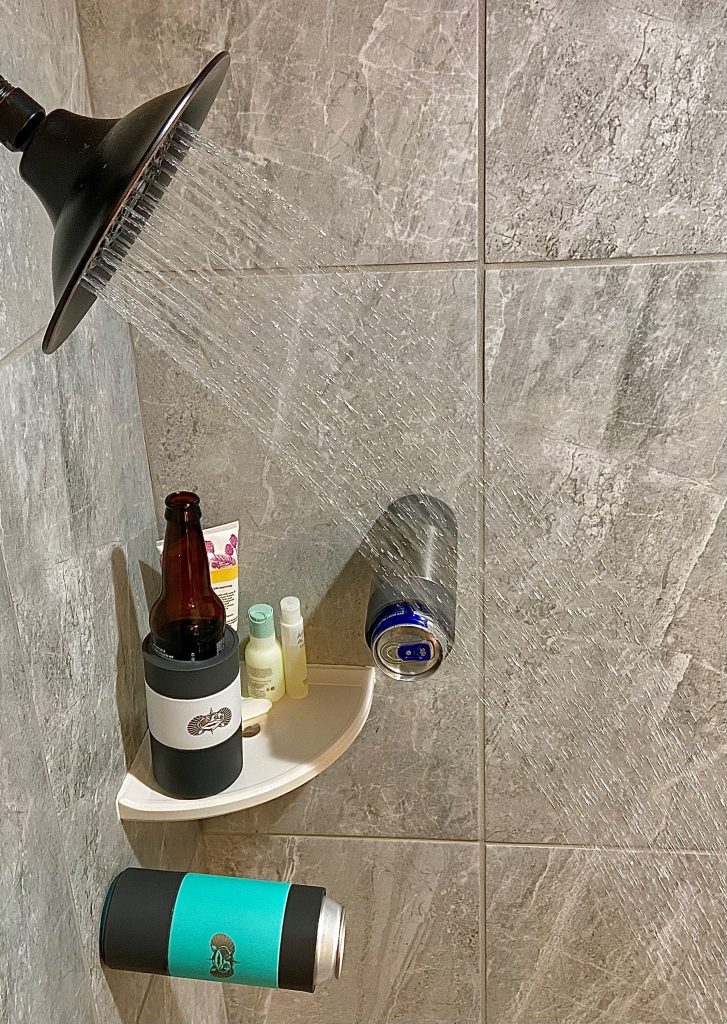 Two Suction Cup Tips
The two situations in which the koozie did not hold tight were when it was dirty and when it was upside down. To be fair there is a disclaimer stating the same thing on their website
DISCLAIMER:
Please note that the Non-Tipping Can Cooler is designed to keep your drink from tipping over if knocked or rocked. It is not intended to rest at angles over 25° for prolonged periods of time. 
This is your reminder to wipe to the bottom of the suction cup before use, as dirt/dust can impact the overall suction that it has on the surface you use it on.
In addition to being very handy when putting your koozie down it also kept the internal temperature ice cold. During our testing it kept the internal temperature of our beer within one degree of where we started an hour later. Yes I know it shouldn't take an hour to drink a beer, but testing was going on here people.
Conclusion Non-Tipping Can Cooler
PROS: stylish, great suction, keeps drinks ice cold, found myself using this koozie more than others we had
CONS: can't go upside down and you need to make sure the suction cup is wiped clean before each use
Overall, if you've ever spilled a beer before from knocking it over this koozie is a no brainer. In addition to making some awesome koozies that will enhance your beer drinking experience the ToadFish crew has a great mission in giving back to help our oceans. This is a win win and I'd say this koozie passed our Tailgating Challenge with flying colors.
Learn more and get your own by visiting ToadFish Outfitters.
You can find hundreds of unique products in our AMAZON STORE.
Thanks for reading our blog on the ToadFish Non-Tipping Can Cooler Review. Let us know what questions you have and then watch our short video below to see this koozie in action. While you're on YouTube make sure you hit that SUBSCRIBE button.
If you love learning about all the cool, new products that we get to test out take a moment and visit our PRODUCT REVIEWS section.
We NEVER get paid for our reviews. This way we can always keep it real with you! We were sent samples to test out with the understanding that we'd give our honest thoughts on.
Written By: Luke Lorick 5/31/21