Every good tailgate has koozies to keep the drinks cold and your hands dry. When I started my passion of tailgating I was like everyone else and had the basic soft koozie I tucked in my pocket as I went into the game. No knock to the classic, but here at Tailgating Challenge we aim to show you DIFFERENT! Now lets check out the top 10 tailgating koozies that are sure to be a hit at your tailgating parties this fall.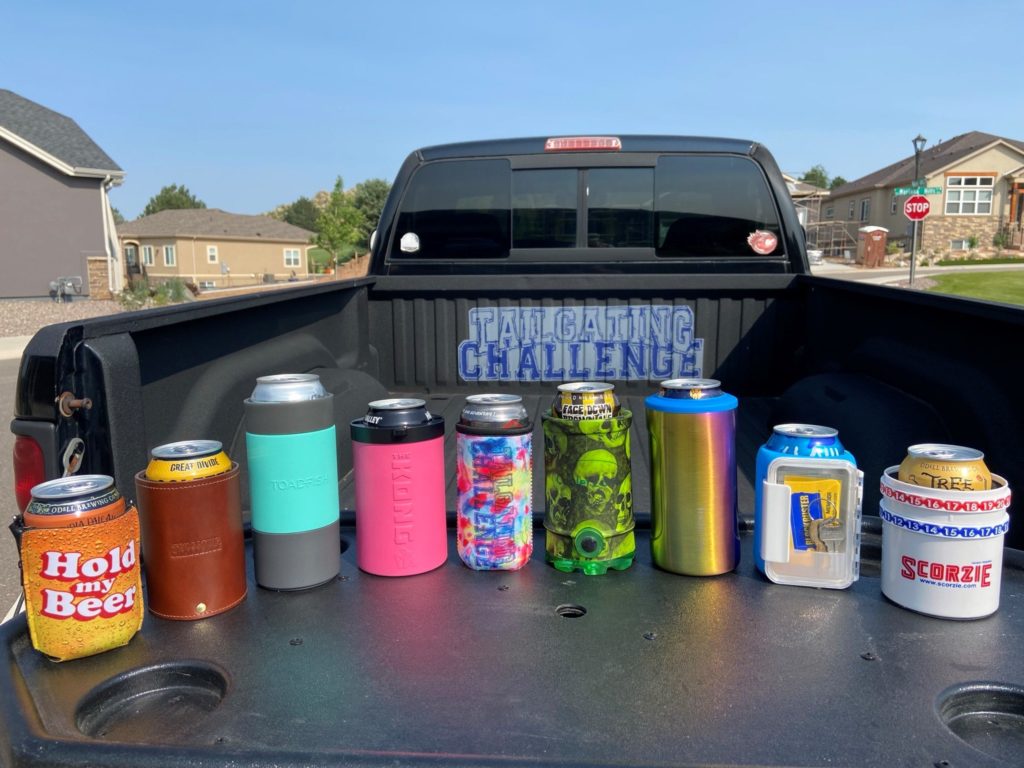 10. ZipSip Koozie
First up, The ZipSip Koozie. This koozie made the list since it has a zipper that can adapt to hold everything from cans, bottles, to even red cups! This is a soft koozie that is ready to adapt to your drinking style.
Watch our video below learn about the ZipSip koozie and you can get your own by visiting ZIPSIP.
9. KoozTees Koozie Shirt
Next up meet the shirt that is also a koozie, Kooztees! This shirt comes in a variety of styles that has a built in koozie pocket to keep your drink cold and your hands free!
Check out our video review below and you can get your own at KOOZTEES.
8. Kong Beer Bong Koozie
The Kong Beer Bong Koozie is a koozie that can convert into a beer bong in seconds. If you always want to be ready to hit PARTY MODE, this could be the koozie for you.
Learn more in our video below and you can get your own by visiting KONG BEER BONG KOOZIES.
7. Scorzie Koozie
We have all been there, playing a fun yard game until there is a disagreement about the score. Now there is a koozie that can actually help keep track of the score, while keeping you beer cold! Meet the Scorzie.
Watch our short video below and you can get your own by visiting SCORZIE.
6. Kangaroozie
A koozie with a waterproof pocket? YES this is a thing thanks to the Kangaroozie. It has a waterproof pouch that you can store items like money, credit cards, and keys in. From pool days to bad tailgating weather this can keep your valuables safe and dry.
Learn more in our short video below and you can get your own by visiting KANGAROOZIE.
5. Cooler2See
Next up, the Cooler2See is the koozie with strong magnets and a bright LED light in the bottom. You will never lose your drink again at that night tailgating party you go to.
Check out our short video below and then visiting COOLER2SEE.
4. Colonel Littleton Leather Koozie
You have leather seats in your car, why not on your drink? Well thanks to Colonel Littleton you can now get leather koozies for your drinks and tumblers. The high quality leather looks and smells great.
Learn more in our video below (top 10 koozie video at bottom has the can koozie) and then check out COLONEL LITTLETON.
3. Frost Buddy
The Frost Buddy can hold your bottles, cans and slim cans too. The great part is you don't have to do anything to transform the koozie when switching drinks. There are specialized grooves in the koozie that catch each drink when inserted to make this one of the most stylish and versatile koozies on the list.
Check out our video below (watch what happens when the beer is put in the frost buddy AMAZING). You can get your own by visiting FROST BUDDY.
2. LitHandlers
The LitHandlers just got a deal on Shark Tank! Why you ask? Well the koozies look great, can be customizable, and have a HANDLE on the back. This is the only soft koozie with this handle and let me tell you it makes a difference with how you hold the koozie.
Check out our video below and then head over to LITHANDLERS to check all the styles and sizes out.
1. ToadFish Koozie
Finally, on our countdown is the ToadFish koozie. This koozie has a suction cup on the bottom that allows it to keep your beer secure almost anywhere you put it down!
See the tests we put this through (spoiler alert Darth Vader and a light saber make an appearance) and then visit TOADFISH.
See the Full Top 10 Video With ALL Koozies
There you have it our Top 10 Tailgating Koozies that will help ensure you keep your drink cold in the most unique ways possible. Let us know what your favorite one is and if we left out a koozie that should have made the list, let us know!
We never get paid for any of our Top 10 lists, so you can ensure that these were truly our favorite koozies.
If you love learning about all the cool products that we get to test out take a minute and see our latest PRODUCT REVIEWS.
Cheers all and remember the motto: "Don't Hate, Just Tailgate."
Written By: Luke Lorick 7/13/21