You know we love yard games and we test the all year long to find the top games for our National Yard Games Day. In our quest for the best we came across the TowerBall Game. The TowerBall game combines cornhole and darts in a tower style game. Let's have some fun and get into this TowerBall Game Review.
TowerBall Game Features
-Quick Set up
-Sturdy Construction
-Easy scoring
-Backpack included
– 8 hackey-style balls
TowerBall Scoring
-1 hole = 1 point
-2 holes = 2 points
-3 holes = 3 points
-4 holes = 4 points
How to Play TowerBall (Classic Style)
Step 1
Line up 2 or more players 10 feet (or about 3 steps) from the side of the tower with one hole (Side 1).
Step 2
Each player (or team) gets 4 tosses at Side 1, scoring one (1) point for every toss that makes it through that hole.
Step 3
After each player (or team) has tossed 4 times, move around the tower (or rotate the tower if space is limited) to Side 2. Be sure to remember your score.
Step 4
Repeat steps 2-3 to play Sides 2, 3, and 4, increasing the points scored for each round (a made shot is worth as many holes as there are on a given side – i.e. 2 points on Side 2, 3 points on Side 3, and so on). For each turn, whoever has the most points goes first.
Step 5
After the fourth side has been played, the player with the most points wins.
Step 6
In the case of a tie, play "sudden death" on Side 4. The first player to make a shot on a turn where the other player misses is the winner.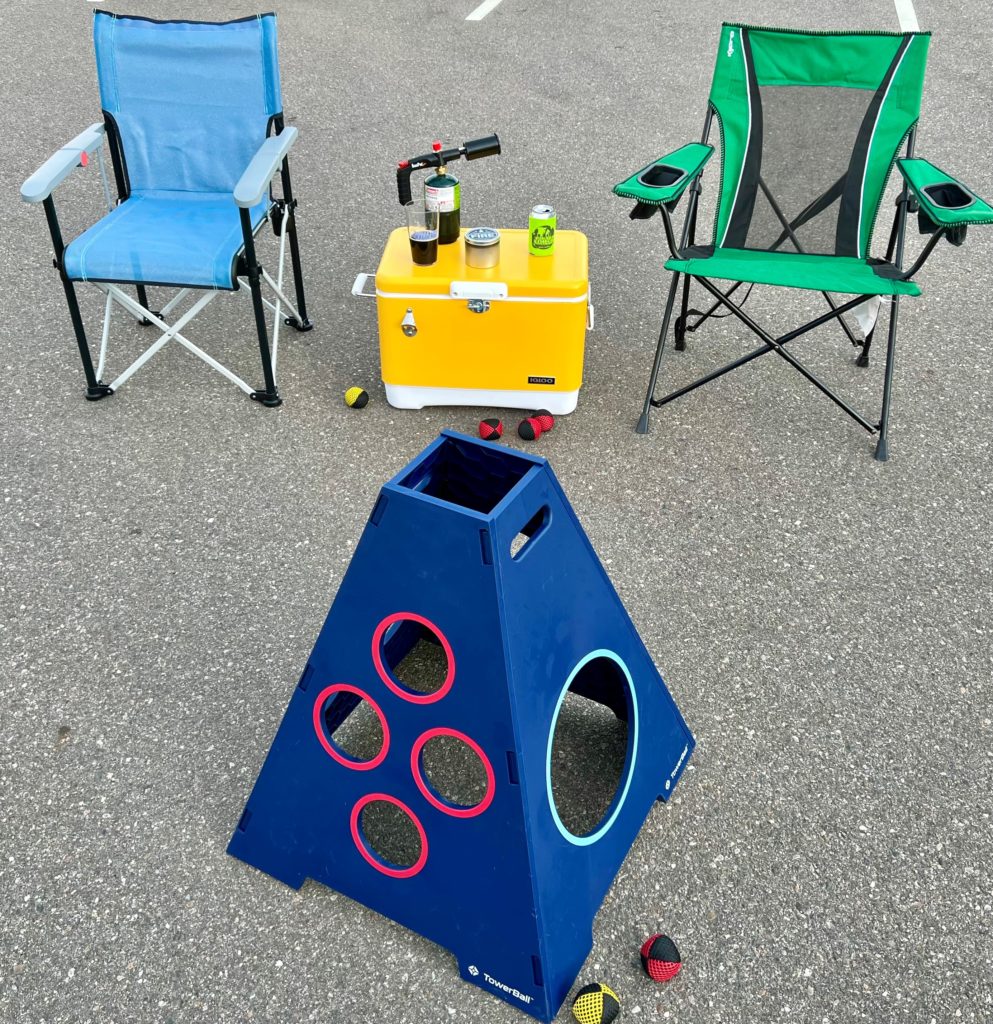 What Did We Think of TowerBall?
We saw TowerBall on Facebook, when one of our friends tagged us and said you must review this game, and knew we had to put this game to our Tailgating Challenge.
Our TowerBall arrived QUICKLY and we got it set up to start playing. There are four interlocking panels that slide and lock into place. The last one is the tricky one to get on as you have to line up both sides to lock it in. When I put it together I lay it on the ground to complete this last step. Try not to do this on concrete/asphalt as it can scuff up the board.
Once it was put together I thought this thing looks cool and different from the numerous other yard games I have tested over the years. The tower formation has a great aesthetic and different colors around each side.
Speaking of the sides there are holes 1-4 on each side of the Towerball game. Scoring is easy as if you get it on the side with 1 hole then its 1 point. Whereas if you get it on the side for 4 holes then its four points for each bag that you get through.
You play the game in stations starting on the side with 1 hole and ending on the side with 4 holes. The cool part about this is that the stakes go up each round as the points for getting it the holes increase each round. When it comes to round four we call that make or break time as each shot is worth 4 points.
The games can go through at a more efficient pace than a standard cornhole game, so if you have a group of people waiting to play they won't have to wait long to get their shot at the TowerBall game.
There is a backpack storage case that all the panels can slide into for easy transportation. I would like to see a pouch on the backpack to hold all the hackey-style balls.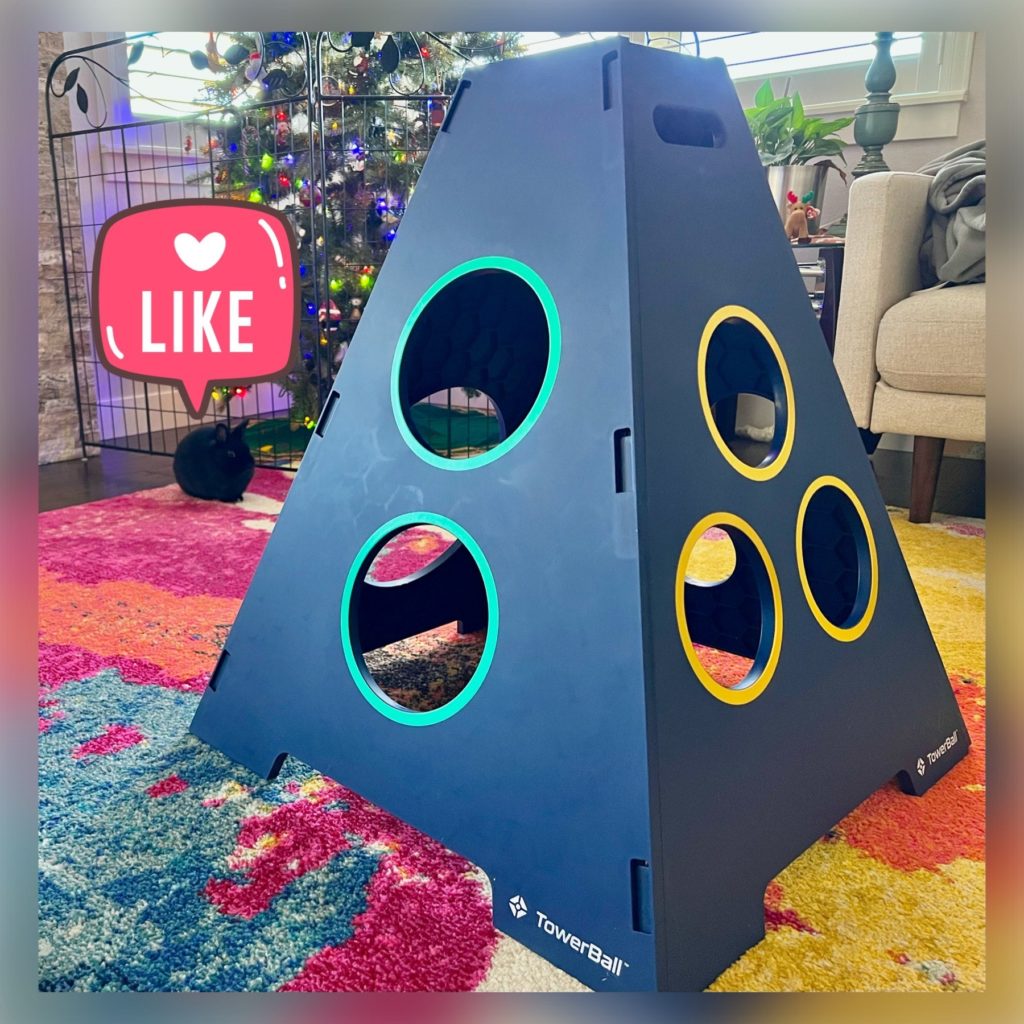 Conclusion
PROS: fun game, easy scoring, great aesthetics, backpack style carry case, good for all ages
CONS: want to see pouch in/on backpack for the hackey-style balls, putting the last panel is trickier than it should be
Overall, we had a blast playing TowerBall. It's fun, easy to learn and simple scoring. Heck even our bunny rabbits loved having the TowerBall Game set up inside.
Learn more and get your own by visiting TowerBall.
Visit the one stop tailgating shop in our AMAZON STORE. Thanks for supporting what we do.
Thanks for reading our blog on the TowerBall Game Review. Let us know what you think and then watch our short video having some fun with the TowerBall game below. While you're on YouTube make sure you SUBSCRIBE.
Love learning about the new products that we get to test out? Take a look at some of our recent PRODUCT REVIEWS.
We never get paid for our reviews. This was we can always keep it real with our fans. We were sent one game to test out with the understanding that we'd give our honest thoughts.
Written By: Luke Lorick 12/7/21