Every tailgate needs some great chairs! We have tested numerous tailgating chairs to become subject matter experts in this field. In our latest test we came across the True Places Emmett Chair. Let's get this chair set up and see how the Emmet Chair does in our Tailgating Challenge. Thanks for reading our blog on the True Places Emmett Chair Review.
True Places Emmet Chair Features
-Dual Bottle Openers
-Breathable Fabric
-Carrying Case Made From Recycled Water Bottles
-Aerospace Grade Aluminum Frame
-Moveable Cup Holders
-Weighs 11.5 pounds
-Supports up to 275 pounds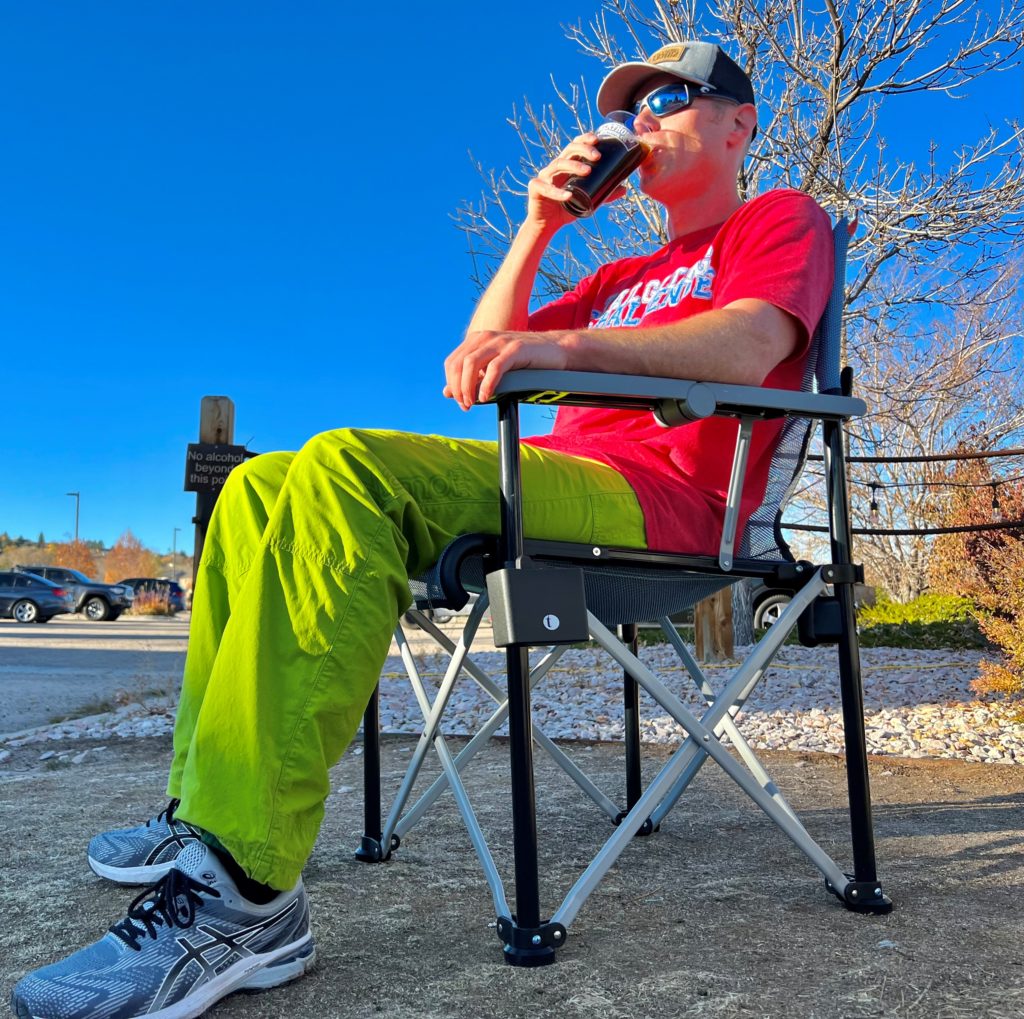 What Did We Think?
The first thing you notice when you get your True Places chair is the carrying case. It has a carrying strap and I also noticed multiple clasps that I later learned were for connecting two of these chairs together to make it into a backpack style carry. This seems pretty cool, but we only had one chair, so we couldn't test this unique aspect. The other awesome part of the carrying case is that it is made from 25 recycled water bottles. We love that.
Now onto what you have been waiting for: How Does This Chair Feel? We unfolded the chair, it unfolds a little differently than other chairs we have tested, and then took a seat. My initial reaction (that you'll see in the below video) is that the comfort was good, not great. There was a small gap between my back and the back material of the chair that made me give the initial comfort a 7 out of 10. I did put a cooler in front of me to put my feet on and it substantially increased my comfort level.
The material is ultra breathable and felt sturdy. The colors they offer are bright and fun. We got our Emmett folding chair in our favorite color blue, sky blue to be exact. They currently have 4 colors (sky blue, marigold, coral, and navy).
There are two attachments you can get with the Emmet Chair: An accessory holder and a cup holder. Both are black plastic and attach to either side of the chair. These are both functional, but honestly have a 'cheaper' look/feel than I would expect with a chair with a price point of $189 (at the time of this blog article).
Finally, one of the coolest features is the bottle openers under each armrest. It's like a stealth bottle opener that you can impress people with as you open cold beers with your chairs armrest!
Conclusion
PROS: fun colors, dual bottle openers, moveable cup holder, carrying case made from recycled water bottles
CONS: carrying case attracts dirt/grass, cupholder/accessory holder could be made with more luxury feel, overall comfort is 7 out of 10 (We are being more critical of little things due to the chairs price point)
Overall, this chair is close to being the ultimate tailgating chair with a few tweaks. We are still a fan of the chair and it will be in the tailgating rotation!
Learn more and get your own by visiting TRUE PLACES.
Check out our one stop tailgating shop AMAZON STORE.
Thanks for reading our blog on the True Places Emmett Chair Review. Let us know what questions you have and then watch the short video below. While you're on YouTube make sure you SUBSCRIBE to support our channel.
Love learning about the cool products that we get to test out? Make sure you check out our recent PRODUCT REVIEWS.
We never get paid for our reviews. This way we can always keep it real with our fans. We were sent one sample to test out with the understanding that we'd give our honest opinions.
Written By: Luke Lorick 12/2/21