A deck of cards that can make cornhole more fun? The Twisted Bags cards against cornhole has unique twists to the classic game of cornhole that is sure to bring more laughs and fun. If cornhole is getting a little too serious then bring the fun back with Twisted Bags.
Twisted Bags Card Examples
-Throw all 4 bags at once
-Turn the boards backwards
-Bunny hop before tossing
-Hike the bag like a Football
-And Many More
What Did We Think?
We had been at a cornhole tournament earlier in the day and I had the realization, cornhole has gotten too serious. Sure I know competition is good and the sport has grown at an amazing rate, but this isn't the cornhole I used to play a decade ago. People were so focused on winning that the fun had been taken out of the game that I loved. As we came home I knew it was the perfect time to bring out the Twisted Bags card game.
The first card we grabbed was toss all 4 bags at the same time. Then we had to shoot the bag like a basketball. After that we had to complete a hook shot. Finally, we had to bunny hop 3 times and then shoot our shot.
We were laughing at ourselves and each other and I had this nostalgic feeling that this is what cornhole was supposed to be about, laughing, smiles and more fun.
This game can also be played with some of the 'normal' rules, as in placing the boards 27 feet apart and playing to 21 points, while using the deck to determine how you will throw that round. In my opinion this came can be played with these rules OR if your regular game of cornhole gets too intense, break out a deck of Twisted Bags and have everyone draw a few cards.
This game could save friendships and the game of cornhole you used to love.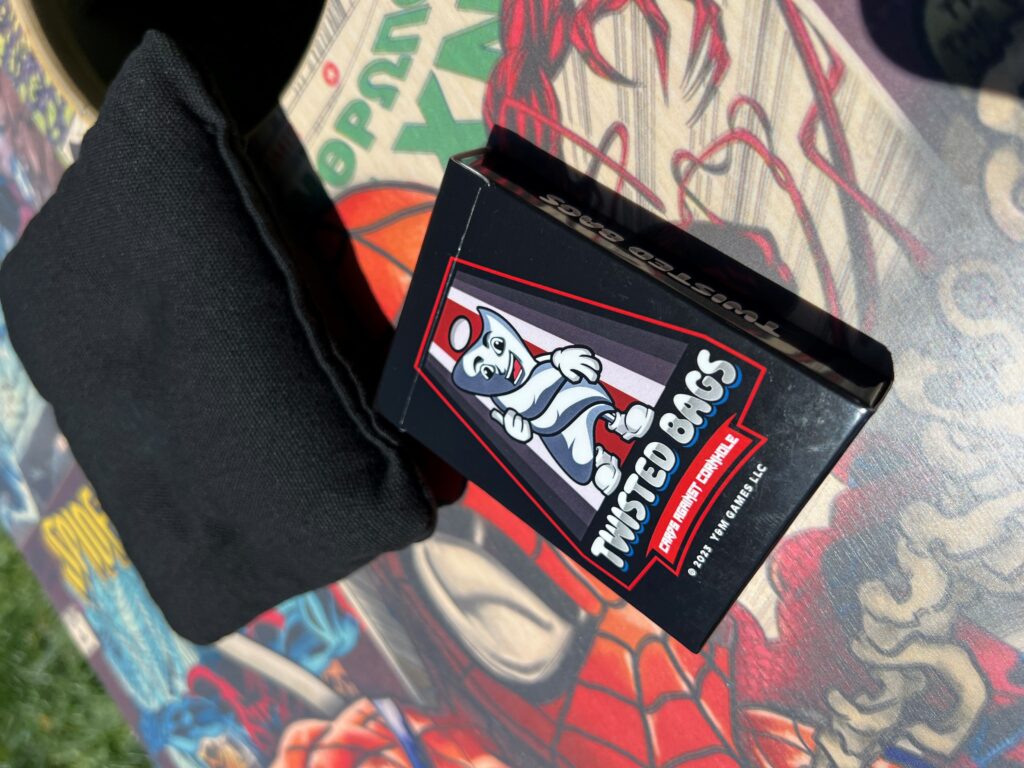 Conclusion
PROS: portable, fun, takes the stress out of normal cornhole, brings more laughs
CONS: some cornhole purist will turn their nose up (this game is not for them anyways)
Overall, if cornhole has gotten too stressful and you're ready to bring the fun back its time for Twisted Bags Game!
Learn more and get your own by visiting TWISTED BAGS.
Find this many amazing products that we've tested in our AMAZON STORE. A little bit of every purchase goes back to help support our honest reviews of the products you love.
Thanks for reading our blog on the Twisted Bags Review. Let us know what you think and any questions. Check out our short video below and while you're on YouTube make sure you hit that SUBSCRIBE button!
Love learning about all the new products that we get to test? Take a minute and check out our latest PRODUCT REVIEWS.
We never get paid for our reviews, this way we can always keep it real with our fans. We were sent a sample to check out with the understanding that we'd give our honest opinions.
Written By: Luke Lorick 8/28/23