We are always on the look out for amazing tailgating products. We have tested 700+ products and counting in search of bringing our tailgating fans the latest and greatest to make their tailgating events better than ever. In this new Tailgating Challenge we found the new Vibe tumbler from Fireside Outdoor. This 18oz tumbler has a detachable bluetooth speaker with color changing LED lights. Let's dive deeper to see how this Vibe Bluetooth Speaker Tumbler does in our Tailgating Challenge.
Vibe Features
-18oz.
-12 Bright colors
-Ability to customize
-Detachable Bluetooth Speaker
-Color Changing LED light
-Ability to handle and float in water
-Ability to take incoming calls
-Bluetooth range of almost 100 ft.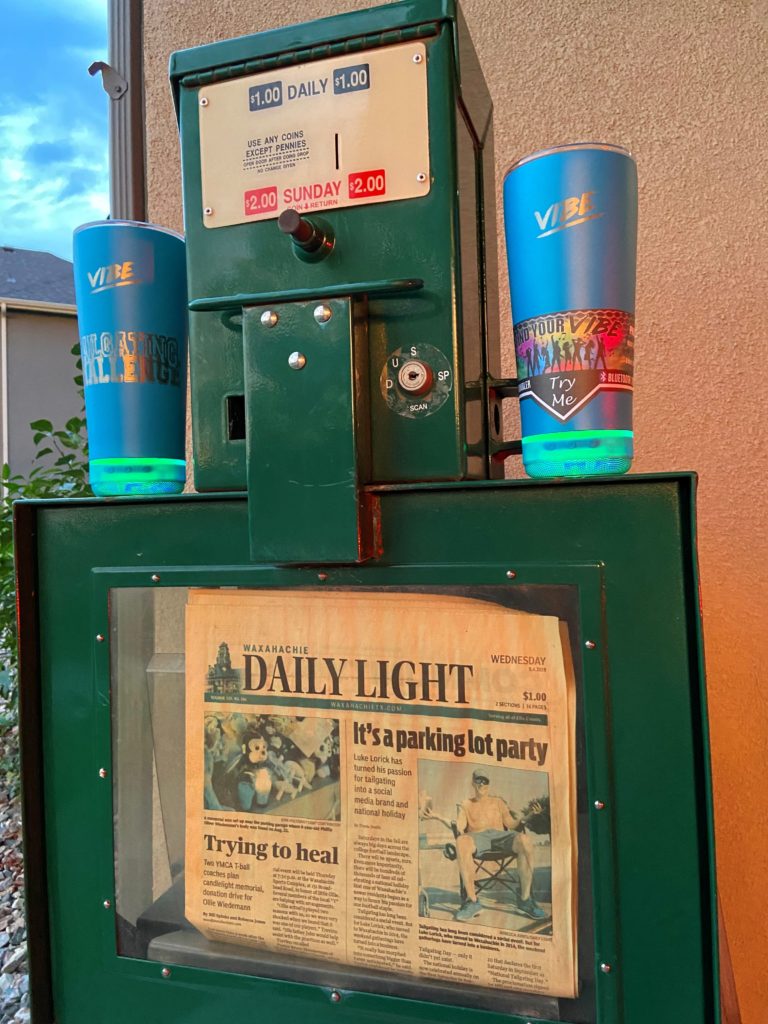 Tumbler Testing
First off, I love the bright colors this tumbler comes in! My favorite color is blue, so I went with the sky blue color, but the yellow also one that caught my eye. Tailgating Challenge was able to be etched into the cup to really make this cup stand out and look the part for the tailgating event.
Let's get this out of the way. The tumbler does a great job with keeping beverages ice cold. I feel that most tumblers on the market have figured this out and this is almost a given when discussing tumblers.
How's the Speaker?
Now on to the fun! First, lets talk about the bluetooth speaker. At the base of this tumbler there is a bluetooth speaker that is detachable. The speaker puts out pretty good music and we rated the overall sound quality from the speaker a 7 out of 10. The speaker is rated IPX67, but at the same time the bottom of the speaker says do not expose to water. Seems like there is something that we need to confirm, so we cut the tunes on and threw the speaker into a cooler full of water to see how it did. The tumbler floats and the music kept playing in the water and after it was taken out of the water. They recommend it be in water no longer than 30 minutes.
Another feature of this Vibe tumbler that helps it stand out from the pack is the color changing LED light. You can cut the light on, with no music, and the light will cycle through the different colors. When you cut the music on the lights start to dance with the music. This really makes your tumbler stand out at night and creates a fun, shall we say it, VIBE!
Conclusion
PROS: built in speaker, color changing light, bright colors, ability to customize, floats in water
CONS: one size only (18oz) at the time of this blog
Overall, this is one of the coolest tumbler that we have ever tested. I love the fact that you have not only have a built in speaker, but also lights that can put on a show. If you're tired of a tumbler that ONLY keeps your drink cold this could and should be your next tumbler.
Learn more and get your own by visiting FIRESIDE OUTDOOR.
Find hundreds of carefully curated products in our AMAZON STORE.
Thanks for reading our blog on the Vibe Bluetooth Speaker Tumbler. Let us know what questions you have and then watch our short video below. While you're watching the video make sure you hit that SUBSCRIBE button on YouTube.
Love learning about all the cool, new products that we get to test out? Take a minute and check out our latest PRODUCT REVIEWS.
We NEVER get paid for our reviews. This way we can always keep it real with our fans! We were sent a sample to test out with the understanding that we'd give our honest thoughts.
Written By: Luke Lorick 7/25/21