A cozy fire pit is perfect when the weather gets cool. We've tested quite a few fire pits here at Tailgating Challenge, but the New WarmBond BondStove caught our attention when we learned of the unique features it offers. Join us to get warm and cozy in the new blog of the WarmBond BondStove Review.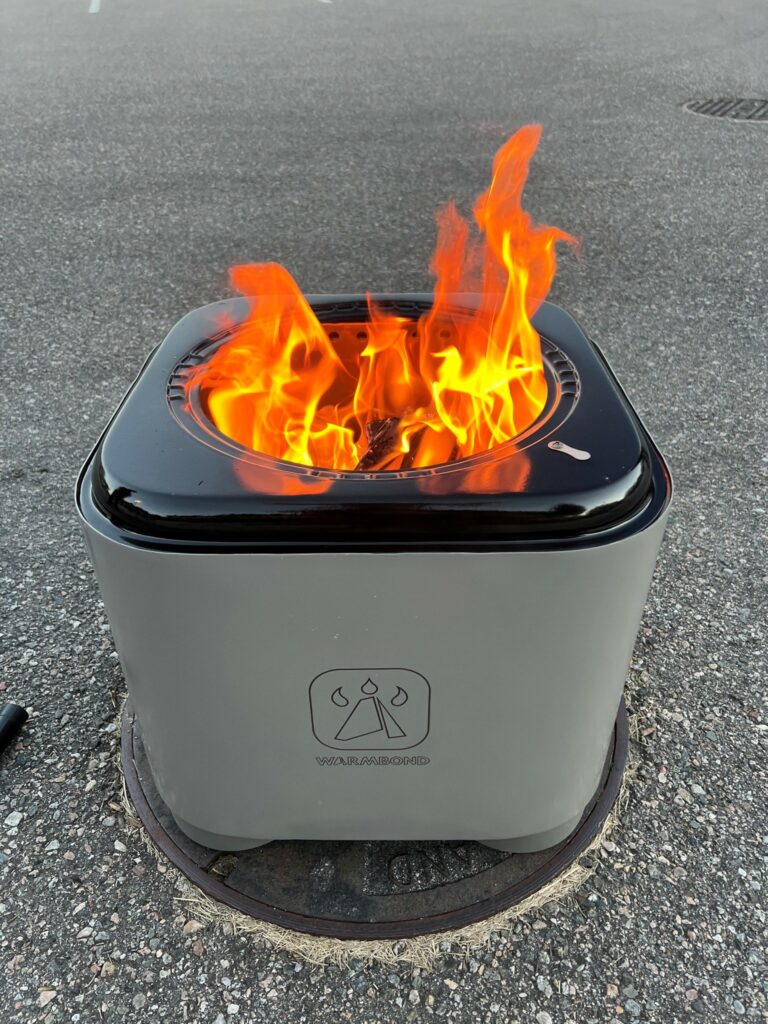 Warmbond BondStove Features
-35.5 pounds
-Low Smoke
-Dual air system
-Nano Ceramic exterior coating
-Carrying Case/Pouch
-20 Inch Square Opening
-17+ inches high
-Removable Ash Tray
What Are The Upgrades?
-Grill Package – Turn your fire pit into a unique grilling station.
-Wheels – Roll your fire pit to the next epic location.
-Viewing Glass – Adds stylish ambiance to your fire pit.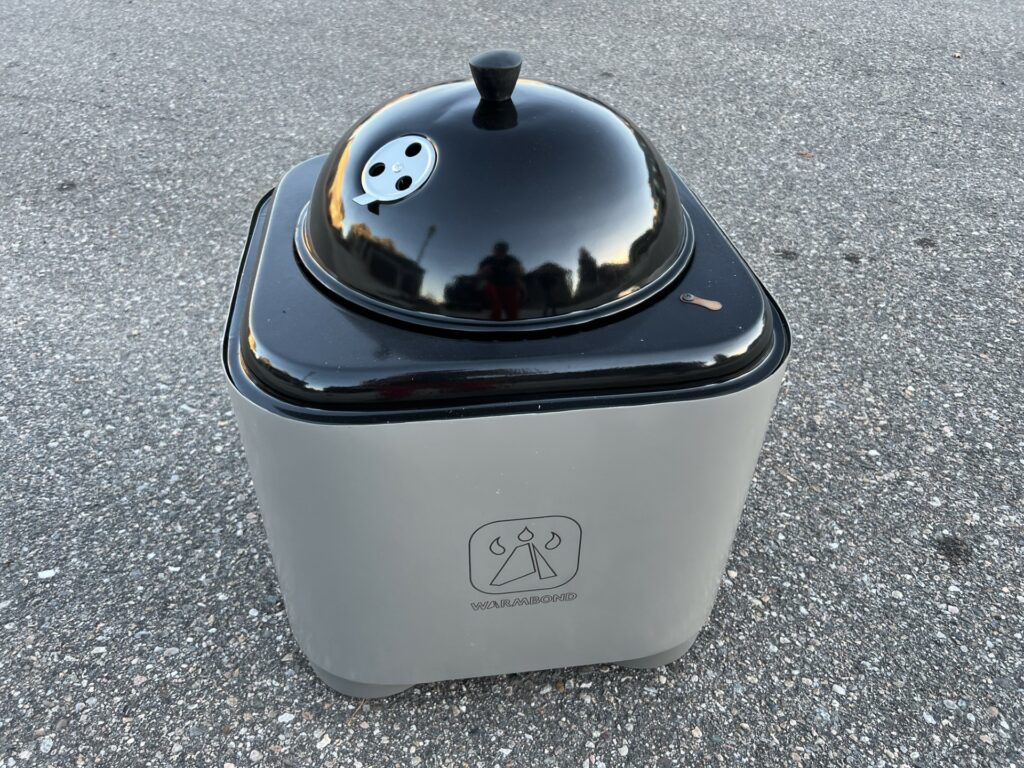 What Did We Think?
As we noted, we test a bunch of fire pits, so we bring some perspective to this fire pit review. Some of the things that are important to me when talking about a fire pit are: heat, durability, smoke, and unique features. Let's touch on each of these points for the WarmBond BondStove.
Heat Cozy Factor
Fire pits bring nice ambiance, but people also have a need for heat. The Warmbond has a large 20-inch square opening that easily allows various sizes of fire logs and wood to be added to the fire to help create a big burn. After the fire gets started and you stoke it up the heat is pretty amazing and has a nice cozy warm ring around the fire pit.
Durability
Some fire pits hold up better than others from intense heat, weather and use. While we still need more time to truly see how this one holds up over the years, our initial impressions are that it's built to last. The interior of the fire pit does not have paint or material that will peel off. The exterior of the this has a Nano Ceramic coating that will help stop the fading that can happen with some fire pits that get large doses of sun.
Smoke?
Pretty much every fire pit nowadays says its "smokeless". To be clear, this is literally impossible to achieve based on combustion of the materials, but I digress. Now what we look at is how 'minimal' the smoke is. The Warmbond has a dual air system to help with airflow and a clean burn. A clean burn is what will help reduce the amount of smoke coming out of the fire pit. The ultimate tester of this is my wife, as she HATES a smokey fire pit. When testing this pit, she came around and said "Wow this is warm and I don't smell any smoke!" With some fire pits she simply goes inside, she stayed outside and enjoyed this fire pit. That's really all I need to say here.
Unique Features
This is an area this fire pit will shine amongst the many competitors in this space. They have multiple upgrades to meet your needs. The rolling package is great as it can help you move the fire pit around on relatively smooth, flat ground. With this there are no handles on the fire pit and that is still my biggest area of opportunity with the WarmBond BondStove. There is a grilling package that adds grill grate, grill lid, thermometer, grilling utensils and grill glove. The Grill Lid is unique and something I haven't see on other fire pits. Note when using the lid it will cut off a large amount of air flow, so the fire will become less intense and there will be a little more smoke created, as the burn is not as clean. Finally, there is a viewing package that adds glass around the circle. This adds a stylish look to your WarmBond Fire Pit.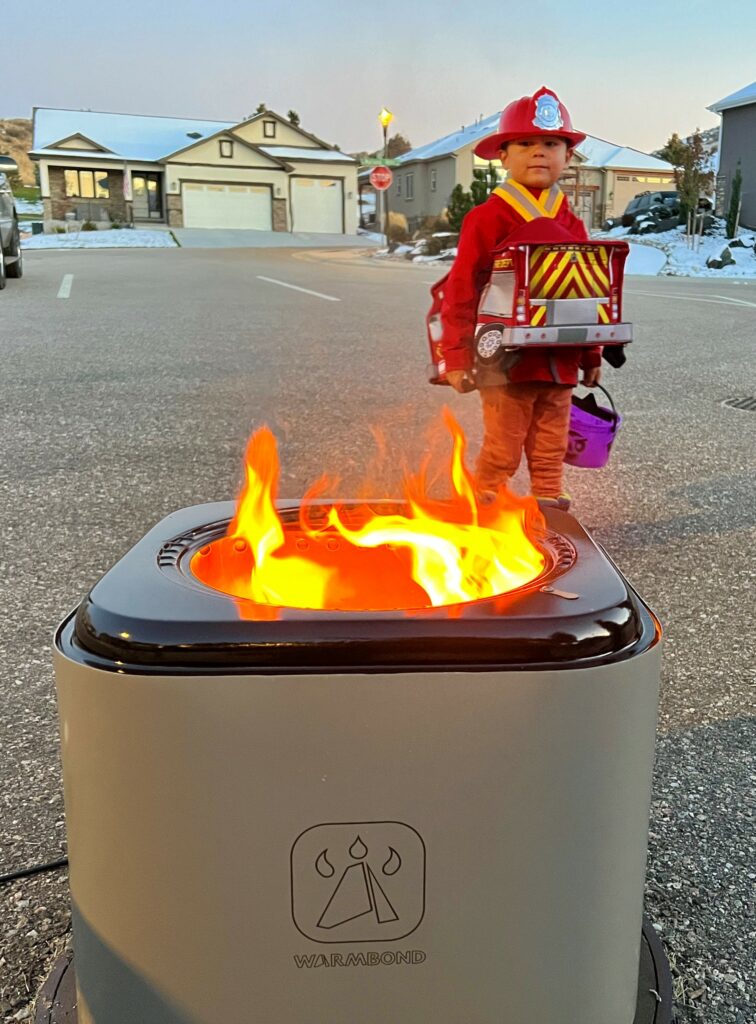 Conclusion
PROS: good heat, removable ash tray, ability to upgrade, holds up well to elements
CONS: would like built in handles for better portability over different terrains
Overall, this is a stylish, low smoke, big heat, fire pit with the ability to add upgrades that fit your needs.
Learn more and get your own by visiting Warmbond.
Find many amazing products that we've tested in our AMAZON STORE. A little bit of every purchase goes back to help support our honest reviews of the products you love.
Thanks for reading our blog on the Warmbond Fire Pit Review. Let us know what you think and any questions. Check out our short video below and while you're on YouTube make sure you hit that SUBSCRIBE button!
Love learning about all the new products that we get to test? Take a minute and check out our latest PRODUCT REVIEWS.
Written By: Luke Lorick 11/16/23