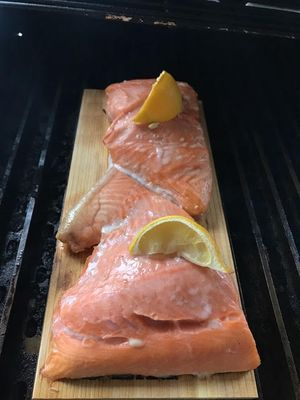 Grilling is a tailgaters favorite past time. Having the right tools will set you up for success especially when it comes to grilling fish.
Salmon is one of my favorite foods and the best way to prepare it is with cedar planks. Wildwood Grilling sent me a few cedar planks to test out for my next salmon cook out.
I unwrapped the planks (2 in a pack) the first thing I noticed was the awesome smell of cedar. That is one of my favorite parts about cooking with a good cedar plank, the smell! The instructions are actually engraved on the cedar plank so you can't (or shouldn't) mess it up!
I soaked the planks for 2 hours and then fired the grill up. I placed the salmon on the soaked plank and then placed on the grill. I wanted to use minimal seasoning to ensure I can give a true reflection of the flavor the cedar planks give. I simply squeezed lemon juice on the salmon and nothing else.
When the white bubbles started coming out of the top I knew the salmon was about done, but sitting outside and enjoying the smell of the cedar plank almost made me not want to take it off!
I served it up and first thing my wife said was "This may be the most delicious piece of salmon I've ever had" Was it the cedar plank or the chef? I like to believe the latter:), but have to give it up to the Wildwood grilling plank for helping to prepare some of the most delicious salmon that we've ever had. Watch the video below to see more on these planks.
PROS: great smell, ability to add your logo to the plank, amazing taste.
CONS: If I'm being nitpicky having an additional size to make them a little bigger to allow more meat on one board, as they are not reusable.
Overall: with the smell, the ease of use and the taste I'm ready to go grill out again. I see they have various other flavored grilling planks that I may need to try out like Cherry and Maple too!
Get your own by visiting them today: