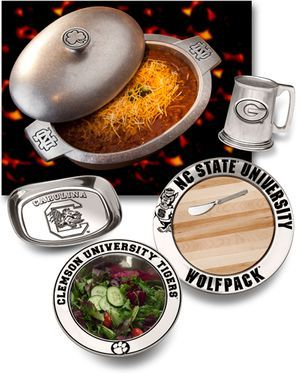 Do you love to not only cook but, cook in style? So do we and Wilton Armetale can satisfy your need for both. Whether you are at home cooking for your children or preparing a huge spread for the tailgating crew, you too will have a very positive experience using the  Wilton Armetale cooking products,  They are easy to use, easy to clean, and all look nice even after the 1st, 2nd and 3rd cooking and cleaning.   We have tested these products on the grill, stovetop, and in the oven. We have cooked potatoes (roasted and baked) vegetables, oven baked French fries, chicken, baked fish, and oven baked grilled pork chops. After using all of these cooking techniques I have found all of the products simple and functional to use everyday!
PROS: durability, ease of cleaning, ability to have your team logo on the dishes
CONS: it's not recommended to clean the products in the dishwasher, the products are easy to clean, but it takes a little longer than just throwing them in the dishwasher. Also if the food is not in direct contact with the pan it takes a little longer to warm when cooking from a frozen state.
Overall: Whether you are a stay at home mom, professional chef, or a cook only when I tailgate type of person; we highly recommend the cooking products from http://www.armetale.com.  Our favorite was the pizza pan, we used it to heat left over pizza and made frozen pizza,  threw it on the grill and cooked pork chops, as well as cooking raw chicken in the oven. We do however suggest a light coating of olive oil, or cooking spray just to prevent a little sticking.
Get yours today: