I've always wanted to set a world record. I wasn't sure how or what, but it was a goal I had in the back of my mind. In late 2021 I decided I was going to take the plunge and figure out what record I could set, or break. After visiting Guinness World Records I found a record that they had available to set: World Record Longest Backward Cornhole Throw. In this article I talk about some of the steps that have to be taken to set an official world record. If you've ever wondered how to set a Guinness World Record read on.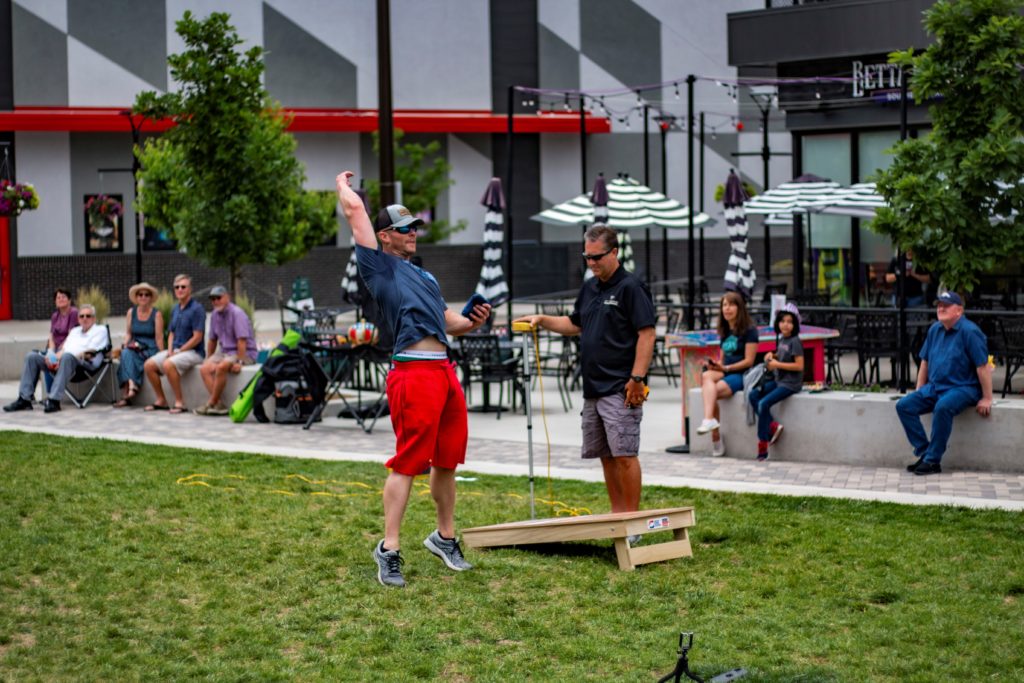 How To Apply For A World Record
As mentioned, I visited Guinness World Records and was able to search through thousands of records that I could attempt. You can drill the search down further to find records that are more in the scope of what you are looking to do. I knew I wanted to do something with a tailgate flare and then I saw it, a record to set the longest backwards cornhole toss. It was a moment of clarity, as I knew this was the record I wanted to attempt.
I filled out some online paperwork to let the Guinness team know of my interest in this record. They messaged back within a few days to advise they approved my attempt and then the laundry list of evidence that would have to be supplied to make the record official.
Practice Time
All world records require some practice including the longest backwards cornhole toss. This was a record that had not been officially set before, so I had to be 30 feet or greater for Guinness to qualify this as a world record.
I set my board up and started letting the bags fly. I started right at 30 feet and I surprisingly made it in less than 10 minutes. Ok, let me move back and train from a longer range. I did this, as there was no guarantee that when I attempted the record that someone else may have already set it and I'd need to go longer.
I trained and made shots to around 50 feet in distance. Once you get over 40 feet it gets exponentially harder to get the bag to the board. You have moderate how high the bag goes, or it won't have enough power to get to the board.
One tip for those tossing backwards is have some bend in your knees and when you toss push up on the balls of your feet put a slight arch in your back. You can see the movements in the below video.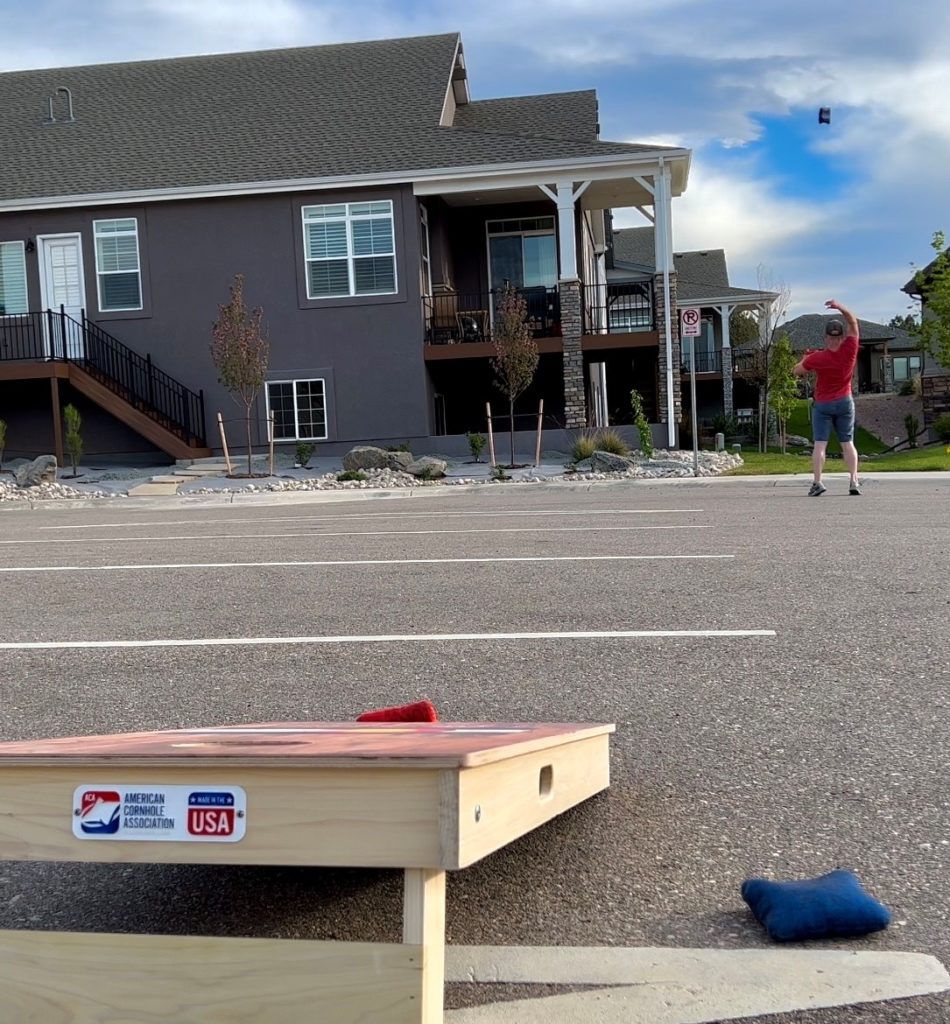 All Great Things Require Coordination
Coordination is key as with this record we had to hire a professional surveyor that could attest to the official measurement. This was easier said than done, as this is a one off request for many in this profession and I can't tell you how many didn't return my calls, or said they weren't interested. I finally found a local surveyor that committed to coming out the day of the event.
Next, we had to bring in an official cornhole referee. This is needed to attest that the boards and bags are regulation. They also were confirming that the throw and actions are legal within the rules of cornhole. I was lucky enough to get the American Cornhole Association to fly down and be a part of this world record attempt. Not only did they fly in to help with this, but they also made special boards and bags for us to use in this cornhole world record.
Guinness requires that your attempt take place in a public venue and I took it one step further and got my city of Loveland, CO to give me a green space in the center of downtown. This way anyone that wanted to come watch the attempt could easily stop by and view.
Finally, you have to have multiple camera angles, slow motion videos and photos as part of the evidence requirements. We had cameras set up behind the board and down where I was throwing. In addition, we also had a drone in the sky to capture it from above.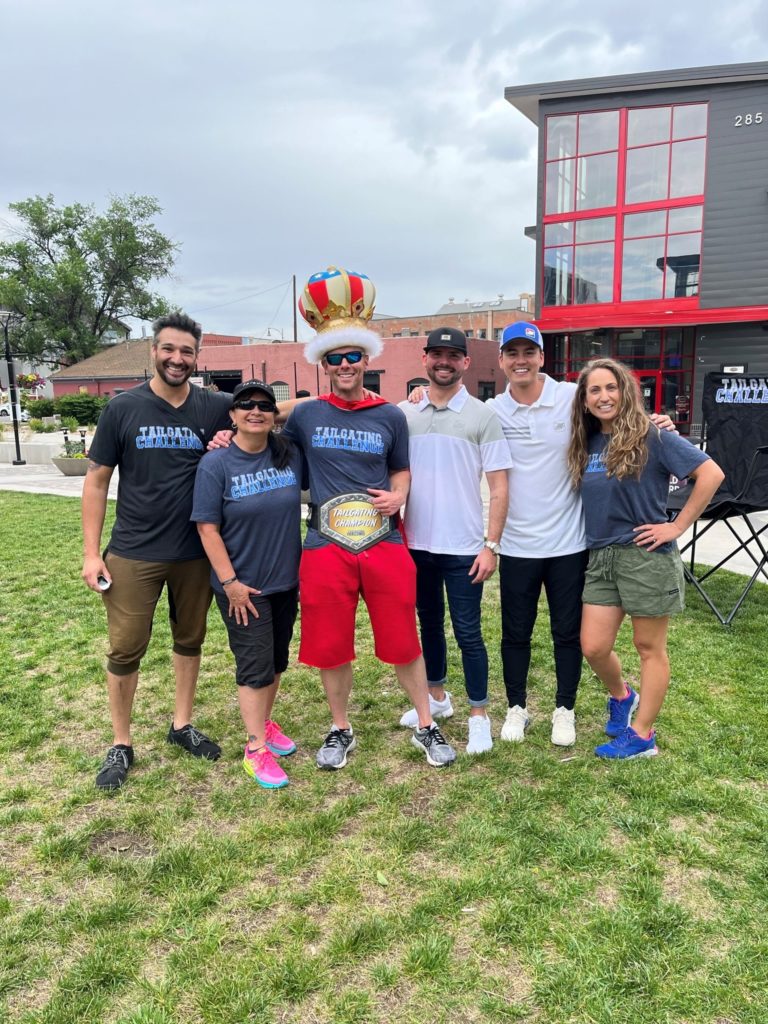 Gameday When it Really Counts
After numerous check ins to make sure all of the needed people showed up, it was gameday. We got out to the spot early to game plan where to set up and start to focus on setting a world record. The day before the local newspaper had done a front page story on this attempt, so a small crowd of people started to gather around the town square to watch history in the making.
The clock turned 10am and it was time to set up. The surveyor measured off and we were snapping pics and getting video for evidence. We had the cameras set up and got the drone up in the air. Now for the hard part, making the shot! I had the surveyor measure off 35 feet and I stood behind the line and started letting the bags fly.
There were a few bad misses then a few shots that got closer and drew oohs and ahs from the crowd. Then it took a turn as with each miss I started to get in my own head. Thoughts like will I make it, are people questioning why I'm here, how long will it take? These swirled in my head and it seemed like I had been tossing all morning.
Then it happened I paused, got my composure, then let the perfect toss fly. I turned around and saw it float right into the hole with a perfect 'airmail' shot! My hands shot up in the air and I was able to snap back to the reality of what I had just accomplished. Now it was time to celebrate.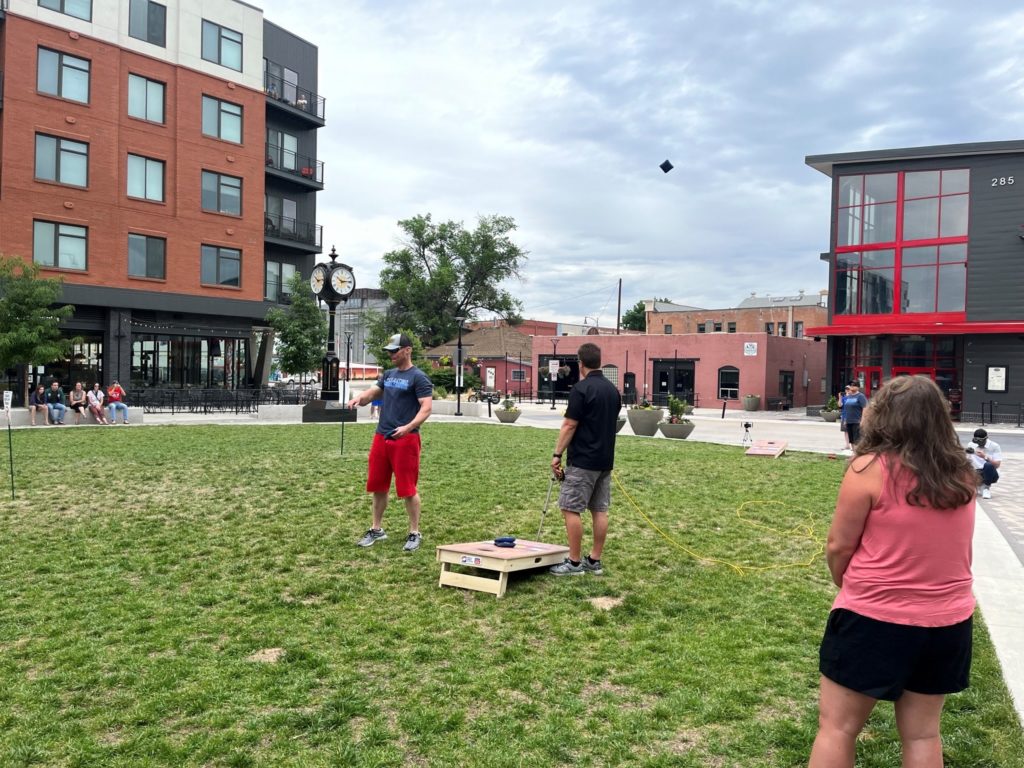 Celebrate When You Achieve a World Record
My hands were in the air and I walked around to give high fives, hugs, thanking people for coming out and even took a few selfies with people I had never met. Even our towns mayor came out to congratulate the world record and I had her try a toss to have some fun with the crowd.
I put on my Tailgating Champion belt, tailgating hero cape and even a Kings crown (I felt like king for a few moments on this day) and had multiple pics, interviews and conversations with news reporters and locals. As the crowd thinned out I got together with a few friends and the team at American Cornhole Associate and we cracked a cold one to celebrate the accomplishment and the next steps.
For those wondering this GIANT chair fit for a king is the Kingpin chair you can get from CUSTOM FOLDING WAGONS.
Next Steps
The next steps is gathering all of the evidence to submit over to Guinness for their review. Witness statements, surveyor reports, Cornhole ref report, pics, videos, and news articles have to be uploaded for review.
As I write this I'm working on finishing getting all the evidence together to submit to Guinness. From there it takes approximately 3 months for Guinness to review and recognize the record as official.
For now I'm celebrating an unofficial world record and will keep everyone updated as the next steps take place. If you have thought about attempting a world record I hope this article pushes you to take the plunge. Feel free to reach out with any questions that I can help with as you pursue your own goals.
Thanks for reading our blog on the World Record Backward Cornhole Toss . Let us know what you think and any questions. Check out our short video below and while you're on YouTube make sure you hit that SUBSCRIBE button!
Love learning about all the new products that we get to test? Take a minute and check out our latest PRODUCT REVIEWS.
We never get paid for our reviews, this way we can always keep it real with our fans. We were sent a sample to check out with the understanding that we'd give our honest opinions.
Written By: Luke Lorick 7/6/22