Getting into amazing outdoor adventures can be HOT! We have tested numerous products over the years that can keep you cool, but never have we gotten our hands on a product as cool as the Zero Breeze Mark 2. Sure that sounds a little corny, but having a high output ac unit that you can take on the go, is something that you don't see much of. Let's find out just how 'cool' this is in our Zero Breeze Mark 2 Review.
Features of Zero Breeze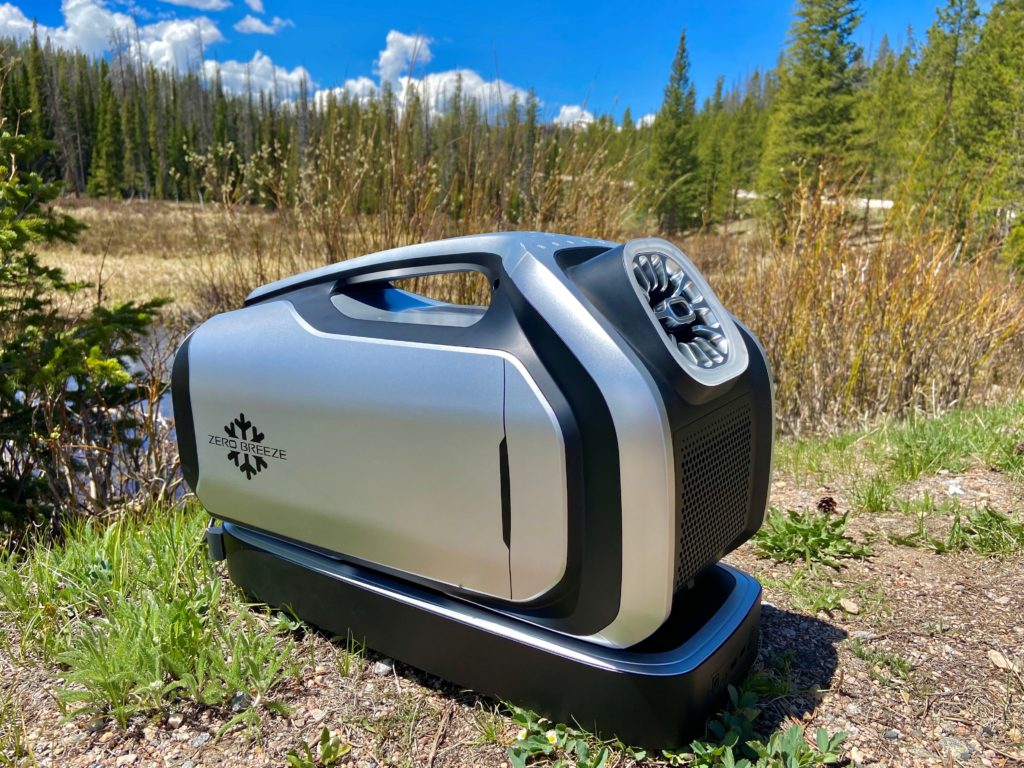 Unit weight 16.5 pounds (with battery add 12 pounds)
Cools in 10 minutes
Cools down 30 degrees from ambient temperature
Digital Temperature Display
Sleep Mode
Remote Control
External battery that can detach from unit
Cold Air Extension Pipe
Heat Dissipation Pipes
Is It Worth It?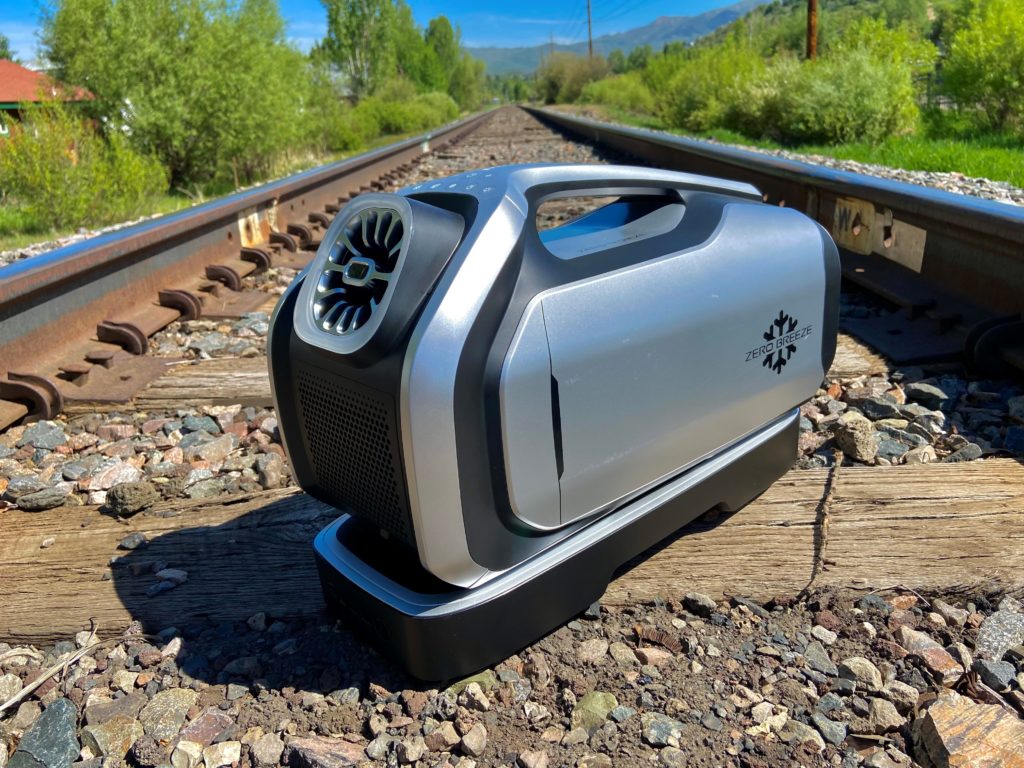 Portability
First, we dive into the portability aspect of the Mark 2. With the external battery attached this tips the scales right under 30 pounds. Comparing this to other ac related options this is competitive, but if you have to haul this for long distances you may utter some words.
This is best carried with one hand and the grip is smooth. Adding some textured grip on the handle can help this unit from slipping, falling and causing damages to the unit.
One area of portability that we forget is that this can be a CORDLESS ac unit! That brings higher portability as you don't have to have an electric source, since there is an attachable battery
Overall, I believe this is the most portable ac I have tested. I still think it can be tough carrying long distances, but the relative weight and cordless design give this high marks.
Other Features
This Zero Breeze Mark 2 has the ability to vent out the hot air from the machine that can make this the perfect ac unit for camping. This clips on easily above the rear exhaust fans of the unit and you can then vent it out of your tent to keep the cold air in and the warm out out.
Next up is the cold air extension pipe. This pipe attaches on to the front blower, where the cold air is coming out. This is a great feature to help point the cold air exactly where you want it. The issue to me is that you have to attach this with a tool and two screws. These will likely get lost at some point. I'd like to see them have an easy attach like they did with the heat dissipation pipes on the back.
Finally, there is a remote control that comes with the unit. On the surface this is a great idea if you're in your sleeping bag and want to change the temperature. The bad part, at least with my unit, is that the remote control was spotty with working to give the unit commands.
How Cool Is It?
Now here is what you've all been waiting for, how cool is this machine? First, it is good to note that you do NOT need any water, ice or Freon to run the machine. After you cut the machine on it will flash the temperature of the air that is currently coming out of the unit in its digital temperature display. You will watch this number go down fast! Even in 90+ F heat this Zero Breeze started cooling with no issue. It got to its optimal temperature in the 10 minutes that was noted by the company. Pretty awesome.
On the 90 degree day we got into the low 60's with the AC coming out of the unit for almost a 30 degree difference between the ac and the ambient temperature.
We did most of the testing with the external battery and this performed well in our test and transporting this unit all over the place. The battery is what truly makes this unit special, as you can get around 5 hours of ac life without a cord! The unit can still be powered with your standard electrical home outlet, or a portable power station.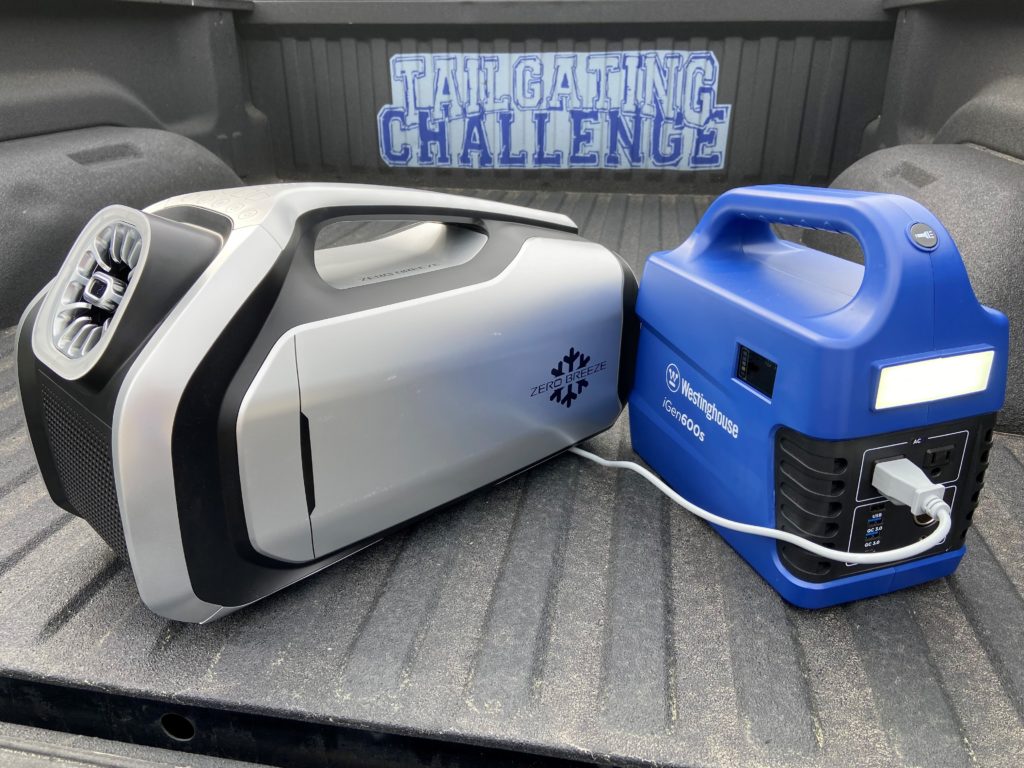 Conclusion
PROS: cools fast, can cool small areas well, clean design, battery powered so no cord is needed, it needs no ice, water or freon
CONS: remote control was spotty in giving commands to the unit, would like the front bracket (for the cold air extension pipe) to clip in like it did in the back vs needing to keep up with two screws and tool.
Overall, this heavy duty ac unit did well in our tests. Those that were around the unit were impressed how quickly it started to cool off. If you're tired of hearing your friends, or yourself, say its too hot, then you need to check out the Zero Breeze Mark 2.
Learn more and get your own by visiting: ZERO BREEZE.
Save $50 with promo code: "tailgating50"
Find hundreds of carefully curated products in our AMAZON STORE. If you shop on Amazon check here first!
Thanks for reading our blog on the Zero Breeze Mark 2 review. Let us know what questions you have and then check out our short video below to see this cool product in action. While you're on YouTube make sure you HIT that SUBSCRIBE button.
Love learning about all the cool, new products that we get to test out? Take a look at some of our recent PRODUCT REVIEWS.
We NEVER get paid for our reviews. This way we can always keep it real with you. We were sent one unit to test out with the understanding that we'd give our honest feedback.
Written By: Luke Lorick 6/7/21