We love to tailgate! Understatement of the day, but there is a problem that comes with being an avid tailgater and that is traveling to tailgates that are far away from home. You don't know the area, you can't bring all of your goodies and likely your entire tailgating crew can't come. Have no worries because we have found a service that can pair you with super tailgaters that will wash your worries away. May we introduce you to Tailgreeter!
Here at Tailgating Challenge we have the newest and coolest products that we love to take tailgating, but when we have to get on a plane to head across the country to a game it can make it next to impossible to bring all our goodies. No problem, as Tailgreeter can get you with a tailgating host that has tailgating gear, tv's, games and more.
When you have never been to a tailgating venue before you don't know the best place to park, where the party is, the must see places, while you're at the tailgate. Again, no worries as Tailgreeter puts you with a host that knows the area and can give you all of the insider information on the particular tailgating venue.
If you don't feel like bringing food and don't have a cooler to take. They got you covered, as the super tailgating hosts will have food and drink for you and your friends. The food and beverage will vary by tailgate.
What if you're traveling solo and don't want to tailgate by yourself? No worries, these super tailgaters will bring you in like you're part of the tailgating family. After a few minutes you may forget that you just met these tailgaters a few moments ago.
This all sounds great, but how does this play out in real life? We signed up on the Tailgreeter website and looked for a tailgate to try this service out. The Baylor vs. Oklahoma game on 11/16/19 was slated to be the game of the week and ESPN gameday was showing up to broadcast live. We found the game and host on the Tailgreeter site and you can see the options they have available from music, maximum guests, amenities, food, beverages, and more.

We selected the host: Tailgaters Unanimous and were quickly confirmed as guests. The host reached out through a private message on the site that gave the hosts name and cell phone numbers, should we need anything while in route to the tailgate party. One thing that could make finding the hosts even easier is to have a GPS beacon at the tailgate, to easily get right to the action. There is an address for the parking lot listed, but if it's a huge lot that you're not familiar with it could take some extra time finding your host.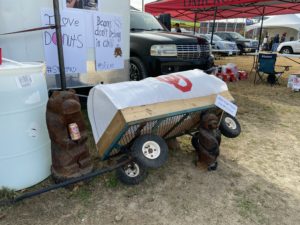 We journeyed down to Waco, TX and while in route I asked the hosts the best place to park. They pointed us in the right direction, because for this setup you could not park beside the host. We found the host and the first thing they said "Do you want a free craft beer?" I knew we were with the right kind of people! The Tailgaters Unanimous team is sponsored by Southern Star Brewing and they had a nice line up of craft beer options that included: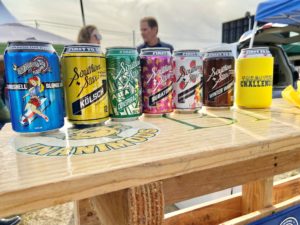 -Bombshell Blonde Ale
-Kolsch
-Conspiracy Theory IPA
-Subatomico Juicy IPA
-Winter Warmer Winter Ale
-Strawberry Blonde
Of course we had to try one of each! Well almost one of each, as I didn't get to taste the Conspiracy Theory IPA (but I did get to take one home for next week). They have a iconic pallet bar that they actually serve free beer to anyone walking by (anyone that is over 21 of course). If you're a Baylor fan you can have your choice and sip your free beer, but if you are the opposing fan you have to shot gun it! The Oklahoma fans that came by were great sports and added to some pre-game festivities.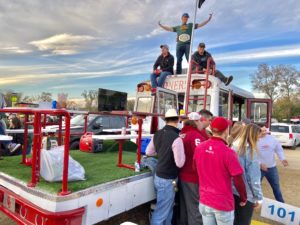 The Tailgaters Unanimous also had a nice spread of food, that was ready to eat when we showed up. They had turkey and pulled pork sliders, kolaches, ribs, 7 layer dips, homemade cookies and special deserts that were infused with alcohol. The puff pastry was crème filled, but also injected with Baileys. These were incredibly good and of course Sketchy and super host Matt had a special bonding moment while eating these that you can see in our video.
They also had pumpkin spice Jello shots that they would top with whip crème and some cinnamon before you got to enjoy the deliciousness.
Matt and Ryan were awesome hosts and we had a blast with them. They have been doing this for almost 10 years and know how to get a tailgate party going. If you're ever in Waco look for their pallet bar and stop by for drink and some fellowship. Just remember if you aren't a Baylor fan you need to be prepared to SHOTGUN that free beer.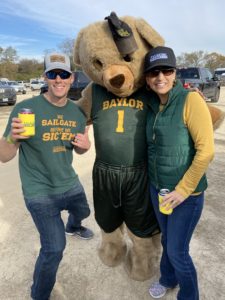 Tailgreeter is an awesome service that allows you to tailgate like a Champion anywhere in the country! Next time your team has a long distance away game, check out Tailgreeter and enjoy the tailgate in the best way possible.
Learn more about how Tailgreeter can help you attend your next tailgating party: https://www.tailgreeter.com/
CHECK OUT THE VIDEO BELOW
Love our NON-biased reviews? Then check out hundreds of awesome products we have gotten to test over the years by CLICKING HERE
This was a NON paid review, as we think people paying us for reviews is NOT the right way to do things.
Written by: Luke Lorick 11/17/19