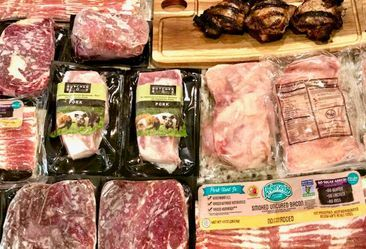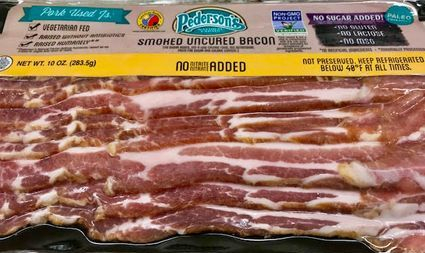 tailgating 2
I love getting things in the mail and when I heard there was a service that will deliver high quality meats (ready for the grill) then I knew I had to try it out. The ButcherBox is a service that sends all kinds of fun meat to your door, on a monthly, or every other month basis.
You can build your own ButcherBox to include only the things you want and never anything you don't want. I built my ButcherBox to include Bacon (of course), chicken wings, chicken thighs, steaks, and pork chops. The ButcherBox is delivered to your door in a few days in an insulated box. The variety of meats were stored in a zippered bag (within the box) that you could easily put into the deep freeze. Everything was still ice cold when I recieved and looked great.
I'll pause here and state the thing I like the most about ButcherBox is that they have the Certified Humane rating on their chicken and pork. They treat their cows humanely, but are still working to obtain that Certified Human rating for beef too. Too many companies today are all about price and will do unspeakable things to animals. I'm an animal lover at heart and while I'm not a vegan, I do wish for the animals to be treated in a humane fashion.  Big shout out to ButcherBox for putting the animals above some cost savings.
I first thawed out the chicken thighs and let them marinate in a custom sauce a few hours before firing up the grill. After they were properly marinated, I placed them on the hot grill and got to hear the sizzle (love that sound). Afterwards, it was the moment of truth, how did they taste? In one word amazing. The flavor and texture of the meat was great and that was echoed by all that sampled.
Next up the certified humane bacon. I got out the frying pan and placed some long strips of bacon into the pan.  When I got to taste the bacon I was impressed and would go so far to say that this was some of the best bacon I've had the pleasure of eating.
I truly believe that aside from the fact that treating animals humanely is the right thing to do, that it can also increase how good the meat tastes. When you allow an animal to eat natural things and to get exercise they are healthier and happier. This translates over into how the meat tastes when it hits your table.
PROS: Humane Certified chicken and pork, great flavor, delivered to your front door, you build your own box with only the meats you want.
CONS: they are not a price leader
I'll be honest, as I am in all of  my reviews, you can go down to your local supermarket and most likely get the same amount of meat for a cheaper cost. I'll also bet that the meat you purchase is NOT humane certified and that it likely doesn't taste quite as good as what comes out of the ButcherBox. If you're shopping purely for price and price alone, then ButcherBox isn't your best bet. If you're shopping for great flavor and know that the animals you're eating actually had a good life, then ButcherBox would be a great company for you to order some great meat from for your next cookout!
Custom make your own ButcherBox order by CLICKING HERE