There is nothing like firing up the grill on the perfect day to cook some food for you and your friends. There are so many grills on the market to choose from that it can get overwhelming. We like to do our part to review new products to help you make the best decision possible. In this review we check out the Coyote Grills gas grill, but this one has a twist: it's the BO JACKSON edition.
Bo Jackson was a once in a generation talent who's career ended too soon. Bo has recently gotten into the grilling and meat game and we've tested out Bo's Burgers in the past (check out that review HERE). We grabbed another 6 pack of Bo's Burgers to help test out his new grill collaboration with Coyote Grills.
Coyote Grills are known for quality and this was our first chance to really experience the quality that is a Coyote Grill. Let's take a look at some of the features this grill comes with:
Features:
200 sq. in. cooking area

316 marine grade stainless steel

Signature grate cooking surface

Ceramic Heat Control Grid

One Infinity Burner – capable of up to 20,000 BTU's

700° F maximum temperature

Can be used with either a 20lb propane tank or a small propane canister (adapter included)

Removable drip for easy cleaning

Grill Cover with Bo Jackson's signature
Approximate Dimensions:
Height: 13-1/2″

Depth: 16″

Width: 25″

Weight 53 pounds
We got ours out of the box and then it was time to set it up. Included in the box is the grill, Bo Jackson signature grill grates, grill cover, small propane canister adapter, and the gas line hook up. We had everything out of the box and set up to cook on in about 5 minutes.  We hooked it up to the propane tank and in about 10 minutes this grill was over 500 degrees and ready for action.
The grill itself is beautiful and weighing in at a little over 50 pounds (with handles on each side) you can pick it up and move it to where the the grilling action takes you. When I was putting the grill grate in, that has Bo Jackson's signature and number cut into the grate, I thought this is almost too pretty to grill on. I quickly got over that feeling and grabbed Bo's Burgers to start placing on the grill. The sizzle is real and it kept getting hotter and hotter as the burger juices started hitting the ceramic heat grid below. We pegged the built in thermometer at 800 degrees.  This makes we wonder if it was truly 800 degrees or is the thermometer off a touch with its reading. Regardless, this thing can get hot and it did a great job in getting our burgers cooked to perfection.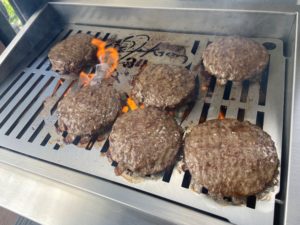 One thing we were a little worried about was what to put the grill on. When we heard it could get over 700 degrees we wanted to ensure the surface we put the grill on would not be damaged. To my surprise, the grill does a great job of keeping the heat IN the grill and not transferring to the surface below. We even put our hand below the grill in the middle of the cooking and while warm it was was not scalding hot.
The least fun part about grilling is cleaning up and I'll share that it's normally best to clean the grill soon after it has cooled down and don't wait until the next day to clean it. I waited until the next day to clean the Coyote Grill and I pulled the drip tray from the bottom along with the grill grates and took them in for a good scrub down. With most grill grates I may not clean to this extent, but again did you see how awesome these grill grates are? You have to keep them clean! For the most part the grease came off and while it didn't look brand new, it didn't look bad at all. Check out our video to see the cleaning in action with the before and after (below).
Overall, this is a high quality grill that not only looks pretty, but can do some serious grilling. The only thing I wish that was included was some type of cleaner for the actual grill grates. With these being grates that I want to keep as clean as possible I bet there is something out there better than just soap and water.
If you're ready to hit a home run, or score a touchdown at your next tailgating party then its time to visit: https://coyotegrills.com/
our honest reviews? Then make sure you check out all of our reviews on fun tailgating and outdoor related items in our PRODUCT REVIEW section.
There was no money exchanged for this review. Coyote Grills sent us one grill to test out with the intent to get our honest feedback.
Written by: Luke Lorick 6/21/20