We love products that take a commonly used product and then take it to the next level. Everyone has a cooler, but not everyone has a cooler that can also go up to 13mph! Meet the Cruzin Cooler and it is ready to help you have the most fun ever at your next tailgating event.
The Cruzin Cooler takes a standard cooler and puts it on wheels. These wheels are then powered with a rechargeable battery, so no gas and no noise.  We had the original Cruzin Cooler and loved it, but when we got our hands on the all new Cruzin Cooler we loved the upgrades that made it even more fun to drive.
Let's take a look at some of the Cruzin Cooler features:
                         -500 Electric Brushless Hub Motor
                         -Up To 13 MPH
-48 Volt System
-Removeable Battery Pack
-Weight Capacity 290 lbs.
-10" Pneumatic Wheels
-18 Mile Range
-LED Head Light and Tail Light
-Horn
-Mobile Phone Holder With USB Charging Port
-Front Steering Suspension
-Dual Brakes
-Three Speed Settings
-2 Days Of Ice Retention
We got our new Cruzin Cooler in and got to work on putting it together. You will need to budget a little time and having a buddy help will really speed the process up.  Once we got the Cruzin Cooler all set up we made sure to adjust the brakes, so that it will stop properly. You may need to play with the brakes a bit to find your sweet spot.
We have been testing this new Cruzin Cooler for the last year and we took it to multiple tailgates last year. We like to put a little ice and some drinks in the cooler compartment and then cruise around the tailgates to see how other people are getting ready for the big games. The horn on the the new Cruzin Cooler is great so you can let people know you are coming around them. Please watch out and give entry to the motorized cooler, thank you! We had people stopping us all day wanting to learn more about the Cruzin Cooler and asking if they could get pictures.
The Cruzin Cooler gets tons of attention all the while making your tailgate a little more fun. I was always envious of those that brought out golf carts to tour around the tailgates in the past, but we didn't have the vehicle to haul it or the money to buy one. Now we can cruise around just as easily with a much more portable and cost effective solution in the Cruzin Cooler.
I had the original Cruzin Cooler for years (you can see the original review of this cooler HERE) and enjoyed every minute, but the upgrades on the new Cruzin Cooler makes it hard to ride the older one. The speed band is smooth and there are three different power levels on the new edition. The suspension makes for a much better ride. I also like the amenities like the light, horn and phone holder. Overall, it is night and day from the original and if you have the original and like it then trust me when I say you'll love the all new edition.
One other feature that not everyone knows about with the Cruzin Cooler is that it has a hitch on the back so you can add a 'trailer cooler' to haul behind it. This is great if you need more cooler space to haul additional drinks or party items. It also can provide another seat for another rider, so your friend can come! The 'trailer' cooler is the Coolagon that is also sold by Cruzin Coolers (you can see our full review on this cooler HERE).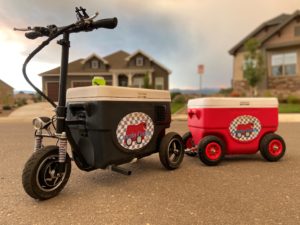 Upgrades that would make this cooler even better: bluetooth stereo system, a larger cooler, so you can have it as a two seater, and some under body lights.
One item to note: you only get half of the cooler space due to the battery taking up half of the cooler.
Overall, this is the most fun cooler I've ever tested and it won our 2019 National Tailgating Day product of the year. This continues to be one of the most fun products that we have ever tested (we've tested 600+ products) and have no doubt you too will love this Tailgating Approved item.
Learn more and get your own by visiting: CRUZIN COOLERS
Love our honest product reviews? Then check out all of our reviews in our PRODUCT REVIEW section.
We never get paid to give a review. This way we can keep it honest with our fans. We were supplied a cooler to test out with the intention of getting our true thoughts.
Written By: Luke Lorick 9/7/20