Finally, a yard game that allows you to play basketball. If you're a basketball fan there are few options for you to play your favorite sport at a tailgating event. Luckily, Giant Pong Basketball game is here to save the day. Now let's dive deeper into the Giant Pong Basketball Review and see how it does in our Tailgating Challenge.
How To Play/Scoring
Set the buckets 17′ apart (measure from the front of the buckets)
Fill buckets with weight or anchor with stakes. If using weights, use the following guidelines: water (3/4 full), trash bags (fill water till 2/3 of the bucket & tie a knot), sand (1/2 full), and GPB sandbags (filled with sand) and place GPB pillow bags (filled with pillow filler) on top of sandbags. See videos below
Form 2 teams: Team A <~~ 17ft ~~> Team B
Teams stand behind their bucket and attempt to shoot the basketball into the opposite bucket
Teams & teammates alternate shooting the basketball after every shot (no blocking or goal tending)
Points System
Shooting the ball in the bucket = 2 points for the shooting team
Catching the opponent's shot off the bucket rim (rebound) before the ball hits the ground = 1 point for non shooting team
First team to 10 wins. Change sides. Play 2 out of 3 rounds!
Giant Pong Testing
When our Giant Pong came in we took a few shots into the bucket and quickly learned you need to have weight in the bucket to keep the bucket from falling over. The Giant Pong game comes with trash bags to fill with water for playing on concrete. There are also bags to fill with sand if playing on the beach and finally bungee cords with stakes to stabilize if you're playing on the lawn.
Once we had our trash bags filled with water we lined the two giant red buckets up to let the shots the fly. It took a few shots to get into a rhythm. Even when you're in a rhythm you can fall out of it like a basketball player going cold from the field.
I enjoy the part that you can get points by making the shot and you can also get a point if there is a miss and you grab the rebound. This keeps you on your toes for the entire game.
When playing the game I had flashbacks to playing NBA Jam and wanting to make three shots in a row and yell HE'S ON FIRE! I actually made three in a row on my first attempt in filming the video (I'm a game time player what can I say) and if you watch the video you can see how I transformed after I made my third shot in a row. For those wondering that incredible ball that looks totally awesome is the HOLOGEAR basketball. When the lights come on it really stands out!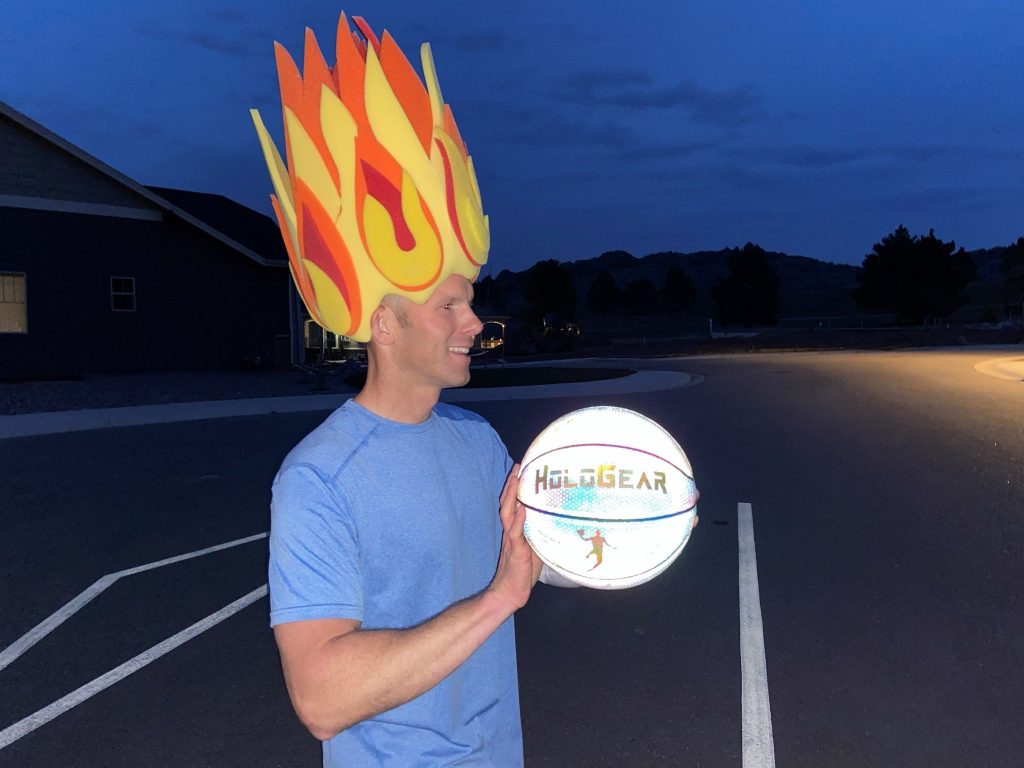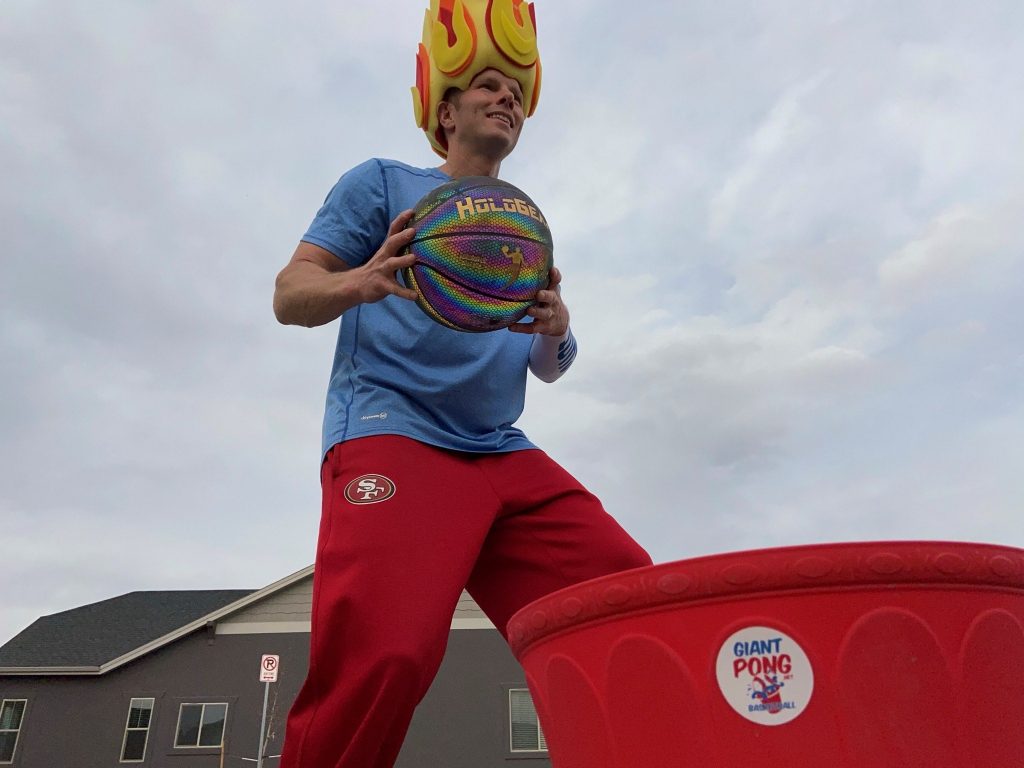 Conclusion
PROS: finally a basketball yard game, multiple setups to allow you to play on grass, sand or pavement
CONS: trash bags could puncture and then the ball will get and water will spill. I'd love to see a compartment that you could fill up with water and then easily release for easy transportation.
Overall, I had some doubts about this game when I first started taking some shots on my own, but once I got a full game going with some friends we had a blast! If you love basketball and yard games then this is a no brainer.
Learn more and get your own by visiting GIANT PONG BASKETBALL
Check out our AMAZON store to find hundreds of fun products that we have tested.
Thanks for reading this blog on Giant Pong Basketball review. Let us know what thoughts, questions you have regarding this game. Now sit back and watch the fun video we created while playing Giant Pong Basketball game.
Love learning about all the fun, new products that we get to test out? Take a minute and check out our latest PRODUCT REVIEWS.
We NEVER get paid for our reviews. This way we can keep it real with you. We were sent one sample to test out with the understanding that we would give our honest thoughts.
Written By: Luke Lorick 4/27/21