There is nothing like grilling at the tailgate, unless you could make grilling easier. We may have found a way with the Griddle N' Hitch Review.
The Griddle N' Hitch is a system that can attach to any 2 inch vehicle hitch receiver to give you an easy set up for your grill. This eliminates the need of having to find a table to place your grill on.
Features:
Hitch Mount Arm Assembly
Works with Tailgate Raised or Lowered on Trucks & SUV's
Mounts in any 2″ hitch receiver
Comes with hitch pin
Grill/Griddle NOT included
Weight: 28 lbs
Dimensions: 30 X 10 X 12 inches
Grilling Test
We got our Griddle N' Hitch in and we also got ourselves a BlackStone 17 inch griddle to sit on top. This unit will accommodate a 17 inch or 22 inch griddle. There are cut out holes on the base that you can slide the griddle legs into to secure it.
The set up will take less than 5 minutes. You slide the bent bar into your receiver hitch and then place the swing arm/table on top. There are four bolts that will line up and you then secure with wing nuts. You can see each of these steps in the video below.
There is a pin that will keep the swing arm 'pinned' and this is for when you may travel with the unit attached to the back of your vehicle. Make sure you remove the griddle prior to driving your vehicle. The griddle is not secured for driving.
The swing arm will allow you to operate your grill at the center of your tailgate, or it can swing out to the side.
Once we got it all set up we played with the swing arm a few times as we thought that was a really cool feature. In our first grilling set up we decided to cook with the griddle at the center of our tailgate. If you want more access to sitting on the tailgate, or getting things out of the tailgate, then you could swing this off to the side. Pretty cool feature to give you easy flexibility with where you want your grill.
As we were grilling the guys with us made multiple comments about how cool this product was. I agreed, as this Griddle N' Hitch will be awesome for tailgating, or camping. I've always been a Tailgating Master, but as I finished off this grilling session I started to become the Grilling Master….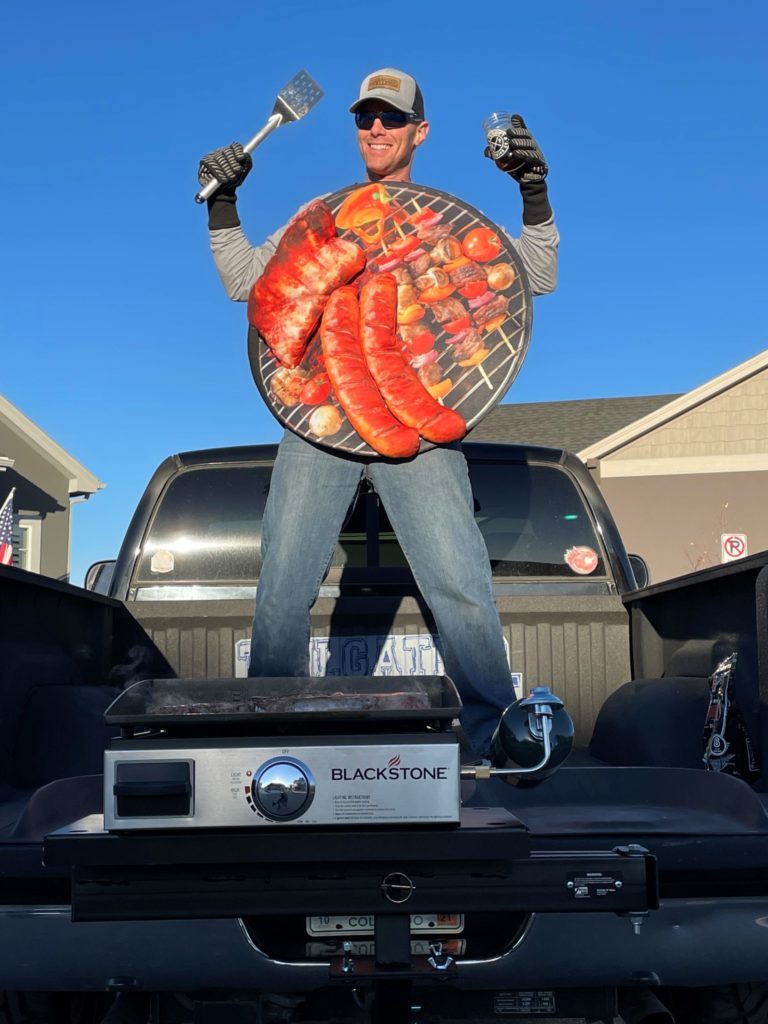 In Conclusion
PROS: easy set up, swing arm for multiple positions for grill, tailgate will come all the down with this in use, durable construction
CONS: One of the bolts where the wingnuts attach had a bad thread, so we weren't able to affix all 4 wingnuts. As an upgrade we'd love to see a small slide out table that becomes a feature on this to have a place to put your food/grilling utensils.
Overall, this is an awesome item for those that love grilling outdoors (and have a 2 inch receiver hitch). If you see us at a tailgate in the future you may just see this unique grilling set up on the back of our truck.
Learn more and get your own by visiting Outdoors Unlimited
Love learning about all the cool, new products that we get to test out? Take a minute and check out some of our latest PRODUCT REVIEWS.
We NEVER get paid for our reviews we complete. This way we can keep it real with you. We were sent one sample to test out with the understanding that we'd give our honest thoughts.
Written By: Luke Lorick 12/8/20