Every great tailgate has a great tailgating grill, so when we hear about a grill that is designed for tailgating, we pay attention. The HitchFire grill has been around for years, but they just brought out the all new F20 edition that is ready to get your tailgates lit. Tailgate grilling is about to progress to the next level, as we learn more about the HitchFire F20 Grill Review.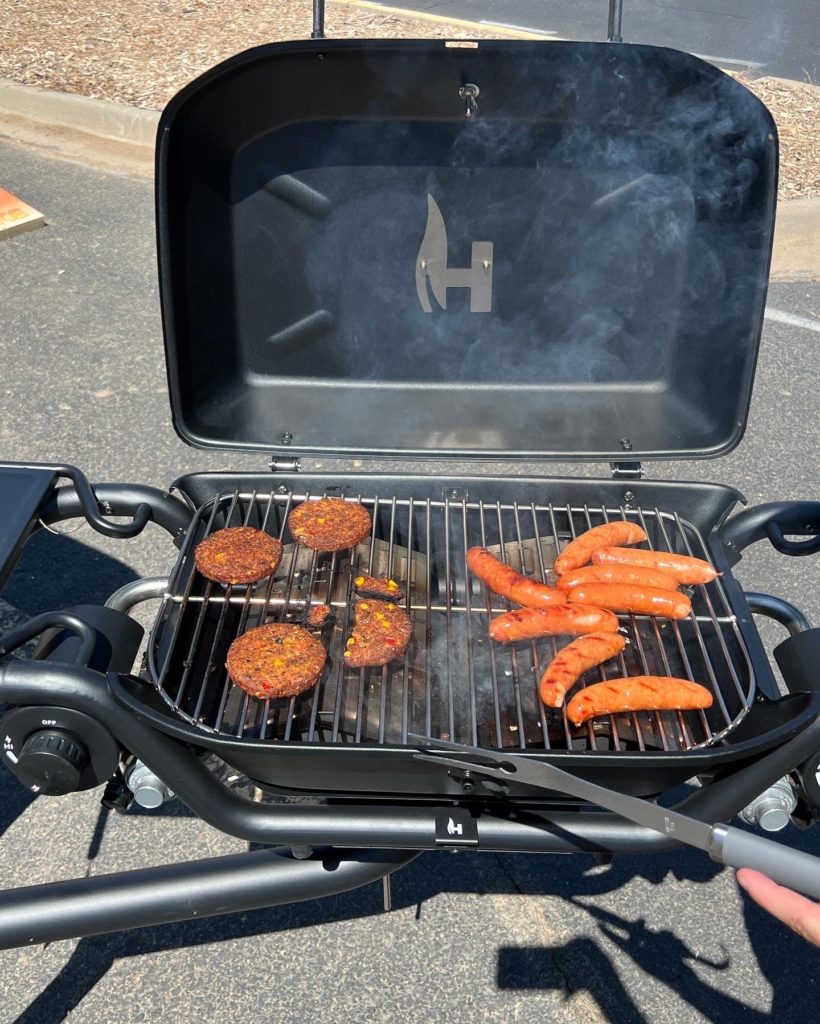 HitchFire Grill Features
+ Twin 10,000 BTU Burners
+ Stainless Steel Grate and Extra Large Flame Tamers
+  Compatible with HitchFire Accessories
+ 18" X 22" Cooking Surface
+ Quicker And Cleaner To Use Than Conventional Grill
+ Saves Trunk Space So You Can Pack More
+ Detachable from Hitch For Tabletop Use
+ Easy Access To Trunk With Pivoting Swingarm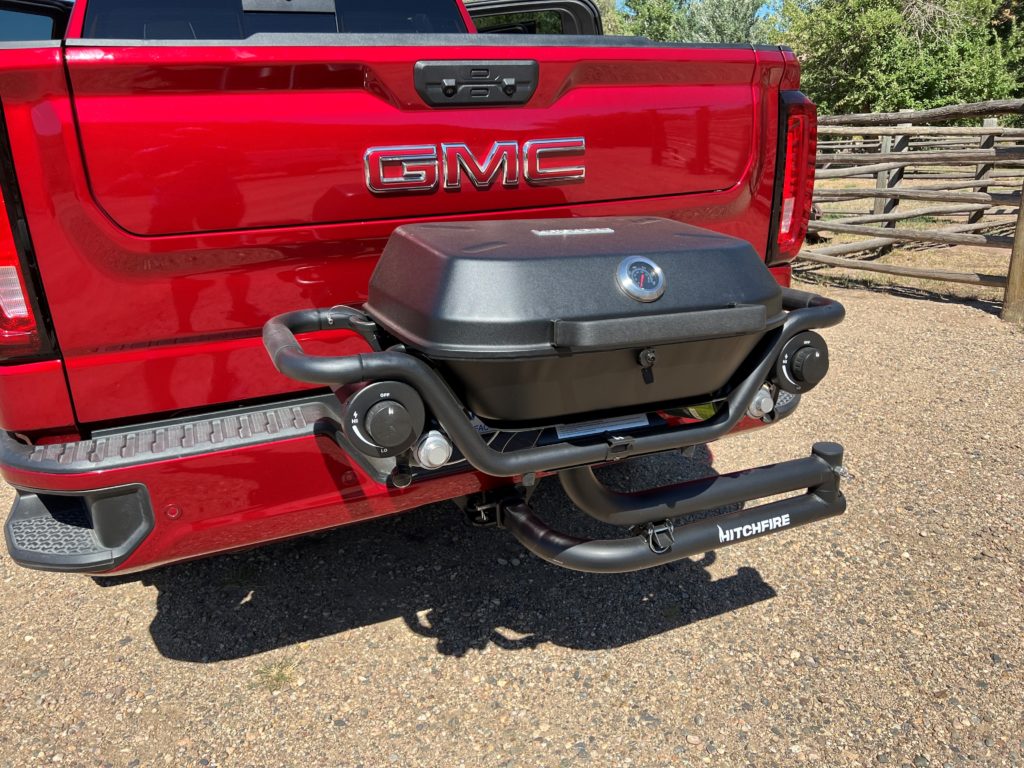 HitchFire Setup
I had seen the HitchFire grill on social media and when they upgraded the original F15 to the new F20 grill I knew it was time to see how this tailgating grill would fare in the Tailgating Challenge. If you're going to test a tailgating grill you better take it to a tailgate, so guess what we did?
The HitchFire grill comes in two main pieces. The first is the swing arm. This attaches into your standard 2 inch receiver hitch. This slid right in and we put the receiver hitch bolt in to secure it. Next, you'll place the grill on top of the swing arm. This can be done with a single person, but is easier with two. This will help you line the holes up to secure the grill to the swing arm.
Once completed, you'll slide a bolt between the swingarm and grill. Then tighten the clamp. From there, the swing arm has a clip to secure the swingarm close to the tailgate when traveling. When you get to the location you'll pull this pin and push down on the clamp for the swing arm to have full range of motion. I drove with the HitchFire grill on the interstate, dirt roads and everything in between and was totally satisfied that it will not come off during your travels.
The HitchFire Grill has two ports for dual 1 pound propane tanks for each burner. You can simply screw these in the back and you'll be ready to grill.
Let's Get to Grilling
Now that we have the HitchFire F20 was set up, it was time to get to grilling. The grill quickly fired up and it was so quiet we didn't even know it had started. The immediate heat we felt told us that the grill was fired up and ready for action. In 5 minutes the heat was roaring to almost 500 degrees!
We opted for the grilling tool kit that HitchFire also sells and it was everything (and a little more than what we needed) to be grilling masters at our tailgate. I really loved that they could easily hook to the side of the grill, for easy storage while grilling.
We put some beer brats on the grill and heard the sizzle that every tailgater loves to hear. The heat was then adjusted to get the perfect cook and while we were cooking even more people came up to compliment this grill!
We pulled the brats and the veggie burgers off and they were cooked to perfection. Kudos to the HitchFire Grill.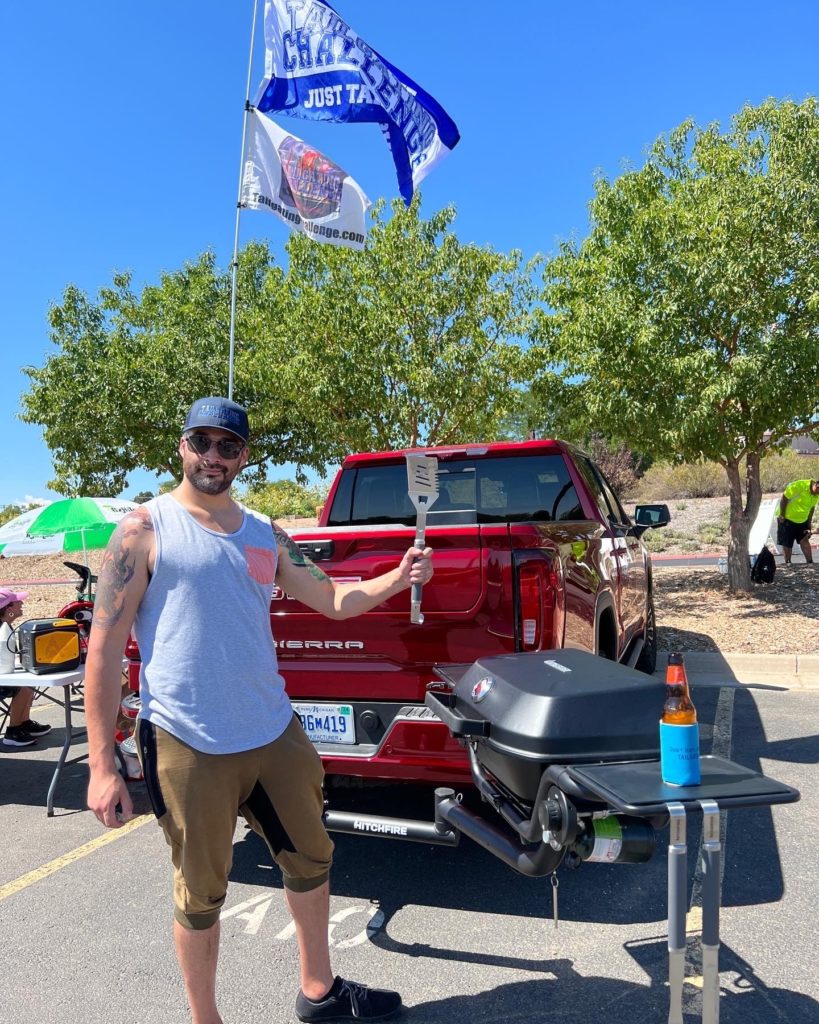 Conclusion
PROS: travels well, heats up fast, conversation starter, dual side tables that fold in
CONS: wish the swing arm was a little longer
Overall, this is an epic tailgating grill that is sure to make the perfect tailgating cuisine and impress some tailgaters along the way.
Learn more and get your own by visiting HITCHFIRE.
Find many amazing products that we've tested in our AMAZON STORE. A little bit of every purchase goes back to help support our honest reviews of the products you love.
Thanks for reading our blog on the HitchFire F20 Grill Review. Let us know what you think and any questions. Check out our short video below and while you're on YouTube make sure you hit that SUBSCRIBE button!
Love learning about all the new products that we get to test? Take a minute and check out our latest PRODUCT REVIEWS.
We never get paid for our reviews, this way we can always keep it real with our fans. We were sent a sample to check out with the understanding that we'd give our honest opinions.
Written By: Luke Lorick 9/10/22