A cooler that boasts a ton of features and is ready to tackle the trail. Meet the Igloo Trailmate cooler. This cooler has been out a few years and we finally got our hands on one to put to the Tailgating Challenge. The Trailmate cooler claims to keep ice for 4 days and go anywhere with it's 10 inch all-terrain wheels. We are on the quest to find the best coolers for whatever adventure life gives you, so now let's learn more in the Igloo Trailmate Cooler Review.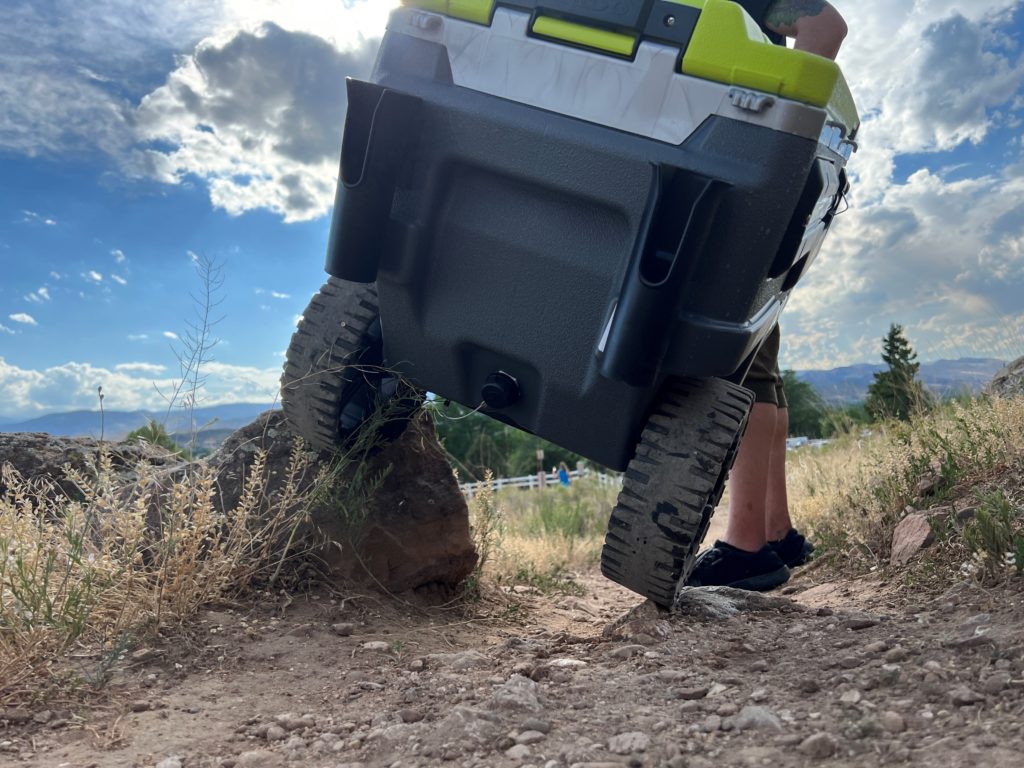 Trailmate Features
-10 inch all terrain tires
-Glide handle
-Dual bottle openers
-Butler Tray
-4 cupholders on lid
-Dry storage
-Storage pocket
-Attachments to hold fishing rods or umbrella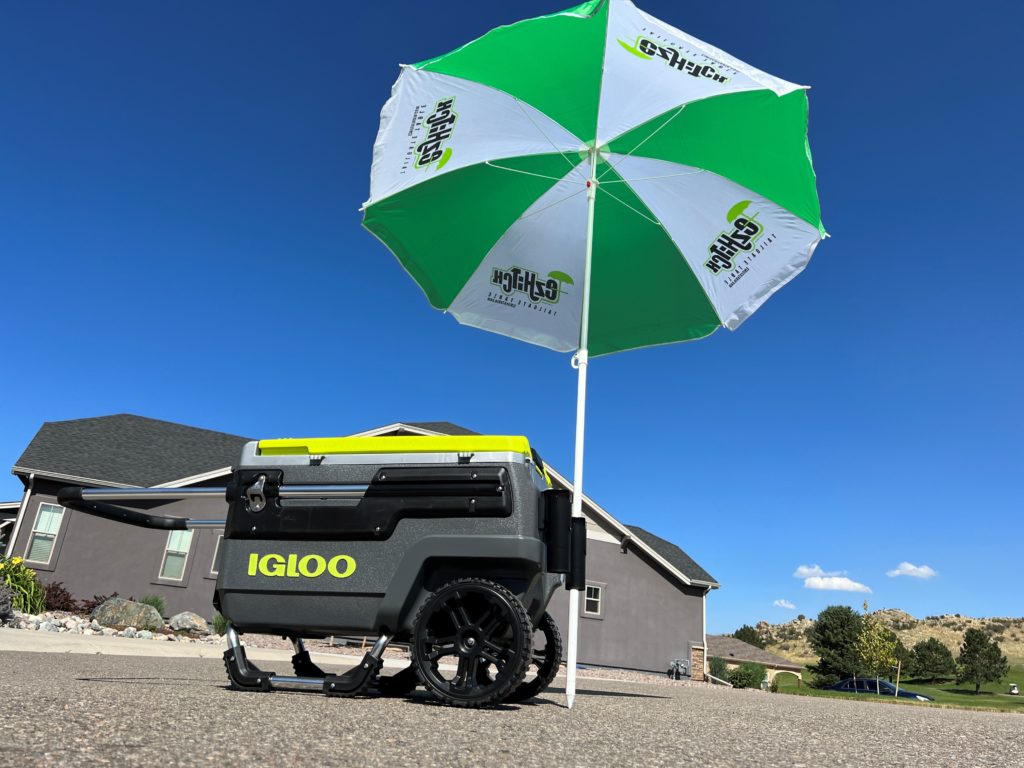 What Did We Think?
This was a cooler I had my eye on for years and finally snagged one to test out. The cooler caught my eye with the unique styling and the large wheels in the back. I didn't know all the extra features it had until I got it.
Dual Bottle openers. This is great, so everyone has easy access to their cold beverage of choice. It also had two attachments for either fishing poles or an umbrella. These are super handy. I'll use the umbrella attachment the most, as it's never a bad idea to find some extra shade on a hot day.
There were two additional features I didn't know it had. First, you have the butler tray that is built into the inside of the lid. This can be removed to make a table on the handle. Second, there is a removable dry storage box on the front of the cooler so you can and keep the phone/keys in there without fear of water or sand damaging then.
Next, let's talk ice retention. Igloo claims 4 days ice retention. In our testing we had it going up trails, sitting out in the 90+ degree heat and opened and closed the door to keep grabbing beers. It kept some ice up to the 4 days even with all of these conditions! As always the ambient temperature and how often you open the cooler will dictate how long the ice will stay.
Finally, one of the most important aspects is the mobility of this cooler. The easy glide handle feels solid and smooth when extending. From there it has the 10 inch wheels on the back. I quickly learned that this cooler is made to go over far more than than pavement. Given that it has the name Trailmate I knew it had to go on a trail to truly earn it's name.
I took it on a trail with the intent to getting to the top and enjoying a beer at the top. The trail had plenty of rocks and elevation that it went over pretty easily. Some of the rocks had it wanting to twist over, but the worse that happened was some water drained out. This brings me to a point that if it did turn over all the contents would come out, as the lid is not locking.
Overall, it tackled the trail, even fully loaded with ice and beer, in remarkable fashion. It earned the name TRAILmate cooler based on this test.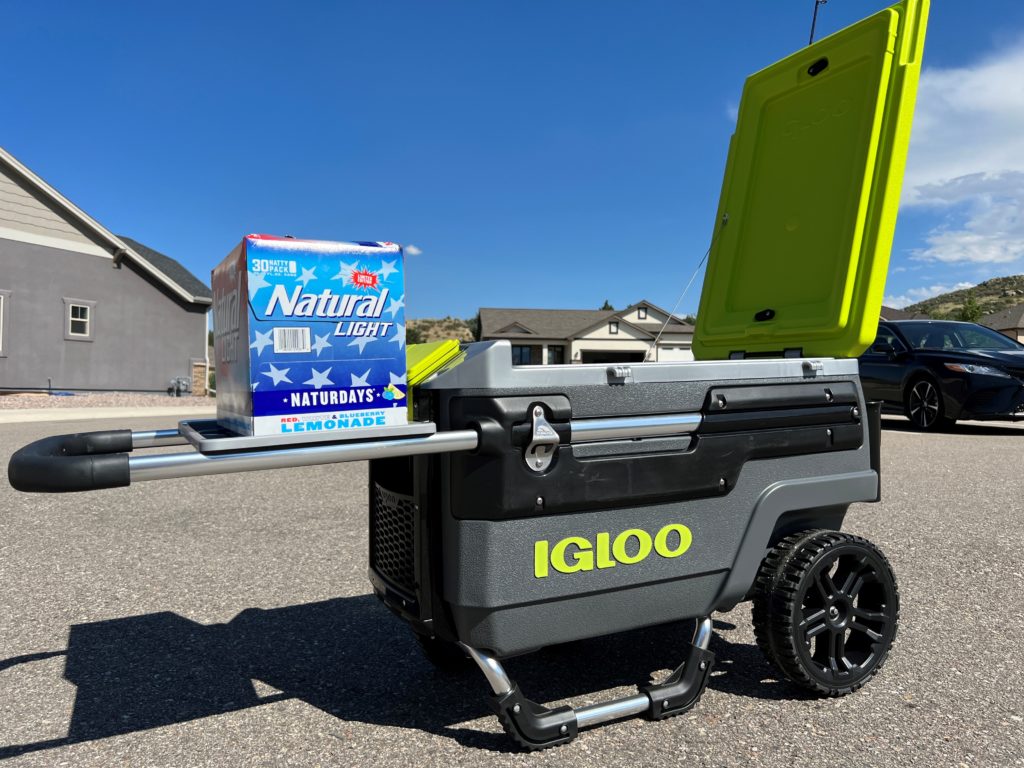 Conclusion
PROS: great looks, can easily go over rugged terrain, dual bottle openers, dry storage, umbrella holder, kept ice for days
CONS: needs locking lid to better secure lid if you're going on challenging terrain and handle on the back for easier lifting
Overall, this cooler crushed the trails and kept ice for days. If you need a go anywhere cooler that looks cooler than most may be suggest the Trailmate Cooler from Igloo.
Learn more and get your own by visiting IGLOO COOLERS.
Find this and many more amazing products that we've tested in our AMAZON STORE. A little bit of every purchase goes back to help support our honest reviews of the products you love.
Thanks for reading our blog on the Igloo Trailmate Cooler Review. Let us know what you think and any questions. Check out our short video below and while you're on YouTube make sure you hit that SUBSCRIBE button!
Love learning about all the new products that we get to test? Take a minute and check out our latest PRODUCT REVIEWS.
We never get paid for our reviews, this way we can always keep it real with our fans. We were sent a sample to check out with the understanding that we'd give our honest opinions.
Written By: Luke Lorick 7/5/22