We have been fans of Kijaro chairs for years and when we heard they were making one of their famous dual lock chairs from recycled water bottles we were stoked! What's better than having a comfortable chair that you feel good about buying since it's made from recycled water bottles? Let's see if this recycled chair is as comfy as the original as we dive into the Kijaro REPREVE Dual Lock Chair Review.
Kijaro REPREVE Chair Features
100% recycled REPREVE polyester fabric created from recycled plastic bottles
Weight capacity: 300 lb
Product weight: 9.6 lb
Open size: 26 in. L x 35.5 in. W x 37 in" H
Dual Lock Experience: keeps your chair closed while carrying and open while sitting
Includes 2 mesh cup holders
Built-in carry strap to carry your chair without the bag
Carry Bag included for portability and storage
No-Sag Seating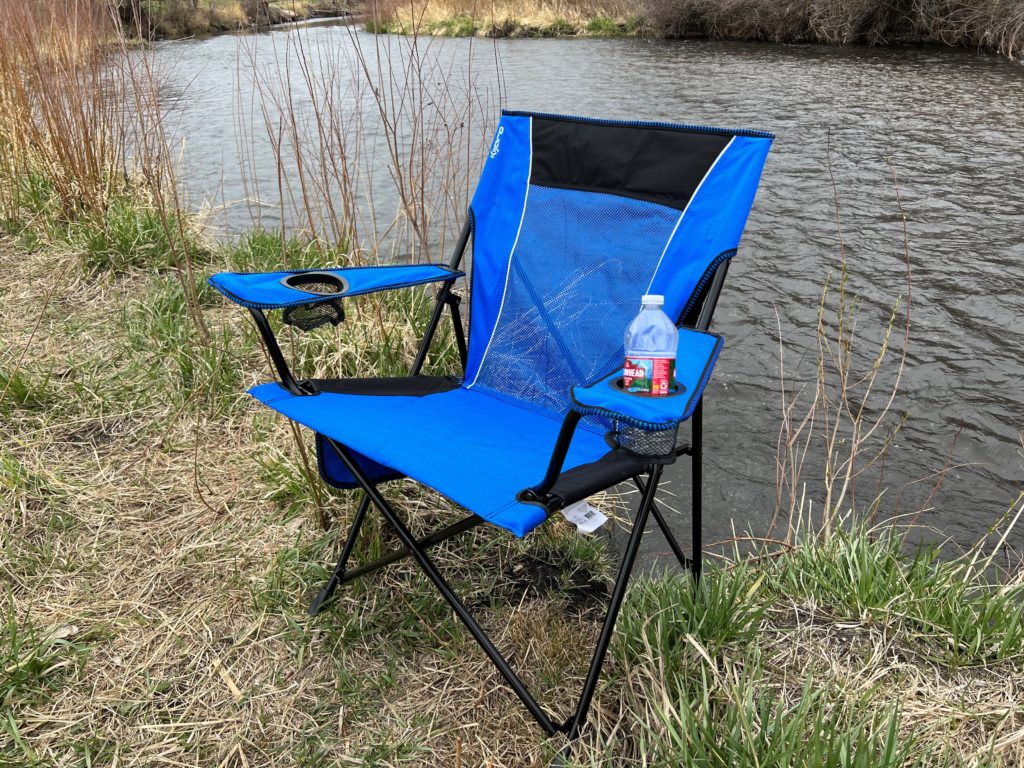 What Did We Think?
We have a slew of Kijaro chairs in our garage. They are comfortable, practical and stylish. When we heard about this newest Repreve chair we had to get our hands on it. Anytime a company is working to do better with being environmentally friendly we want to support that.
The biggest thing I wanted to see with this chair is how it compared to the normal dual lock chair that we had. I looked at a few features to see how they stacked up.
First, the dual lock feature. This feature is what has made the Dual Lock chair an icon in the tailgating chair industry. It can lock when closed, so it doesn't open when you're transporting. It also locks into place when you're sitting, so you have no sag seating. The Dual Lock feature is exactly the same in the new Repreve Chair.
The chair has the same comfort, cup holders, and weight capacity. The one thing the new Repreve doesn't have is a long list of unique colors to choose from. At the time of this article there is only the Maldives blue color to choose from.
Finally, I focused on the material of the chair, as that is what is made with the recycled water bottles. The material feels and looks the same as the standard dual lock chair that has polyester as the base fabric. We put them in a side by side comparison and if I didn't know which one was made from water bottles I wouldn't have known.
Conclusion
PROS: Dual Lock Design, Comfortable, Two Cup Holders, Carrying Strap, Made from Recycled materials
CONS: Wish it was the same price or lower than the standard Dual Lock Chair
Overall, I love the mission that Kijaro is on with starting to use recycled water bottles to help make their products. It's great for the environment and we couldn't tell the difference from the standard Dual Lock Chair. Save the environment while kicking back in a comfy chair, I call that a win!
Learn more and get your own recycled REPREVE chair by visiting KIJARO.
Find many amazing products that we've tested in our AMAZON STORE.
Thanks for reading our blog on the Kijaro REPREVE Dual Lock Chair Review. Let us know what you think and any questions. Check out our short video below and while you're on YouTube make sure you hit that SUBSCRIBE button.
Love learning about all the new products that we get to test? Take a minute and check out our latest PRODUCT REVIEWS.
We never get paid for our reviews, this way we can always keep it real with our fans. We were sent a sample to check out with the understanding that we'd give our honest opinions.
Written By: Luke Lorick 4/26/22