It can get HOT at those early season tailgates, but lugging a giant fan around to help keep you cool is not always an option. Time for a small, portable fan that packs some big air. Of course we found that, it's just what we do here at Tailgating Challenge. Meet the Maxx Air 10 inch Turbo Fan. Let's see how this fares in our latest Tailgating Challenge.
Features
High velocity airflow up to 900 CFM on high
Adjustable tilt angle
Built-in carry handle and lightweight design for easy transport
Can also mount on the wall
3 speed choices via rotary switch
Powder-coated steel construction for ease in cleaning
Suitable for indoor usage
1-year limited warranty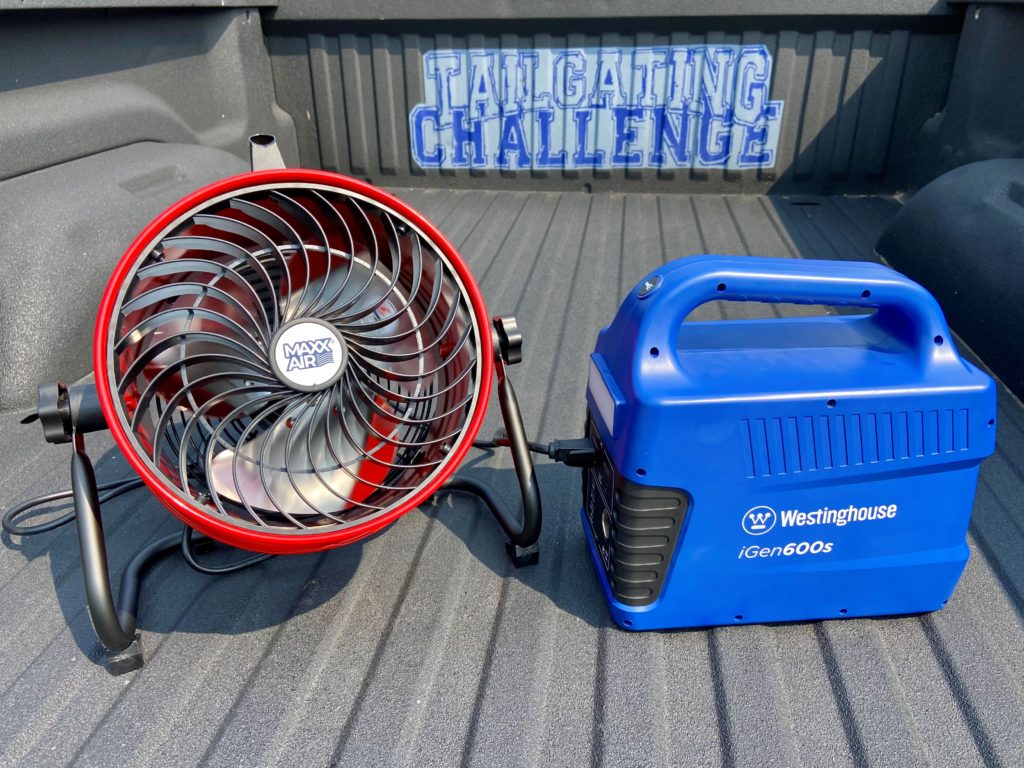 Maxx Air Fan Testing
We have tested a Maxx Air fan out in the past and it was the big one that you put in your shop or gym (Check it out HERE). We were a fan of this fan, pun intended. This fan was too big to easily get to some of our tailgating events so we had them shrink it down to a smaller version.
The 10 inch version has the same overall quality that we came to expect from our big Maxx Air fan, but in a smaller size and weighing 8 pounds it was much easier to take with us anywhere.
We were impressed with the quality and size of this turbo fan, but how much air would it move? It has 3 different speeds on the back of the fan and we hooked this up to our Westinghouse Power Station to see what it could do. Everyone that felt the speed was impressed with how much air was coming out.
This fan has quickly become one of our favorites as it balances out the size and air that is refreshing on a hot tailgating day.
Conclusion
PROS: light weight (8 pounds), quality construction, big air from a little fan, 3 speeds
CONS: some scoffed at the current $99.99 price tag, but for a quality fan I'm not offended by this number
Overall, if you're looking for a portable fan that packs more air movement than you think this Maxx Air Turbo Fan could be what the tailgating doctor ordered.
Learn more and get your own by visiting our AMAZON SHOP.
Thanks for reading our blog on the Maxx Air 10 inch Turbo Fan. Let us know what questions you have and then watch our YouTube video below. While you're over there you hit that SUBSCRIBE button!
Love learning about all the cool, new products that we get to test out? Check out our latest PRODUCT REVIEWS.
We NEVER get paid for our reviews. This way we can always keep it real with you. We were sent a sample to test out with the understanding that we'd give our honest opinion.
Written By: Luke Lorick 8/3/21