We've tested quite a few beer fridges over the years, but nothing like the NewAir Beer Fridge Froster that we just reviewed. Find out why this could be the coolest beer fridge ever.
We've tested a NewAir mini beer fridge out in the past (you can see it HERE) and it was a very nice fridge that held a ton of beer, plus looked great. When we learned that they were bringing out a new beer fridge that had some special options we were intrigued. Let's take a look at some of the features of the NewAir Beer Froster Fridge.
KEY FEATURES
Holds up to 125 cans 
Turbo mode frosts beer in under 1-hour 
Party mode prevents temperature fluctuations for 6-hours 
Chills drinks from 23F – 72F 
Heated glass door stays frost-free 
Freestanding design parties anywhere 
Adjustable and removable shelves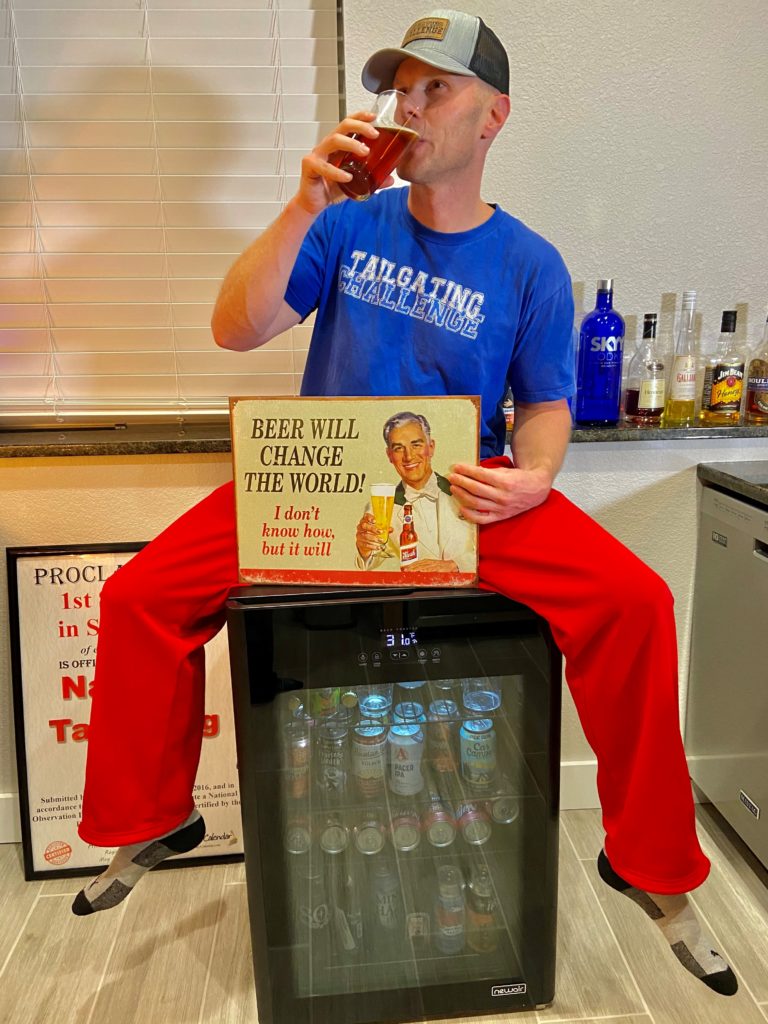 We got ours in and learned it was heavy! The first NewAir Fridge we had I was able to manage to pick it up and move it by myself (still not recommended). This one tips the scales at 87 pounds and I decided to get a buddy to help me move it from the garage down to the basement.
Once we got the NewAir Beer Froster Fridge set up, I took a step back and thought just how elegant this fridge looked. This carries a higher price tag ($899.00 at the time of this review), so I knew that looks alone would not justify this price tag, but it was a good start.
The TURBO MODE is really the feature about this beer fridge that I was the most excited about. Once this button is pressed it drops the temperature of the beer fridge to 23 degrees to really put a chill on everything in the fridge. To test this out we grabbed two room temperature beers (67 Degrees F) and placed one in a regular fridge and one in the NewAir Beer Froster and hit the Turbo Mode. The Turbo Mode is recommended for 1 hour. We left both in for 1 hour and then it was time for a temperature check. The Turbo Mode beer was down to 44 degrees F and the beer placed in a regular fridge was down to 54 degrees, that's a 10 degree difference!
I normally take a beer from the fridge and place in the freezer for about 10 minutes before drinking it, so this can effectively eliminate that step and have the beer ready to go at the optimal temperature whenever I'm ready.
The other special option is the Party Mode. This mode helps keep the fridge temp low (6 hours) when you're having a party with guests going in and out of the fridge and releasing the cool air. This way the beer stays cold no matter how many people open the fridge.
Two other things that I liked about this was the heated glass door and digital temperature display. The heated glass door helps ensure that you get no frost, or fog on the door, so it's always crystal clear. The digital and easy to change temperature display is always a handy feature, so you can fine tune exactly how cool you want your drinks.
PROS: Turbo Mode, digital temperature display, heated glass door, 125 beer capacity, amazing looks
CONS: Heavy (87 lbs), would like to have side LED lights to better see everything in fridge if the top rack is full
Overall, this is my favorite beer fridge that I've seen, or tested. It looks top notch and the features are amazing. I know the price tag is a little higher, but after testing I can understand spending a little more on this NewAir Beer Froster Fridge.
Learn more and get your own by visiting NewAir
Love learning about all the cool, new products that we get to test? Take a minute and check out some of our latest PRODCUT REVIEWS.
We NEVER get paid to complete a review. This way we can keep it real with things that are awesome about products and things that could use some work. We were sent one unit to test out with the understanding that we will give our honest thoughts.
Written By: Luke Lorick 11/21/20