Popcorn is the ultimate snack food for watching your favorite movie, or tuning into the big game. Popcorn has been the same for years and now it's time for a change. Opopop is doing something with kernels that you've never seen before, they are wrapping them in flavor. Each popcorn kernel is wrapped in flavor, so when it pops the flavor explodes into the popcorn. Grab some popcorn and let's get into the Opopop Popcorn Review.
Opopop Flavors
VANILLA CAKE POP
This sweet vanilla flavored treat is craveably delicious.
CINNALICIOUS
Because popcorn in the AM is totally a thing.
MAUI HEAT
Hot like lava. Sweet like pineapple.
CHEDAPENO
Cheezy and spicy and everything nicey.
FANCY BUTTER
Pure buttery flavored perfection.
SALTED UMAMI
Can't stop eating it, don't know why.
TEST LAUNCH (LIGHTLY SALTED)
Because practice makes perfect popcorn.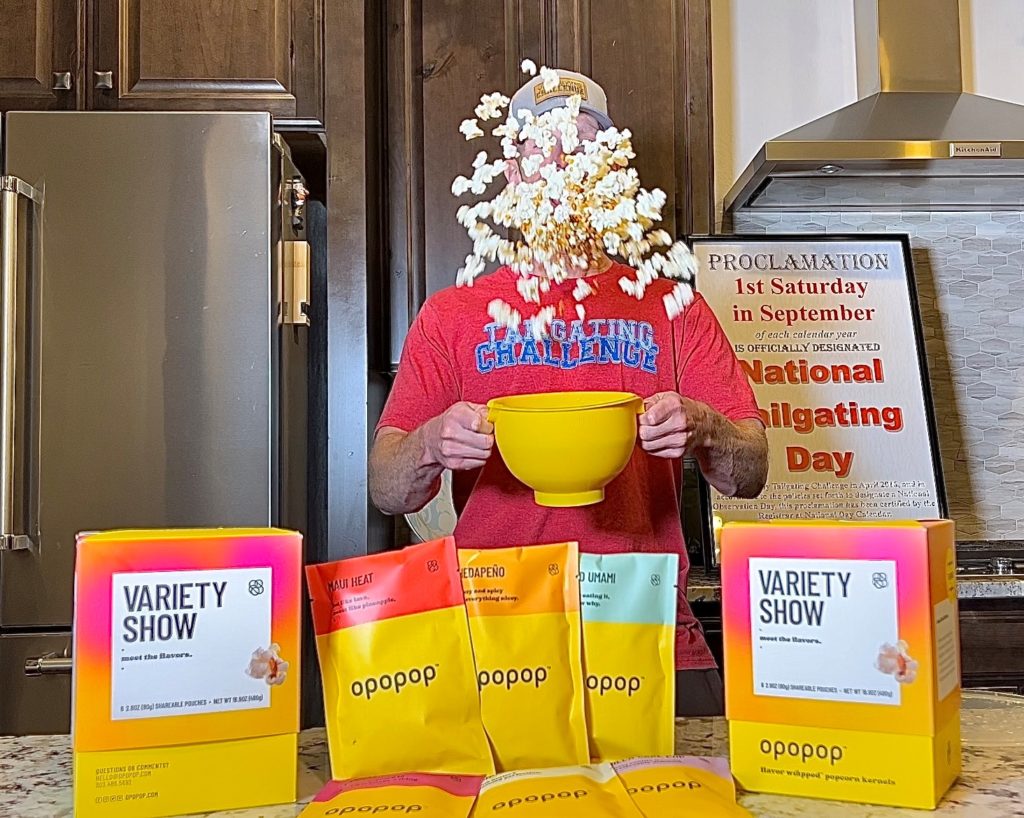 Opopop Testing
We got the Variety pack that comes with all the flavors listed above to see how Opopop would do in our Tailgating Challenge. If comes with a popcorn popping bowl too if you get the Discovery Kit.
In our test we wanted to focus on taste, any texture differences, and ease of popping.
Ease of Popping
First, we will start with the ease of popping. These come in packs that you have to pour into a bowl to pop. We have the Opopop bowl that made popping these pretty easy. We live in the mountains and with our microwave it took us a few bags to find the sweet spot for popping the most kernels. Having an option for these to pop in a bag would be win for some. For those wondering at 5,000 feet elevation we found 5:15 was the amount of time needed to close to perfect popping.
Texture/Visual Differences From Regular Popcorn
The kernels themselves look totally different as each one of these is literally wrapped in flavor. There is a 'glaze' on each of the kernels and is easy to see that there is something special going on, even before popping. After popping and taking off the lid you'll see the flavor from these kernels was shot all over the bowl. That is what I call a literal flavor explosion. For some of the flavors you can actually see the slightly different colors in the kernel when popped.
Ok How Does it Taste?
Let's get to the million dollar question: Is Opopop better than regular popcorn? This alone will be why many people decide to buy Opopop, for the FLAVOR. Let me say first off we don't get paid to give our opinion, that way we can keep it real. Now that we got that out of the way: This stuff is AMAZING. We got some friends together to help us taste test the variety pack flavors. It was so fun popping bag after bag and each getting small tasters bowls to experience something that we knew was special. Now let's break down each flavor tested and we will rank them starting with worst to first.
–Salted Umami: This was easily the least impressive of all the flavors. We tasted this one last and after the unique flavors from the others this left us wanting more, more of the other flavors that we had tested. This reminded me of normal popcorn, so again not bad, but not on par with the other flavors.
–Chedapeno: Now we get to the spot in the order where even though this ranked lower it's still pretty dang good. There is cheddar flavors mixed with hints of jalapeno style heat. If you taste this by itself you'll wonder why this is ranked so low, but again the competitors are really good.
–Maui Heat: This and the Chedapeno have some similarities, but this one brings some heat with sweet. It was a nice balance that we all quickly ate the entire bowl of.
–Fancy Butter: This is like movie style popcorn on steroids. If you love movie style popcorn I promise this will impress and the smell of this one is one of the most fragrant. You'll think you're about to enter a movie theatre while this is popping. Intense butter flavor.
–Cinnalicious: This was neck and neck with being the top spot and there were some testers that put this as the best overall. This brought incredible cinnamon flavor, without being overly sweet. If you love cinnamon this is a win.
–Vanilla Cake Pop: This was my favorite by just a hair over Cinnalicious. I love vanilla flavor and this had very pleasant vanilla cake batter style taste that coated each piece of popcorn. While writing this I'm having some more!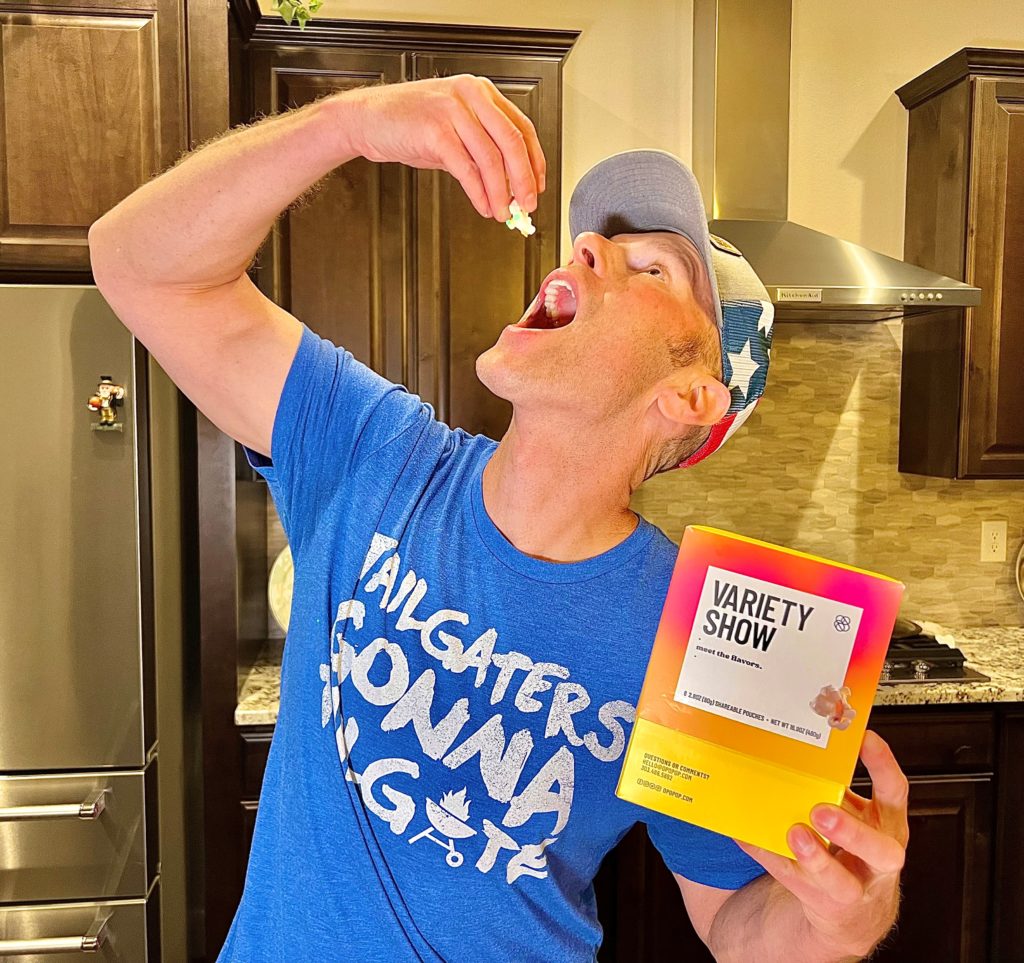 Conclusion
PROS: unique, great flavor, new flavors coming out
CONS: if they could bring these out in bags that they could pop in vs having to use a popping bowl
Overall, this popcorn from Opopop impressed everyone that tested it out. It was so fun to have the variety pack and share the different flavors to help decide which ones are our favorites. If you're ready for a different popcorn experience I'd recommend giving Opopop a shot!
Learn more and get your own by visiting OPOPOP
Find some of the coolest products we have tested in our AMAZON STORE. Thanks for supporting what we do!
Thanks for reading our BLOG on the Opopop Popcorn Review. Let us know which flavor sounds best and then watch our short video review showcasing this revolutionary popcorn. While you are on YouTube make sure you hit that SUBSCRIBE button.
Love learning about all the cool products that we get to test? Take a minute and check out some of our recent PRODUCT REVIEWS.
We never get paid to give our thoughts on products. This way we can always keep it real with our fans! We were sent some samples to test out with the understanding that we'd give our honest thoughts.
Written By: Luke Lorick 11/12/21